Thousand Islands Life presents Part XII and final chapter of Kristen Pinkney's research Thousand Islands Summers - Manhattan Winters: May Dewey's Diary, beginning July 1888 and culminating in August 1889.
Each chapter is listed below:
Part I December 2008,  Part II January 2009,  Part III February 2009, Part IV March 2009
Part V April 2009,  Part VI May 2009,  Part VII September 2009, Part VIII October 2009,  Part IX November 2009
Description of how the diary was discovered and researched: Contributors in December 2008 article of Thousand Islands Life.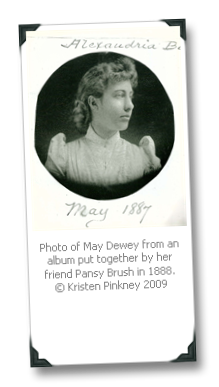 As we have stated in past issues, Kris' work goes beyond the text by providing hundreds of footnotes for readers to learn more about the life and times in the Thousand Islands.  There are more than 100  footnotes distributed throughout the diary, and 18 in Part XI.  Simply move the cursor over the highlighted text and the footnote will appear.  Click "close" and the footnote will disappear.  Also note that clicking on an image will enlarge it.
No spelling, punctuation or editorial changes have been made to the diary.
August 1889 – Alexandria Bay, NY
Thursday 1 Well this has been a busy day for me for we have been on the water all day. We went to Kingston1. Miss May was one of the party and of course Gussie. We rode on top nearly all the way. It was so lovely. We had our lunch on board the yacht and of course we all carried on like mad. Fred, our cook went with us to cook the things. We reached Kingston about 1:30 so took two carriages. Gussie, Ella, Miss May and myself in one and the others in the other one. Went up to the prison2 and went all through it. I couldn't help thinking what a jolly time I had when I was here last. I was with Dwight Platt. I wonder where he is now. I have only seen him once since and he looked just the same as ever. Ella couldn't bear him but I liked him very much. We left Mr. Gedney on an island near Kingston with some of his friends. This evening went to Bay but did not enjoy myself.
Friday 2 This morning Gussie, Ella and I went over to the Hotel and there saw Walter Edsall and Harry Slayback. I did not shake hands with Harry which I suppose was very rude but possibly he didn't notice it. A young lady was with them, who is visiting the Spencers. She looks young. This aft we went to Bonnie Castle and had a game of tennis. Gussie is a splendid player. I am so sore Teddie isn't here. This eve we sat out on the piazza until about 11 o'clock. The moon was so beautiful. One subject was flirtations. Gussie is so queer it seems so strange that a fellow will think that a girl always is gone on him when he is simply enjoying a flirtation with her. He never thinks that she can be doing the same as he is and that she is looking also, O, the conceit of these men. Walter Edsall is the only fellow I know that hasn't a bit of conceit.
Saturday 3 I have had such a good time today, such a jolly picnic. We started about 9 o'clock. Mr. and Mrs. Delanoy went with us. We stopped for the Spencers on our way down. Judge Spencer, Walter Edsall, Harry Slayback, Miss Le Fevre, Miss Pierce went down with us but they didn't fish so I went with Miss McIntyre3 and had a very jolly time fishing. We went up among the Canadian Islands and as I had a bet with Gussie for 5 lbs. of candy for the most fish I was anxious to win and I did but it was only a small perch which saved me. While we were fishing the yacht went back for Mamma and Mrs. Spencer and brought them back in time for dinner on the Island. I had great sport with Walter Edsall all the time I was with him, most of the trip especially before lunch. I took several pictures before we separated. We young people went up on top of the hill and played cards and took pictures. It was a lovely spot and it recalled so many memories for we were there before when Brown, Driggs, and Taylor were with us. We were very quiet all the way home especially Harry who had swallowed a stick4 just after lunch and declared it had stuck in his throat. He hardly spoke but you could see he was frightened. Walter Edsall and I were talking all the time. I don't think we stopped once. We reached the Spencers about five o'clock so the young people all went up and bowled. We reached home in time for tea. This evening we took the Spencers out for a sail and stopped at the hotel for a short time. Then we met all of the Anthony crowd, Dick Anthony, Mr. Rogers, and Messrs Powers. I was with Walter Edsall all the evening. I do think he is such a nice fellow and so handsome. I am so tired and I will have to lay aside my pen although for there is so much more to say but conversation looks so silly on paper. Walter Edsall denies being engaged. Julie Southgate told me he was. It must be a mistake.
Sunday 4 This morning Gussie Prentice, Ella and I were upon the hill. We also spent all the afternoon there. I don't know what he thinks of us. We carried on so we acted perfectly crazy.
Monday 5 We spent the morning at the Bay and had our tins5 taken. They were not very good. Mrs. Marsh asked us to go to Clayton so we went but I had a very stupid time. There were three girls went that I did not like. I was very glad when I got home. After tea, Gussie, Ella and I were in the summer house when Walter Edsall came in, he came to say that they couldn't go with us to Brockville6 tomorrow as it was Miss Pierce's last day and her mother wouldn't let her go so they had to stay at home with her. I think it was a shame. We asked the Anthonys but they couldn't go. After Walter left we went out on the river. It was a gorgeous night. I never saw such beautiful moonlight. We took Ella out so for she wanted a quiet ride and could enjoy the moonlight but Gussie and I joked and laughed so she had to give in at last. We rowed up above "Craigside"7  and floated down it was so beautiful. We lay in the little bay in back of our house for about an hour. Singing and talking, Gussie smoking, it was delightful although I had just as soon have had some other fellows in Gussie's place. We got in about 10:30 and just as I was getting out of the boat and it slid and he went down. Ella and I just howled. He looked so funny. He said he would get out "just like a fairy so light and sweet" when down he went. We laughed all the way to bed.
Tuesday 6 This morning we went over to Anthony's to play tennis. They had been waiting for us for a long time. Gussie is such a good player, he beat them all. Dick Anthony is so funny. He kept us all laughing. Gussie hurt himself quite against a tree so Dick helped to cut it down and cut his finger in the bargain. We asked them to go to Round Island with us this eve but only Dick and Louis Powers are going. We missed Miss Southgate and the Haydens. They came while we were at the Anthonys. We started for Round Island about seven thirty and Dick did carry on so he is a perfect case. We sang going down . Miss McIntyre was with us and she had quite a sweet voice, the moon came on by fire and starts going when we got there. We went to the camp fire. It wasn't as good as usual but still I enjoyed it. Walter Clark was there. I didn't expect to see him for I treated him so coolly in the city. Coming home it was gorgeous moonlight. I was with Louis Powers. He promised to send me a picture of Tom Kelly as he was in "Hon. Pea" as a ballet girl.
Wednesday 7 This morning about ten o'clock Walter Edsall and Harry Slayback called. I expected that they would and Miss Southgate told me there was going to be a German at the 1000 Island House tonight and wanted to dance and they had been asked and knew we were going so came over here to see about it. We took 3 pictures over a bank also with their heads through the vines. I know Harry Slayback wanted to dance with Ella also that Gussie had asked her and that I would be second fiddle so as I came up the bank with the camera, Harry Slayback stopped me and asked me if I would dance with him. I hesitated but said yes. They stayed nearly all the morning. We were over at the Bay this afternoon so we were quite tired this evening but we went. Mr. Slayback called for me so I went over with him and had a most delightful time at the German. He is a good dancer and very amusing. In the course of the evening we decided that we would tell each other our first impressions of the other one. His were very silly in fact he hadn't thought much about me. And I of him and when it came my turn to tell him I told him I hadn't seen enough of him to judge and he saw through the remark for he was with Ella nearly all the time. He laughed and then pretended he was angry so I told him that I thought he was very conceited and very changeable both which he acknowledged were true but I could see he didn't like it very well. He is so young. I didn't care and had supper afterwards. And wine was passed I didn't take any either. I asked him if he ever "took it" He said "No, do you?" "Sometimes". "Are you a member of the church?" "Yes" "But you know that when you joined you promised not to take wine." I was dumbfounded but I saw it was true never the less and I told him I admired him for not taking it. I don't think I ever shall again. Coming home it was delightful. Such gorgeous moon light. Sat by him my ride home. I enjoyed dancing with him so much. He was so very entertaining. I got in bed about one o'clock which is pretty late for this part of the country.
Thursday 8 Well, this has been a delightful day and a tiresome one for we had had such a long sail. We started at nine o'clock for Ogdensburg and stopped for Walter Edsall and Harry Slayback for we thought it would be jolly to have them but they were just at breakfast so couldn't go. I rather dreaded the ride with only Gussie but we got through better than I expected. I quite enjoyed it. He was lying down smoking and I was passing him so he couldn't do anything so endeavored to plague me without success. He got my ring and said he was going to take it but that reminds me we had great sport about a necklace. I said I wish I could have at necklace of black diamonds and said why wouldn't coal do he said "I will send you a necklace of coal if you will promise to wear it." I said I would. I wonder if he will send it ? This pen is fearful, I am going to buy another. We left him just in time for his train and we took our dinner at one of the hotels. Coming home was delightful. I was just enjoying life when the boat stopped and who should appear but Walter Edsall and Harry Slayback ? They had sailed down twelve miles to meet us. I think it was lovely of them. We had great sport going back. Harry Slayback was very silly laughing all the time. I don't know what was the matter. He left Ella and came over to me which she didn't like for when we got home she said I think he likes you the best, he has a very devoted way of talking to you. Which is very amusing. We got on the subject of conceit again. It was so funny. He evidently didn't like Gussie for he said he thought him very conceited indeed.
Friday 9 This morning it looked rather cloudy but we had an engagement with Walter Edsall and Harry Slayback for lunch at Holland's but they didn't appear but there must be some mistake. I said I would call for them as we had the yacht but Mr. Slayback said we can row up for you, I don't want to bother you to call for us and so it was left and all of us were left also.
Saturday 10 This morning we spent on the yacht and this evening we called for Mrs. Marsh and then went to the Hudsons8. They gave a musical and it was so pleasant. Ella and I were with Dick Anthony, Connie Powers and Mr. Powers and Walter Edsall in the dining room and we had such a good time. Dick really did carry on so. Soon Harry Slayback made his appearance and joined us. Alan Hayden sang. We also had some scherades. I was with Walter Edsall all the evening and had such a good time. I always enjoy being with him. We were out on the veranda nearly all the time, just as we were going. Mrs. Spencer came up and spoke to Walter Edsall and asked him if he had spoken to the Miss Haydens he said no and it seemed that Mrs. Hayden had spoken of it to Mrs. Spencer about the boys not having spoken to her daughters. A very queer thing for her to do I think. This is such a glorious night out although very cloudy. They asked us about our engagement and it seemed that they waited on their dock all the morning for us to come for them. It was all a misunderstanding.
Sunday 11 This afternoon I went over to Pullman's to services but didn't hear a word. I was with Dick Anthony and his mother and friends. They kept us laughing all through service. We looked so comical. No glass windows9 in front of us, we went into hysterics nearly.
Friday 16 May and Katherine Marston came this morning with Papa. I am so glad they are here. I do hope we can make them have a good time. Soon after they had been here Dick Anthony and Mr. Powers came to say good bye for they leave tomorrow morning. Ella went down to Round Island and asked Mr. Baldwin to spend Friday here. They are coming tomorrow.
Saturday 17 This morning Miss Pullman, Miss Smith, who by the way is the loveliest girl I have ever met, and Mr. Pullman (a cousin) came to see about the tableaus which we wanted to get up. Walter Edsall and Harry Slayback also called so we arranged together. Harry S. wanted to know if I was going tonight I said perhaps. So we went and I did have such a lovely time. The Marstons did not go for they were so tired but so took Jared and Alfred Baldwin again, I was with Walter Edsall until Mrs. Spencer took him away. He had plenty of opportunities to leave me if he wanted to. The lawn was lovely they were all hung with Japanese lanterns at the veranda it was a fairy picture. It was last year at Mrs. Singer's but then Walter Bound was there. We, Ella and I had six fellows part of the evening. I am sure I don't know when we had fewer. The Haydens don't like it. Saw the Brockways and Mr. Williams, the former has the most beautiful brown eyes, they are so lovely.
Sunday 18 This morning went to church but this afternoon I did nothing but fight with Jared Baldwin. I can't bear him, he is too, O I don't know, he has such queer ideas about engagements.
Monday 19 This morning were all out on the yacht and this afternoon we took the Baldwins to Round Island and stopped at Clayton for Miss Reed. Her train was late, but we brought her back. I don't exactly like Helen, I never like one who tries to arouse sympathy and pity especially a man and she is so sensitive you never know where you are going to offend her or not.
Tuesday 20 This morning Arthur Taylor came. I was very glad to see him. He has been having a lovely time at Loon Lake10. He can't stay more than three days. I was so sorry. This afternoon we went up and got Walter Edsall and Harry Slayback and went to Edgewood and had a few games of tennis then went to find a fortune teller but couldn't find her. Some way it always I have Walter Edsall and I wonder why it is. This evening we had an illuminated parade. All the yachts were decorated with lanterns and sending off colored light and fire works. There were nine yachts in line. I had a very jolly time. We went to Round Island where we had a dance too. I did my best to get away from Jared Baldwin but was unsuccessful. Walter Edsall and Harry Slayback were going with the Lewises but were not there so they got left I suppose. It was a grand sight to see all the yachts with their lanterns going along the river it was lovely.
Wednesday 21 Today has been another full day. We started early this morning and went down to Stave Island where all the canoeists11 are. It was very rough going but it was such fun. May and Katy, Arthur Taylor, Ella and I were on the back deck enjoying life. We got there but no oars. We had to walk about a mile through the woods to get to the camp as the captain wouldn't go around where it was. But still I didn't mind if the first thing we struck was a circus. They asked us in so we went in and found after we were seated that there were about twenty cameras aimed at us. We got out as quickly as possible. We took our luncheon after quite a time and such a time as we had getting it. Alex wouldn't go back to get the rest of the people that were in the boat so Arthur Taylor had to go. May and I sat on the fence waiting for luncheon so he would know where to find us. We had as many as the chaperones as for us to lunch. We had a very nice lunch in the hut. We walked around after lunch until the races commenced which was at 3. I saw the handsomest fellow there whom afterwards, I learned was Charlie Hodgman. He was awfully handsome and a flirt. He had the loveliest eyes of any man I ever knew but there is very little character in his face. The first race was a Tug Of War but they were matched badly, but the fellows that were the lightest and the youngest at first walked right away with the lead, but were beaten in the end. Then two canoes together and they each had to paddle the other way. Then they had champion paddle race. A fellow won that by standing up in his canoe and paddling. Every moment I thought he would go over. Then came the "Hurry Scurry" race. They anchored their canoes out in the river, went way back in a field over three fences and then started. The fellows just got in their canoes and paddled away. It was great sport to watch them. Charlie Hodgman is a great flirt and there is no doubt of it. We reached home about 7:30 and we were so tired and found Uncle Percy, Julie, Eddie and Freddie12 here.
Thursday 22 This morning I went out fishing with Arthur Taylor. I rowed him but nearly went around the Island. Uncle and all the rest left this morning but while they were here we had seventeen at our table in the house. While we were over at the Bay, Walter Edsall and Harry Slayback called to see about the tableaus but we have decided to give them up on account of Mamma's not feeling well. She a good deal of pain now. I do wish there was something that I could do but of course there is nothing. This afternoon we engaged their fisherman for half a day and the Haydens W.B. called and stayed so long that we had to pay them and send them back, It was a shame. Annabell Green came with them. This evening took Arthur Taylor to Clayton for he left us tonight. We got him there on time. We are sorry to have him go.
Friday 23 This morning Miss May asked us over to Bonnie Castle to play tennis. Mr. Brockway and Mr. Williams were there, had a very jolly time. They went to call on Mrs. Alexander Mitchell. Had a very good time, great fun with Mr. Brockway.
Saturday 24 Will Browning bought me a large box of candy. It was lovely of him. I was very busy for we had Harry and Will Browning and Ed Summers, Walter Edsall and Harry Slayback to dinner. We had a delightful time. I took Harry Browning and found him amusing, I had quite a chat with Ed Summers on the porch. Then I went down to the end of the Island with him and Harry. We started to go over to Edgewood but Mamma would not let us go we sang instead.
Monday 26 This am we are going to Bonnie Castle to play tennis with Will and Harry Browning and Ed Summers but they forgot the engagement. We were furious but it doesn't pay to get that out. Carrie, Kate and May Marston and I went to Clayton to take Papa down as he left for the City this eve. While we were there a boat drew up beside the "Minnie" and someone asked to pass over and who should it be but Teddie Holland. Flora came while we were gone we passed her on the way down. Walter Edsall called but I didn't see him. We got home just too late. Mr. Browning came and asked us out fishing and we are going.
Tuesday 27 I am so tired but I have had such fun, we started out fishing with the Brownings. They called in the "Mamie C" about 9 o'clock. Kate and May and I went. I went out with Ed Summers. He asked me and I did have such a good time but we did not have any luck. I don't think he is a very bright fellow but I like him. After dinner which we took on an island way down the river, Mr. Summers asked me if I wouldn't go again so I went. It is so funny we were trolling and the fisherman wouldn't ask him how much line he had out and his bait and it was way way out of the water while he had been talking to me. He would forget all about his fishing and wind up his line and forget to put it out. I did laugh so, I don't know when I have enjoyed it, fishing, so much. After we were out on the yacht we sang all the way home. Will had his banjo it was all so jolly, when we got home the girls had to make us believe they had had a good time. They acknowledged afterward they had a stupid time. Ed Summers kept telling me he enjoyed it so much. Nice of him to say anyway. This evening we went over to the Bay. I saw them again for a short time.
Wednesday 28 This afternoon we took Auntie Frank to Clayton, when we returned we found the Baldwins. They stayed to tea and how sick I am of them. Kate and they laugh at me so, we took them back to Round Island and watched some fire works for a long time although it has been a very pleasant day. The Baldwins head for the City Saturday.
Thursday 29 Did nothing this AM. This afternoon Mr. Brockway and Mr. Williams came to say good bye. They leave in the morning, Alex and Aunt Nellie left this morning for Chicago.
Friday 30 This morning we took the "Minnie" to Clayton to take Mr. Gould13 to the train. While we were gone all of the Brownings called, I was so sorry to miss them. This afternoon took several pictures of our seven girls. May and Kate Marston, Carrie Johnson, Helen Reed and Flora Jenkins. We had a gay time this evening. We all went to call on the Brownings and found them all home. Ed Summers and I talked nearly all the time. Flora had to get up a flirtation with him but it didn't work, but probably she will later on for she is such a flirt. She has said to ask why we were doing so many things that I don't like. I wish she wouldn't do that.
[Note Photograph on right is courtesy of Kristen Pinkney ©]
Saturday 31 May Marston and I went over to the Bay this morning. Came back on the "Mamie C". This afternoon just as we were taking some blue beard pictures, Hattie Pullman called. Had a very pleasant call. I must go over there. She has seen Teddie Holland for quite some time.
Researched and compiled by Kristen Pinkney   Kristenpinkney@thousandislandslife.com
© Copyright Kristen Pinkney 2008, All Rights Reserved
________________________________
Closing Remarks – May Dewey's Diary, PART XII, February Issue, TI Life

May's diary ends here at August 31, 1889. Whether or not she ever wrote any more diaries is unknown. May and Ella kept the Mission Society going after Frances' Dewey death on November 2, 1889. The Young People's City Mission Minutes, which were purchased with May's diary, show the Society was in existence from 1888-1899. The Minutes themselves do give us a glimpse into their charitable works: Buying cloth and sewing clothes, running a Mission School and a Sunday School, even paying people's rent! Refer back to May's entries during their Manhattan Winter to review what she wrote about teaching young girls to sew, with her sister, Ella.

Frances Dewey's obituary from the Lowville Journal & Republican states …" A marked feature was the presence of the Mission School which owed so much to her. Tears flowed from many eyes as the little ones passed by the casket and each one placed a flower upon it. " Frances, known as "Frank" throughout her life, was a devout Christian woman who made a difference, even reading scripture to the Indians who lived near Friendly Island.

Tuesday July 31, 1888 "This morning about ten o'clock Arthur Taylor, Miss Bell, Ella and I went over to Edgewood to play tennis and met there a Mr. Driggs whom Mrs. Conklin had brought to call last night……" May married Frederick Elliott Driggs of Brooklyn on April 4th, 1896 in New York City. My research indicates that during their married life, they lived at 50 Central Park West. Fred's occupation was in the insurance field. May and Fred had two daughters, Katherine Driggs and Doris Driggs. Katherine married Stuart Hardy and had two children, Stuart Hardy Jr. and Florence M. Hardy. Doris married Charles Hamlen and adopted two children, Carol Hamlen and David Hamlen.

Ella married Noble Foster Hoggson on October 2, 1895 in New York City. Noble was an architect and had a firm with his brother, called Hoggson Brothers. There is a very nice brochure on Google Books of the Hoggson Bros firm with photographs which describes what they provided for their clients. Ella and Noble had two children, Noble and Donald.

Noble was a landscape architect and went to Yale and Harvard School of Design. Noble moved to the Seattle area in the 1920's. His work as a landscape architect has been compared to that of Frederick Law Olmsted. Noble had two children, Linn and Lane, who are Ella's only grandchildren and I have been most fortunate to have connected with them. Donald Hoggson married Gertrude Drummond, but did not have any children.

Ella and Noble owned property in Redding Ridge, Connecticut and May and Fred had a cabin on this summer property as well. Linn Blakeney, Ella's granddaughter, remembers the cabin from her childhood. May and Ella made pottery at this location and called it Poverty Hollow Pottery. Linn does have some pieces of this pottery which were passed down to her.

Edward W. Dewey did remarry after Frances' death, to a woman named Myrtle Cruzan. His obituary from the New York Times of January 17, 1903 states that this marriage took place only six months before his death. It appears that Edward did not have any time to change his will and his second wife received nothing. My research found her living out west, teaching school, around 1910-1920. Shortly after Edward's death in 1903, May and Ella decided to sell Friendly Island, which was noted in one of the Northern New York newspapers. However, they did not sell Friendly Island until around 1928-29. The property in Redding Ridge, CT seems to have become their summer get away and it was probably a lot easier to get to than the St. Lawrence River.

Noble Foster Hoggson died October 25, 1939. Ella sold their Connecticut property and relocated to Seattle to live with her son, Noble. Ella died on August 20, 1958. She is buried at the Woodlawn Cemetery in the Bronx with her sister, May, Fred Driggs, her parents, and her niece, Katherine Driggs Hardy. Linn Blakeney recalls coming back East for her grandmother's burial in 1958.

May had written that Woodlawn Cemetery was a lovely place when they rode through it while she and Ella visited with friend Helen Reed in November of 1888. Perhaps that is why Edward Dewey chose to buy a family plot at this location.

May died on June 18, 1949 at the age of 79. Fred obviously sold their property at 50 Central Park West around this time as he relocated to live with his daughter, Doris Driggs Hamlen in Bedford, New Hampshire. Fred died on April 18, 1955. Fred's only sibling, Alice Driggs of Brooklyn never married, so she had no heirs.

So what has sometimes been called by my children as "May and Ella's Excellent Adventure" now comes to a close. I am grateful to all the many people who have helped me along the way with my research, and they are far too many to name! We have all had a "jolly time" as May liked to say!

I have plans to do an article about the house on Friendly Island and the sequence of ownership. I have accumulated so much research on Thousand Islands families along the way that I will continue to make contributions to Thousand Islands Life from time to time.

© Copyright Kristen Pinkney 2010, All Rights Reserved

February 14, 2010