Written by
Jean Papke
posted on July 12, 2010 21:36
The nine passenger single engine plane chartered from Carson Air in Toronto picked up a newlywed couple who had spent the night in the castle's Royal Suite on the calm July morning and flew them to Ottawa, Canada for a flight to Los Angeles by private jet. The conditions on the river were superb, no wind and total calm on the water allowed the plane to land and take off from Singer Castle's south dock with ease.  But travel to and from the Island has seen many forms of transportation.  
When they used the island as a summer hunting and fishing ground, Native Americans came in their birch bark canoes. Traces of their occupation such a granite grindstone can still be seen. During the construction of Frederick Bourne's "small hunting lodge" in the early 1900s, workmen arrived by skiff, by scow, by barge, and in winter by sleigh and by foot across the ice.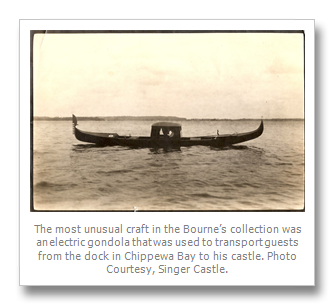 Commodore Bourne and his family, all of whom were boating enthusiasts, reached the island in motor launches such as the 60' "Dark Island" and over the years family members owned a variety of boats in all sizes and types including a series of boats for racing in the Frontenac Gold Cup and other races that were held yearly in the 1000 Islands. Daughter Marjorie won the 1909 Gold Cup Race in the "Moike" a 36' racing boat she received for her 16th birthday. The "Moike" is now in the collection of the Antique Boat Museum in Clayton. Commodore Bourne even brought his larger yachts such as the 81' Artemis and later his 111' steam yacht named the "Sioux" to Dark Island. The boats were stored in the island's two boathouses and skiff house. The most unusual craft in the Bourne's collection was an electric gondola that was used to transport guests from the dock in Chippewa Bay to his castle.
In the present day, guests come to the island by boats large and small: canoes, personal watercraft, kayaks, motorboats, fishing boats, dive boats, antique boats, cigarette boats, cabin cruisers, shuttles, tour boats, cruise ships, and even tall ships come to the shores of Dark Island.
By Jean Papke, Singer Castle
Jean Papke is a native New Yorker and grew up in Rochester, NY. After 28 years living in New Jersey, she and her husband moved back to New York in 2001. After vacationing in the 1000 Islands for almost twenty years, they purchased a home and now live in the region full time. Jean began working at Singer Castle in 2006 as an assistant to Tom Weldon and developed an immediate fascination with its history.   Judy Keeler, the Castle Historian, and Jean are actively working to gather the history of the early years of "The Towers" on Dark Island and of the Bourne Family.  Jean and Judy are now also known as the Wedding Team and they work with prospective brides to create their dream wedding at Singer Castle.
TI Life received this article from Jean Papke this month and as many of our readers have expressed their wish to learn more about this special property,  we are pleased to share it.  TI Life encourages you to take advantage of an invitation to tour Singer Castle.  It is open for guided tours daily thru Labor Day and weekends and by appointment in the fall. Come to the island in whatever size boat you have available. They will  welcome you from 10:00 a.m. – 5:00 p.m. or come and spend the evening in our Royal Suite. Call 1-877-327-5475 for more information.
For more stories about Singer Island, please see Singer Castle in Print, April 2010, Queen of the Castle on Dark Island, October 2008, King of the Castle on Dark Island , October 2008