Written by
Rex Ennis
posted on December 13, 2010 22:17
Julius Mendel Breitenbach or as he was known in 1928 "Santa Claus of the Thousand Islands," was born in December 1890.  He obtained his degree in pharmacy from Columbia University where he was one of the founders of Tau Epsilon Phi (TEΦ, commonly pronounced TEP) Fraternity in 1910. He spent his summers at a boy's camp on Grindstone Island.
He was elected to full membership in the Society of Automotive Engineers in December 1917. In February 1916 he married Selma Markus, this wedding ended in divorce and in June 1939 he married his secretary Delilah P. Flagler, who was also divorced. Breitenbach passed away at his home at 500 Theresa St., Clayton on 30 September 1968.
Max J. Breitenbach, Julius' father, was well known in the patent medicine business. The Family summer home was "The Ledges" in Alexandria Bay. They also had a home on Maple Island, the one below Alexandria Bay. Julius lived in Alexandria Bay for a number of years but in 1960 he sold Maple Island and moved to Clayton. Six months before his death in an interview with the Watertown Daily Times, Julius revealed some of his father's early interests and accomplishments. "His business interests were chiefly in the automotive field. He was also interested in television in the experimental stages and in early radio. He offered to purchase and install a radio station at Alexandria Bay in 1926, but a license could not then be obtained."  The New York Times reported that Max J. Breitenbach left an estate of close to five million dollars.
The Breitenbach Archive at the Thousand Islands Museum consists of numerous patent and other engineering documents and plans. The material was found in the Breitenbach home after it was sold to Edward L. Corbett. Corbett recognized the historical value of the documents and gave them to the Thousand Islands Museum.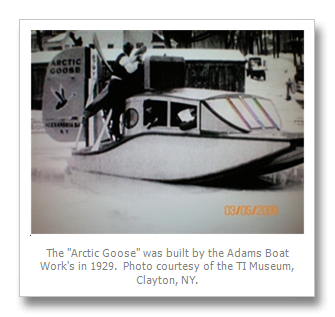 Julius Breitenbach is remembered for his philanthropic activities and community mindedness. He was the Deputy Fire Coordinator for 16 years and a civic benefactor.  He was also a member of several community organizations, including director of the Alexandria Bay Chamber of Commerce.
He gained the title "Santa Claus of the Thousand Islands" in 1928 after distributing 500 pounds of candy and 500 pounds of nuts to the children of Alexandria Bay.  Each child got a box of candy and nuts without discrimination as to their status.
He was also interested in motorboat racing and owned the Wild Goose built by the Adams Boat Works in Alexandria Bay. In a trial run of the Wild Goose in July 1928, Breitenbach was injured when the racing boat hit a log near Heart Island and he went flying through the windshield, several other occupants of the craft were also injured. The Wild Goose was reported to be traveling at about 55 miles per hour when the accident occurred. In 1926, Wild Goose won the forty mile race at the Thousand Islands Yacht Club beating Duke II and P.D.Q. IV.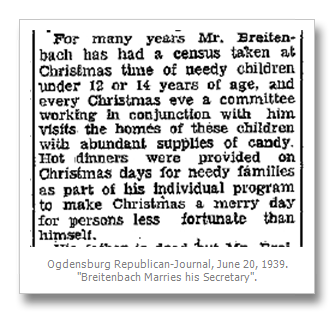 Breitenbach also owned the houseboat "Lachma" the name of which was derived from the first two letters of his son's names: Lawrence, Charles, and Malcolm. In 1922, the family spent the Christmas holidays aboard the houseboat berthed at Bethune Street Dock. The Houseboat was decorated with evergreen trees and lights for Christmas.
Breitenbach's incredible air boat the Arctic Goose, constructed by the Adams Boat Work's Eddie White and Fred V. Barker, was well known in the region. Both White and Barker were mechanics and commercial aviators. Breitenbach claimed that the Arctic Goose could reach speeds of 200 MPH on ice with eight passengers each weighing 200 pounds! (See February 2010 article, "Arctic Goose", for more details.)
By Rexford M. Ennis, Grindstone Island
© Copyright Rexford M. Ennis 2010, All Rights Reserved
Rex Ennis has written several articles for TI Life.  He has also contributed to our History Page which can be found under the Tag: "The Place".   Rex's bio is recorded in Contributors in December, 2008.  He is a well known volunteer in the region as a member of the Grindstone Island Research and Heritage Center and he is a volunteer with the Thousand Islands Museum in Clayton NY.  He recently published a biography of Charles G. Emery entitled: Toujours Jeune Always Young which was reviewed in TI Life, June 2010.  Once again, we thank Rex for sharing another unique historical articles with TI Life.