Carleton Villa Visit 2003
Written by
Paul Malo
posted on September 23, 2006 10:58
  The following presentation has been adapted from an article that appeared in the Thousand Islands Sun Vacationer during the summer of 2003. Black-and-white illustrations have been replaced, augmented with additional color photographs.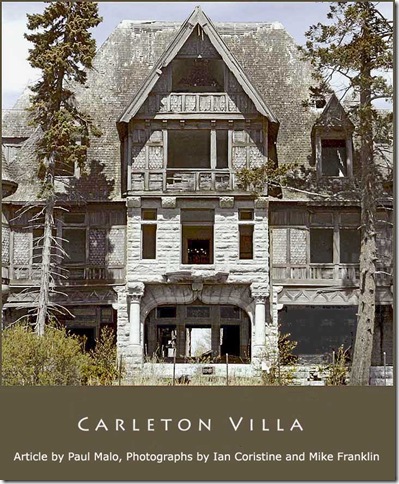 For more than a century boaters passing the head of Carleton Island have marveled and wondered: could this have been a private summer home?  Why was it abandoned?  Carleton Villa, near Cape Vincent, amazed viewers as the most ambitious house on the river when completed in 1894.  The huge edifice has been derelict for more than seventy years now.  Amazingly, it still stands, due to its substantial construction—still causing wonderment.
In 2003 two authors of Thousand Islands books, Ian Coristine and Paul Malo, visited Carleton Villa as guests of the owners.  Their family cottage adjoins the towering mansion, which has been enclosed within a fence, the gate locked for many years. Uninvited visitors are sent away, since the deteriorating house has been genuinely hazardous.  Ian and Paul were invited guests, however, so had the privilege not only of landing, but of being escorted through Carleton Villa.  Ian recorded the visit with many photographs, several of them reproduced here.  An aerial view appears in Ian's book, The 1000 Islands (p. 7).

Today most observers see Carleton Villa from the water when passing the head of the island (top view).  They may suppose that this is the main front of the building, with the entrance in the center.  Actually, this is merely the narrow end of the building, with a bay window where one might expect the door to be. Less visible from the water, the long south side of the building was actually the entrance elevation.

Entrance elevation, Carleton Villa, on the cover of the book by Paul Malo.

An astonishing tower was a regional landmark, with a beacon seen across the water for many miles.  It has disappeared.  Furthermore, visitors originally approached from the back of the house. A deep bay there provided a sheltered harbor.  The Wyckoffs, proud owners of the mansion, built two yacht houses and a skiff house along the bay shore.

Postcard view of South Bay, Carleton Island

Photo by Mike Franklin ©

On disembarking, the first impression was of a monumental fortress.  A double tier of retaining walls lifted the villa's gardens high above the water.

.One ascended a broad flight of steps to a level terrace, where the narrow back of the main house came into view.  The great tower dominated the scene, rising from a massive stone base to its glass lantern at the summit.  Visitors moved around the corner tower, to find the main front on the broad side of the house, not visible from the water.

Photo by Mike Franklin ©

On the island today one may forget one reason for this surprising orientation.  When built, a ferry connected Carleton Island with Cape Vincent and Kingston, via the Wolfe Island Canal, now abandoned.  The main front of Carleton Villa was turned toward the ferry dock. A public right-of-way led directly to the mansion. Another reason for the location of the main entrance was access to the rest of the island, where the Wyckoffs had a model farm. The side entry facilitated a carriage approach.  Tennis court and other recreational facilities were also situated behind the house.

Photo by Mike Franklin ©

Carleton Villa, south side.

The huge mass was complex.  Its tower was semi-detached, connected by two bridges carrying rooms, under which one looked into an internal courtyard.  The volumes of the building were sculptural, broken into many advancing and receding forms.  Turrets, dormers, and massive chimneys crowned the high, steep roofs.  More than merely big and complicated, the building was rich in surface pattern and material.  The upper walls had panels of varied diamond and scalloped wood shingles, framed in a Tudor sort of half-timber pattern of wood beams.  Most distinctively, the lower story and a half were constructed of masonry, clad in gray Gouverneur marble.  The stone carving was finer than anything on any other residence of the region—even the grand "castles" built shortly afterwards.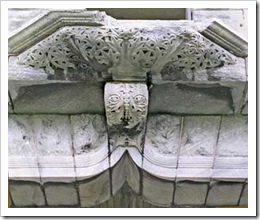 Passing through this and turning, one entered the great hall.  It rose through two stories to a cove ceiling that curved upwards from a second story gallery where a screen of coupled Corinthian columns encircled the imposing space.  The axis of the great hall was terminated at one end by the main staircase with its landing windows, and at the other by a very large bay window (where one might have expected the front entry door).  Large panes of plate glass extended the hall to the vista between Tibbett's Point and Wolfe Island, on to the horizon of Lake Ontario.
Ascending broad marble steps, passing under a marble arch, one entered a porch.   There a side door gave direct access to the owner's library, in the manner of English country houses where tenant farmers and others might come on business with the lord of the manor without entering the private realm of the house.  The large main entry, framed with transom and sidelights opened into a stair hall, lighted by windows on the interior court.
Photo by Mike Franklin ©
Photo by Mike Franklin ©.

As the sequence of arrival from the rear and entry from side culminates, the architect's design strategy is revealed. The axis of the hall extends beyond a wall of glass, through a stone arch, to the broad, infinite horizon of Lake Ontario.

The architect of Carleton Villa was William Miller of Ithaca, NY, well known for his buildings at Cornell University and for affluent residents of that prosperous city, of which William O. Wyckoff was one.  The Wyckoff fortune came from the Remington Standard Typewriter Company, which produced the Remington typewriter.  Wyckoff was the marketing genius who made that product internationally known.  Paradoxically, the president of the company, Philo Remington, had a modest cottage at Thousand Island Park, while his super-salesman built a great trophy house up the river.

The story of Carleton Villa has a tragicomic aspect, recalling the title of book where the building appears on the cover, Fools' Paradise.  According to the family, after expending vast sums on his island estate with this monumental house, William O. Wyckoff spent only one night in it.  This reminds us, of course, of Boldt's unfinished castle and of Emery's great new yacht, Calumet, which was used only one season before Mrs. Emery died.  The large vessel was dry-docked on Washington Island for many years, until finally sold to the President of U.S. Steel, while Emery's "castle" on Calumet Island remained boarded up. The heyday of the Thousand Islands was brief, like our summers--a Fool's Paradise.

Photo by Mike Franklin ©

Carleton Villa was designed for large house parties.  Like Boldt Castle, there were two floors of family and guest bedrooms.  Servants were housed in several stories of the service wing.  A full basement extended even under the exterior porches.  Gun room, wine cellar, walk-in refrigerators and maintenance shop were located here, as was a coal bin and boiler room.  The building had steam or hot-water heating.  Ducts for circulating air also are evident.  Lighting was initially by gas.

Dining Room. Photo by Mike Franklin ©

Flanking the center hall on the main floor were the library and drawing room, on the lakeside, both having large plate glass windows open to the view.  Behind them was the entry foyer on side, with a lovely, oval dining room on the opposite side.  A large butler's pantry connected the dining room to the kitchen and other service rooms at the back of the house.  On the third story above the main hall was another large central hall from which guestrooms opened.  Above it, on the fourth floor, was still one more central space, this one with a skylight.  Either of these large areas might have served as a billiard room or children's play room, although there was a large playroom a half-level about the main floor, on the bridge connecting the entry to the great tower.

Drawing Room. Photo by Mike Franklin ©

After the death of William O. Wyckoff, one of his two sons inherited the villa.  The other summered in a smaller cottage nearby.  Even before onset of the Great Depression, the Wyckcoff fortune was eroded by unfortunate investments.  Carleton Villa passed through other hands until acquired before World War II by the General Electric Company, which intended to demolish it (as well as the ruins of nearby Fort Haldimand).  A corporate retreat with golf course was envisioned on Carleton Island, to replace Association Island nearby in Lake Ontario, which was plagued by variable water level problems.  Materials from the villa were offered to those who would salvage them.  Most of the windows (many of which contained stained-glass transoms) were removed.  In the service wing, the entire floor of one bedroom was cut out and carried over to the mainland.  The marble cladding of the tower base was pulled off.  The grand structure became a sort of community quarry and surplus material supply depot.   Fortunately, total demolition was averted when World War II intervened.  GE abandoned its Carleton Island project, selling the property.  In time the great tower seemed perilous so was pulled down.

 

Can Carleton Villa be saved?  The prospects seem remote, but the basic structure of the building is remarkably sound.  Because the masonry of the lower portion bears directly on bedrock, there has been virtually no movement of walls.  The rear, service wing is collapsing in part, due to demolition of the great tower and connecting links, which left the interior exposed on one side to the weather.  But we see new million-dollar villas rising on other islands.  We see Dark Island Castle now being restored, to join Boldt Castle as a major historic and tourism resource of the region.  Carleton Island is very large, having vast open spaces that could accommodate a golf course, riding trails, and other recreational facilities.  Some sort of club or communal use of grand mansion excites the imagination: Carleton Villa strikes the visitor as fantastic, incredibly romantic—the place where a Gothic movie ought to be made.  Somehow this unique and moving landmark should survive, to be experienced by our children and theirs.
Paul Malo's book, Fools' Paradise, tells more about William Osman Wyckoff and his family. John Haddock's article about Carleton Villa is linked.
by Paul Malo, 2003
Comments
Comment by: Lisa ( )
Left at: 7:11 AM Tuesday, April 21, 2009
---
my Dream home
Comment by: Caitlin ( )
Left at: 3:58 PM Thursday, April 23, 2009
---
For the past 5 years I have been in LOVE with this home! Once I graduate college and save up, my DREAM would be to restore and live in this amazing home!!
Comment by: Alex Malecki ( )
Left at: 7:22 PM Sunday, March 7, 2010
---
Ever since I was researching historic properties in the 1000 Islands I have always attracted my attention towards Carleton Villa. I don't have the necessary money yet, but in the near future my millions will definitley go to restoring what was once and still is one of the greatest landmarks to ever be constructed in the 1000 Islands. I can just imagine what it would look like if the cieling, walls, and floors could be restored! With the future yet to come, I am hopeful for the continuance of what history has left us here on Carleton Island.
Comment by: Kristy ( )
Left at: 10:59 PM Tuesday, April 6, 2010
---
This home is still standing up?!...which mean..its waiting for someone to come save this home to be love and restored.....someone is going be there and restored everything that deserved to be. This is a amazing home. Its still beautiful no matter what! Sometime, its good if just go to store -get some woods or anything...go build..one by one..step by step...just to keep up.
Comment by: Don Werth ( )
Left at: 4:03 PM Saturday, June 12, 2010
---
Throughout my childhood vacation in the 50's and 60's, I kept watch on the villa's decline from nearby Cape Vincent. Never dared to land on the (posted) island, much less try to enter the "castle" itself. Until the "Net, I knew nothing of its history or availability. So great to have a childhood mystery-romance 'satisfied' at last. Come on Millionaires! there's plenty out there...
Comment by: Jon Campbell ( )
Left at: 1:26 AM Thursday, September 16, 2010
---
are there blueprints for this place. it is well designed. i love the first floors foundation
Comment by: Dutch Hayes ( )
Left at: 11:02 AM Sunday, January 2, 2011
---
It would be nice if someone were to buy this Villa and fix it up, but I feel it is unlikely due to the fact that all the surrounding land (in close proximity to the mansion) has been purchased and other homes have been built on these lots. What makes a home like this majestic, is having some surrounding property and privacy. Due to the fact that the small peninsula that the Villa sits on is over-built, I dont think anyone with that kind of money would want it.
Comment by: Hope Zeh ( )
Left at: 2:59 PM Wednesday, January 5, 2011
---
It would be wonderful if even a section of this grand home could be restored. To save some of it would be better than none. Perhaps some volunteers are needed or some type of fund drive - just talking and never doing won't work.
Comment by: Angie Cramer ( )
Left at: 7:30 PM Sunday, February 6, 2011
---
Wow! The magnitude and majestic presence of this villa is just jaw dropping, even in it's sad decay. I wish someone would restore it and give it once again the chance to shine!!! What a beauty.......what a waste...... It would be a great bed and breakfast if someone had the means to restore it and properly care for it.
Comment by: Craig Leask ( )
Left at: 11:56 PM Tuesday, September 13, 2011
---
have also been keeping an eye on this one with a dream of restoring it into a great hotel - ah, who knows, is a dream. I do know from touring the area that they have spent some $30m to date on restoring Boldt Island, so will no doubt take a village, so to speak ... but it is a beautiful structure and it is nice to have a dream ... Another link, with some additional photos
http://www.thecarletonislandvilla.com/
Comment by: John Hobson
Left at: 5:19 PM Tuesday, January 3, 2012
---
As if we needed another reason to hate G.E. It absolutly amazes me that they allowed people to salvage this house. I mean you have to be a real piece of trash to destroy something so beautiful. Let alone being thejerk who's actually ripping it apart. I'm sure all those people are in a bad place right now.:) I only take comfort in knowing that G.E. does nothing but lose money. Ha!
Comment by: Cynthia Marks ( )
Left at: 11:04 PM Saturday, August 18, 2012
---
I love this place! My sentimments exactly, John Hobson.
Comment by: LD
Left at: 8:10 PM Thursday, December 20, 2012
---
This house shall be restored. The Lord has called me to it... I know this is not yet another wild fantasy of mine, it's real! And with the love of so many for this beautiful and tragic piece of history, how can anything but a bright future be in the making for it? It is in the Lord's hands.
Comment by: Georganne ( )
Left at: 12:42 PM Thursday, December 27, 2012
---
Are there any descendants of the Wyckoff family? The family home should be preserved for future generations. Without an example of family history, the family name does not exist.
Comment by: Terrie ( )
Left at: 9:34 PM Wednesday, February 27, 2013
---
OMG. I can't imagine that there isn't someone out there, with money, that wouldn't want to bring this beautiful and historical home back to life. I can't even begin to wonder how incredibly gorgeous this was in it's prime. Do I think this should be saved? All I can say is "hell yeah"!
Comment by: Georganne ( )
Left at: 7:21 PM Thursday, February 28, 2013
---
Why wasn't the New York Historical Society notified of this falling landmark?
Comment by: Georganne ( )
Left at: 9:08 PM Thursday, February 28, 2013
---
Try info@nyhistory.org or communications@nyhistory.org.
Comment by: Rich Calabrese, Jr ( )
Left at: 4:14 PM Friday, March 1, 2013
---
This saddens me. I've always hoped someone with the guts and money to rehab such a residence would step up. Look at the structure and imagine it and the grounds 100 years ago. Such a shame that it's fallen into such disrepair. There's hope, look at what's been done with Boldt Castle.
Comment by: Juliana Whilden ( )
Left at: 3:42 PM Wednesday, August 14, 2013
---
vgbI have looked at the villa so many times and never get tired of looking at it. What impresses me the most is the architecture and the structure after 100 years. So beautiful even after the decay. If only one could step back in time for just a moment to relish in the beauty of it. To be in it's pressence in it's finest hours. What a dream that would be.
There are family members left but no one has the finances to restore it or the time. To much has happened to it. Bolt castle was never this bad.
Comment by: Melissa ( )
Left at: 8:00 AM Sunday, September 29, 2013
---
I get tears in my eyes every time I search for the villa to see if it has been saved yet. I live on the other side of the world and am in love with this place. My 5 year old is captivated by it too. I don't have the money this place needs but hopefully someone will buy it and restore some history instead of building a new multi-million dollar mansion that would never stand up to the abuse this beautiful piece of history has. No offence to the current owners but some people are jus so money hungry they would rather see this place fall down and make money from selling the land than to donate it to volunteers to save it. They are not making money from it and if by chance someone does buy it they won't make their money back they have been paying on land taxes anyway. And it was probably something they have inherited so they didn't pay anything for it.
Comment by: Tammy Sakall ( )
Left at: 1:02 AM Saturday, January 18, 2014
---
This home is so beautiful & was built to be lived in & enjoyed. I can only hope that someone with the necessary funds & a love for saving old, deserving homes will step forward soon & save/restore this place to its glorious self! If I had it, I would in a heartbeat!!!
Comment by: Aron E. Storm ( )
Left at: 8:18 PM Thursday, February 13, 2014
---
Remember to those who DREAM BIG .Some ones Dream will come true. Maybe this one willcome true for you. Happy Valentines Day. 2/13/14 And if it does.Give GOD the Giory.
Comment by: Ellen capone
Left at: 8:52 AM Thursday, May 21, 2015
---
I was a life guard near there and never heard of it, or would have visited. I am incredibly enchanted and mesmerized by the.carleton villa. I feel that it is imperative to have this and majestic home preserved because it is the perfect representation of our historic golden gilded period of our golden gilded age and period of this county, where tremendous wealth and success can be coupled with the best in architectural design and affordable superior craftsmanship(that no longer even exists), and in one of the most beautiful settings in the country. I think it is the responsibility of local and state preservations to ensure restoration occurs and such a national treasure is save, I'm certain that the tourism revenues generated from this would offset the expenses long term.
I live in northern Virginia where their major focus with preservation is for Everythinng related to the civil war be made into a thriving and prosperous tourist economy, it is amazing and highly successful...thousand islands should do the same. I am interested in keeping abreast of any developments with this, wish I could do more!
Comment by: Karen L. Davis
Left at: 6:28 PM Friday, September 4, 2015
---
An on going fund raiser could be tour boat tours under guidance of a historical society, at $100 per person. Am sure with advertising and right direction from the right people …it would be a beginning to the restoration. Only one tour boat company allowed, at a price of course. If becomes a reality …save me a seat!!!
Comment by: Barnabe Barnabe Deinkes
Left at: 10:43 AM Sunday, November 20, 2016
---
Greetings, my name is Barnabe Barnabe Deinkes from the United States after visiting your website and viewing your abandoned luxury homes I would like to to know if they are for sale and what are the size of their lands?
Please send some information about the lands and the selling prices.
I am a real salesperson ling in the United States I do hard money finance also at interest rate rate low as 6% with 30% down another 10% for the real estate broker fee.
I am looking forward to read your mail.
Kind Regards
Barnabe Barnabe Deinkes
421 Saw Mill Rd A3
West haven, CT - 06516
United States
E-mail: gemeexco@yahoo.com
Comment by: douglassix
Left at: 1:28 PM Tuesday, February 20, 2018
---
hi could some one give me a up date with the property is it still standing who is the current owner and do they want to sell it . what do they plan on doing with the property. can i go and see the property in may or are people not aloud to see it. the date is 2/20/ 2018
Comment by: Janet D'Alessandro
Left at: 4:42 PM Saturday, June 16, 2018
---
The Villa has been on the market for over 2300 days. Visit Realtor.com for information.
Comment by: Janet D'Alessandro
Left at: 5:58 AM Sunday, June 17, 2018
---
Anyone interested in purchasing this Villa can view the details on realtor.com.