In the spring of 2000 my husband, Doug Girvin, and I moved to the Islands.  By summer we'd become 1000 Islands boaters and aspiring river rats.
10 years and a ton of exploration later our appreciation for the 1000 Islands continues to grow. So much so that recently I took the chance to connect two loves -- the Islands and working with students -- to create a special project to capture the passion, freedom and opportunity so many feel for the River and our Islands.
As a mentor in the Advertising/Integrated Marketing Communications Program (IMC) at St. Lawrence College (Kingston) I've learned just how many talented students graduate from this great program. And, part of what makes these students so strong is that they require challenging industry projects to increase their learning and contribute to their creative portfolios.
In the early fall of 2010 I designed a glam video project with the help and support of Scott MacCrimmon (Ed Huck Marine) and Ian Coristine (1000 Islands Photo Art). IMC's Professor Kathy Patterson lent her support to the concept and Ricardo Giuliani and Brook Johnston assisted by recent graduate, Allison Townsend, worked diligently with me to determine the creative.
To enhance the learning opportunity for the students and to ensure we could reach the professional production quality this work required, I recruited Todd Morgan, Creative Director, morgancreative.ca and David Findlay, Musician and Composer, www.musicoverproductions.com in the late fall. Located in Toronto both have now become 1000 Island fans too. Todd generously provided coaching and mentoring to the students stepping into a hands-on role as the work progressed to ensure its high-quality production results. "It was fun being in a mentoring role. It reminded me of my early days in TV production and how important it was that others were there to help me meet my professional goals" says Morgan.
From October to November we conducted interviews resulting in more than 30 hours of film at several interview sites. The result … 1000 Islands PASSION and 1000 Islands VOICES.
PASSION is a montage of Ian Coristine's award winning images set to script and music. VOICES (a companion piece) contains sound bites from interviews with passionate 1000 Islanders whose love for the Region adds to the mystique of our fabled region.  Interviewees are individuals ranging from a former astronaut to globally successful entrepreneurs who have embraced the 1000 islands lifestyle, and are stepping up to enable prosperity and opportunity for others.  Talking with them inspired us all.
And for the students 'It was a fabulous learning experience" notes Ricardo while Kathy Patterson comments, "our college has a long tradition of integrating community organizations and businesses into practical student assignments. This project raised the bar in terms of quality expectations and connections for the students. It will be a real model we can use for future industry initiatives."
Interviewees included: Colonel James C. Adamson, US Army (Ret.) NASA Astronaut (Ret.) Director and Governance Committee Chair, Com Dev Intl. Cambridge, ON; Ian Coristine, Best-selling author and 1000 Islands Photographer; Winner of the international "Benny" (Benjamin Franklin) Award; Terry Dixon, Partner, Eagle Point Winery, 1000 Islands; Simon A.F. Fuller, Principal of Tall Ships Landing Developments; Brockville and Chair and Founder of The Maritime Discovery Centre of the1000 Islands at Tall Ships Landing; Heather Howard, Owner 1000 Islands Duty Free and Fox Run by-the-River Retirement Residence,1000 Islands Parkway; Lawrence (Larry) J. Macauley, Executive Vice President and Chief Technical Officer for Interbrew S.A. Leuven, Belgium (Ret.); Scott MacCrimmon, Co-Owner, Ed Huck Marine;  Kim Lunman, Writer, Photographer and Publisher, Island Life; Joseph M. Pal and Lucie Pal, Co-owners,The Ivy Lea Club; Susanne Richter, Co-Owner, Victoria Rose Inn; and David Seal, Co-owner of the Glen House Resort and the unique Smuggler's Glen Golf Course now attracting golfers from around the world.
The overall goal of the "Glam Video Project" was to bring a heightened awareness to the 1000 Islands and the opportunities the River offers all. To ensure the message got out a key enabler was the social media strategy we created to launch the videos. One result of this strategy is that my PrairieCORE YOUTube Channel is now filled with close to 6,000 views and comments from across Canada, the US and around the world.

And,  I've had requests from many, to use the videos to profile the Islands for their own promotional goals. I have happily given permission. It's our gift to the Islands.
With thanks to Ian Coristine, Scott Macrimmon, Joe and Lucie Pal and Simon Fuller.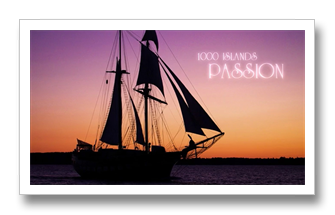 From the Editor:
The news that 1000 Islands PASSION and 1000 Islands VOICES had launched was first announced in March 2011 issue of TI Life.  It was also announced on Abay.com.  Since then " more than 6000 have viewed these two videos and the reviews are many:
Awesome videos, I just played them at full volume in the departure hall at Perth Airport.
Peter Lee, Cloudcoach.com, Australia

I have finally had the chance to sit quietly and enjoy these two videos of the thousand islands, the St. Lawrence river, and the people it has chosen. Fantastic. Great photos, great people, great dialogue.
Carol Mackillop, Mackillop Law, Kingston, CA
"Passion" and "Voices"
PASSION and VOICES create buzz for the 1000 Islands through unique industry / college alliance:   Click Here to view:  http://www.youtube.com/user/prairiecore
We encourage you to add your comments so others will know how you feel about the place.
By Linda Gayle Ross
Born and raised in rural Saskatchewan, Linda Gayle Ross considers herself a serious Canadian because she's hooked on open spaces, changing weather and grand horizons. She has lived in five Canadian Provinces and the US Midwest. In 2000 she moved to the 1000 Islands with husband, Doug Girvin.

Linda's professional background includes marketing and communications, fundraising, teaching and training. She is the Owner and Creative Director of PrairieCORE.com, a boutique agency located in the 1000 Islands specializing in creative communications solutions and strategic corporate events.