Written by
Susan W. Smith
posted on March 13, 2011 22:59
There is something special about March.  The luck of the Irish on St. Patrick's Day, Daylight Savings Time, and yes, the days are getting longer!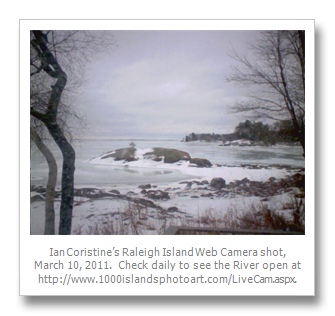 For those of us who can hardly wait, there is a reality check on Raleigh Island's web cam and Dennis McCarthy's photograph up river in Rose Bay, Beadles Point, near Cape Vincent.  These pictures, taken on March 10th, show it is a little soon to be launching the boat.
If you want to know about How Sweet It Is, see Kim Lunman's article about Sugar Island.  Lynn McElfresh asks Have you paddled a Voyageur Canoe?  Kim Robinson takes us on an Island Quest Scavenger Hunt … and  Michael Folsom returned this month with another description about living on a ship in What's Cookin'.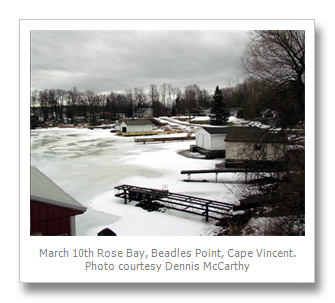 Linda Ross relates a marina's history in 120 Years and Counting which includes the popular annual 'Women and Water' event which brings women together to meet one another, increase their docking skills and overall boating knowledge.
Tony Mollica relates how the  St. Lawrence River Skiff goes beyond….  The article was first published by The Finger Lakes Chapter of the Antique Classic Boating Society in their newsletter, "Brightwork".
Steven Glazer presents Henry R. Heath: Union Soldier, Thousand Islands Pioneer (Part II).  Our readership will appreciate the author's efforts to provide some fascinating material about the settling of the Thousand Islands in the 1800s and the role Henry R. Heath played in building pride in the region.
Tom King returns with  photographs of eight More Nostalgic Vessels  of the 1960s and '70s taken by his father the late Jim King. This time he features a couple of American Boat Line tour boats as well as Canadian coast guard and RCMP vessels.  He asks our readers to once again share memories and comments to fill in the blanks about the history of these boats.
I present Kathi and Dennis McCarthy's Discoveries … and share their underwater photographs… Have you seen the 1956 Chevy off of Grindstone Island?  Now you can.  I also introduce Johnny Truesdell's Abay.com, which takes us on a snowshoe walk on Macsherry Trail and we announce Coming to Clayton... in June during the "Sailing Seaway Clayton"  week of June 14-20.
New Contributors
Steve Adams - Steve Adams' Henderson Harbor

Steve Adams originally started writing poetry for his wife for Valentine's Day. Thirty poems later, here he is. He says he "came to appreciate a poem for its ability to say, in just a few words, what a book would require a chapter to explain".   He has  visited the Thousand Islands almost every summer for 45 years.

 

Linda Gayle Ross - 120 Years and Counting

Linda Gayle Ross was born and raised in rural Saskatchewan,. She considers herself a serious Canadian because she's hooked on open spaces, changing weather and grand horizons.  She has lived in five Canadian Provinces and the US Midwest.  In 2000 she moved to the 1000 Islands with husband, Doug Girvin.  They are now both aspiring river rats.

Linda's professional background includes marketing and communications, fundraising, teaching and training.  For the past 10 years her focus has been on brand development, online communications, collaborative technologies and strategic corporate events. http://www.prairiecore.com/BIO.

Linda Ross also serves as a mentor in the Advertising/Integrated Marketing Communications Program at St. Lawrence College (Kingston). She recently created an industry/student alliance while connecting with seasoned professionals to produce "1000 Islands PASSION" and "1000 Islands VOICES" In the May issue of TI Life, Linda will describe their adventure.
"1000 Islands PASSION" & "1000 Islands VOICES"
If you, like many others, have been trying to convey to friends and family elsewhere just how exceptional the Thousand Islands really are, thanks to Linda Gayle Ross and her team of volunteers, you now have two new ways to do it.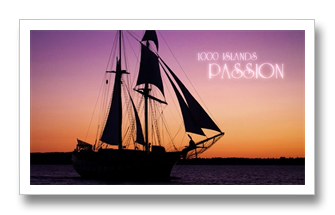 In the spirit of helping build a greater appreciation for this exceptional place, Linda has produced two short videos as a community service; 1000 Islands PASSION and 1000 Islands VOICES.  In the first you'll enjoy the beauty and in the second you'll hear some passionate 1000 Islanders expressing why they feel this way about their River.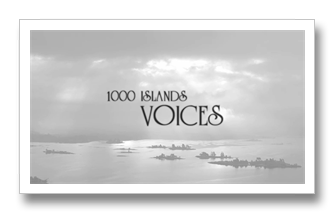 Perhaps with these videos you'll finally be able to explain your obsession with the place so your friends won't think you're so crazy after all. At the least, they will show that you're not the only one who thinks this way.
Please Click Here to view these two videos. We encourage you to add your comments so others will know how you feel about the place.
Enjoy… From the TI Life Team.
In addition…
Be sure to check out our "Properties", "Publications" and "Events".  And do send your upcoming events to info@thousandislandslife.com for posting.
Our appreciation to those who shared their photographs on our Facebook page this month.  Be sure to visit and see them all.  (Click to enlarge)
Lynda Crothers, Posted Feb. 18, 2011
"Two furry travellers on the ice between Wolfe Island and Cape Vincent.
Mark Davis, Posted Feb. 23, 2011
Mark posted several photographs taken over the years in the winter.
Paul Cooledge, Posted Feb. 18, 2011
" Lillian spotted a couple of dock inspectors yesterday…"

 
By Susan W. Smith, Editor.  susansmith@thousandislandslife.com
]