Going, Going, Almost Gone…
Written by
Susan W. Smith
posted on May 13, 2011 22:35
In April, the website ABay.com published photographs of the crumbling boathouse on Ina Island.  The author, aka Johnny Truesdell suggested: "Once a Grand Dance Hall that entertained socialites back in the area's heyday, the Hagen Boathouse of Ina Island slips further into the Saint Lawrence each year. Unfortunately, the current owners who have been there since 1985 or so, chose years ago to stop the yearly maintenance which consisted of yearly jacking from the ice and re-supporting of the structure among other things".  His opinion was simple:  "As you can see the old boathouse really took a turn for the worse as of late. And really, if there was ever an Historic location on the river that should have been saved this is probably it. The whole situation is a huge shame. Seems like it will have to be taken down eventually??"
A few days later there were over 100 comments posted on ABay.com's page agreeing that it was a huge shame.  
On April 26, Brian Dwyer, news commentator for YNN (Your News Now) filed a story "Once popular boathouse now collapsing into St. Lawrence River"  with a video interviewing local Alexandria Bay residents.  These residents remembered the days of parties in the boat house, and the gracious Island home with its 20-bedroom home built in the Golden Era.   The next day YNN ran a second story, "Family plans to have boathouse taken down this summer."  Their news staff had contacted the Fulmer family from Pennsylvania, reporting that the family were "working to have the boathouse taken down this summer before it collapses into the river."
We at TI Life have seen this happen before. In fact our regular coverage of the Carleton Island Villa is an example.  Since Paul Malo created TI Life we have published five stories1 about Carleton Villa.  As editor, I have posted dozens of comments on these stories. 
Rick Tague,  year-round Wellesley Island resident and president of the Bernier Group the engineering firm that helped stabilize and refurbish the Boldt Yacht House, explains the complications of keeping these structures maintained,  "I understand that an attempt was made to drive steel piles on the North side of the Ina Island boathouse, however nothing was ever done and the project was abandoned.  You can actually see them if you look closely at the pictures.  They may have had trouble finding rock to bear them on."
"I know in our work at Boldt Castle driving pipe piles for dock support that the rock drops off very quickly and the depth of the piles can change dramatically.  Because of the bottom conditions, boat houses were usually built on wood cribs that spread the load out over a larger footprint and typically they would be allowed to settle in the mud for a time before they were built on.  However, as Johnny Truesdell noted if they are not maintained by replacing the rotted timbers holding the stone cribs together, and jacking the building as it settles, then eventually the cribs fall apart and the building eventually collapses".
"Although the Peacock Yacht House ultimately burned, it essentially suffered the same fate.  When it was no longer used to haul the wooden tour boats out to store them for the winter, the yearly maintenance to replace rotted crib timbers (that rotted due to the yearly cycle of being wet then dry as the water level changed) was stopped and the building literally fell off the deteriorated cribs and its "back" was broken". [See Rick Tague's March 2009 The Peacock Yacht House and April 2009 Peacock Yacht House, Part II]
Trude Fitelson, who received the 2008 Preservation League of New York State's Individual Excellence in Historic Preservation Award, for her work of several decades at Thousand Island Park, has long been a driving force in protecting historic buildings from demolition or inappropriate alteration. Trude suggests, "As one who has been involved in historic preservation for over 30 years, the collapse of the Ina Island boathouse is sad but emblematic of our times. The structure has not been maintained for many years. The stewardship of these structures is not easy as all of us that own river property that are architecturally significant know. They need constant attention. It is a sad commentary on our society that we do not care enough, as with the Peacock boathouse, once gone, never replaced and the Ina island boathouse was so representative of the golden era in the Thousand Islands".
This month Kim Lunman's article Kestrel Finds its 'Castle' at Boldt Yacht House shows how the Boldt Yacht House on Wellesley Island was preserved, but without the dollars invested by the Thousand Islands Bridge Authority, this restoration project would have been impossible. 
What role can we play?  In the words of the late Paul Malo, creator of TI Life. "Individuals tend to bristle when told what they can and cannot do with their own homes."  It is my hope that by continuing to publish the history of people and places of the Thousand Islands, on both sides of the border, we will all remain passionate about our surroundings and have a strong appreciation of the place.
Susan W. Smith, Editor, www.thousandislandslife.com
In April 2010, Ian Coristine's wallpaper puzzle pictured an aerial view of Ina Island. Fritz Shantz solved the puzzle with the following:
Boy, am I familiar with that area. It was literally my backyard for some part of nearly every summer of my 56 years. Your photo shows a large portion of the Summerland Group, located between Rockport, Ontario, on the Canadian side, and Goose Bay on the American side.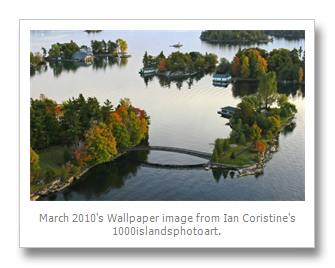 The head of Sport Island is in the lower left, with the bridge going to Little Lehigh on the right. Across the top of the photo are the boathouses of Ina, Sunnyside, and Idlewild. The Ina boathouse is now well-known for its state of near collapse, and, based on the condition of the boathouse in your photo, I am guessing that you took this photo about 4 or 5 years ago.
My family's place is on Summerland, the head of which is just visible in the upper left, across the tiny cut from Ina. My great-grandfather, Frank Hawley, was one of the original summer people who spent the summers of the late 1800's in tents on Summerland before they carved up the side facing the main channel into lots for cottages and left the back of the island as common property, owned collectively by all of the island property owners. I was told as a boy that they used to keep the Summerland Island cow on Ina so that it wouldn't get into the tents.
Ina was later bought by the Hagans, who were from Rochester, New York. My mother, who was from Nassau, Bahamas, was visiting Sue Hagan in the 1930's, and Sue set her up with a blind date – my Dad - who arrived in his brand new Hutchinson utility, "Deuces Wild." At the end of the evening, however, my Dad did a switch: he dropped my mom off at Ina and then took Sue for a moonlight cruise! My Mom never let him forget that little faux pas. But my Dad later proposed to my mother on the seawall at Ina, and, happily for my brother and sister and I, she forgave him and accepted. She always recalled the dances that were held in the large ballroom over the now-collapsing boathouse.
Sue Hagan later married Godfrey Higgs, a Bahamian barrister who won considerable acclaim for successfully defending Alfred de Marigny. In 1943, De Marigny was accused of murdering his father-in-law, Sir Harry Oakes, a wealthy Canadian who lived in Nassau. Sue and Godfrey Higgs later bought Lotus Island, which is shown in the very top right of the photo. I remember them coming up with their two sons from Nassau to spend summers on the River in the 1960's.
The almost-bare rock between Ina and Lotus is called Elephant Back. The story was that, despite the somewhat grand appearance of the house on Ina, the dress code was "casual." One guest who refused to abide by this rule was said to have been ignominiously kidnapped one night and marooned on Elephant Back until the following morning. He learned his lesson.
Sport is well-known and written up in Paul Malo's "Fools' Paradise." Sunnyside, or Hadassah, is directly below Elephant Back in your photo, and has a beautiful house that faces the Seaway through the channel between Elephant Back and Ina.
I could go on. But thanks very much for your photograph.
Fritz Shantz, Latham, NY.
TI Life is grateful to Johnny Trusdell and Abay.com for sharing these photographs with our readers in this photograph essay:
Photo Essay:  (Click to enlarge each photograph)
| | | |
| --- | --- | --- |
| | | |
| 2004, Fritz Shantz | 2005, Fritz Shantz | 2005, Rick Tague |
| | | |
| --- | --- | --- |
| | | |
| 2007, Fritz Shantz | 2009, Rick Tague | 2009, Rick Tague |
| | | |
| 2010, Rick Tague | 2010, Rick Tague | 2010, Fritz Shantz |
| | | |
| April, 2011, Abay.com | April 2011, Abay.com | April 2011, Abay.com |
| | | |
| April 2011, Abay.com | April 2011, Abay.com | May 2011, Fritz Shantz |
About Ina Island
Twenty acre Ina Island was originally named Venus Island by Captain William Fitzwilliam Owen on his 1816 hydrographic survey of the St. Lawrence River. One of the specially named groups of islands was called the "Hydrographers" in honor of the members of the survey team that took part in Capt. Owen's Survey. The island names were recorded only on the British Admiralty Charts and never adopted by their American owners. It is safe to say that the owners were unaware of these first names because the British charts were not widely circulated.
William Venus (d 1846) entered the Navy in 1800 and served on several ships off the coast of England. He fought in the Battle of Trafalgar in October 1805. He next served in the West Indies as well as in Halifax on the North American station; at Walcheren, off the coast of Guernsey; in the Baltic; and finally in the East Indies and Java. Venus returned to England and in 1814 was sent to Quebec and then to Kingston to serve on the ships: Prince Regent and the St. Lawrence under the command of Sir James Yeo and Sir Edward Owen. During the Great Lakes Survey, Lieutenant Venus was in command of ships on Lake Ontario and Lakes Erie, St. Claire and Huron. He is also credited with completing the hydrographic surveys around the island of Montreal.
In 1871 the island was sold to Samuel A. Briggs who came from Chicago. The island was named after his wife Ina Bessie Briggs. Briggs also purchased Arcadia Island. The sale was recorded by Andrew Cornwall in his notebook as "Five Islands in a chain one called 'Arcadie' North East of Summer Land (Island) about 4 rods from it and contains about 3 or 4 acres land the other called 'Ina' and is South West from Summer Land and bout 4 rods from it, and contains about in acres… Letter from J.W. Pullman on file and Recd his check on West Side Bank N.Y. for $150.
The island was sold to Mrs. Emma Hagen in 1896. The Hagens came from Rochester, NY. Arthur T. was president of the Star Palace Laundry, a director of the American Laundry Machinery Company, and president of the Palace Laundry Company of Buffalo. He was also a director of the Fidelity Trust Company, and a trustee of the East Side Savings Bank. He invented a number of laundry related machines which led him in 1891 to establish the A. T. Hagen Laundry Machine Company. Travel was his hobby and he visited countries in all parts of the globe.
[References:  First Summer People: Thousand Islands 1650-1910, Susan W. Smith, Boston Mills Press, 1993. and Rex Ennis, Grindstone Island.]
Do you have Ina Islands stories?
Comments
Comment by: Dick Withington ( )
Left at: 8:27 PM Saturday, May 14, 2011
---
A couple of additional notes. I worked for Hutchinsons in Alex Bay in the late '50's. At that time, I believe, Lotus Island was owned by the Broderson's from the Rochester area. Their daughter was Gretha. I think Sport Island was owned by George Gerhardt. I remeember their son, George, and his 18' varnished runabout. Their 53-ft Chris-Craft was the queen of the River fleet until Partlow's Mercury arrived. Great memories.
Comment by: Dennis Honeywell ( )
Left at: 10:38 AM Sunday, May 15, 2011
---
To old...to soon. In the late 50's I worked at the Edgewood Resort in Alex Bay and they offered a water taxi for thier guests...to the various Island restaurants in the area...and I was lucky enough to run that taxi (Miss Edgewood-1956 23'Chris Craft Holiday) to restaurants that included Robinsons, WauWinet, Ina Island and another wonderful farm house type restaurant on Grenadier that specialized in fried chicken...and was operated by a great old couple named Geordie & Myrtle Heffernan. Anyway, the Ina Island stop was always a highlight of the evening. It featured a wonderful restaurant and of course always parties and dancing going on in the huge boathouse. I still bore my wife with that story every time we pass Ina Island to this day. She has heard the story dozens of times.
Thanks for the great stories.
Dennis Honeywell
Comment by: Charles D Snelling ( )
Left at: 1:47 PM Sunday, May 15, 2011
---
Dear Susan,
Good story. Actually, a bad story. This never should have been allowed to happen.
Years ago, when I owned Belle Island, which was Peacock's original island, and I saw what was going to happen to the Peacock boat house, I asked the owner to purchase it, promising to put it back into good contition. The then owner turned me down flat, not even any negotiation on price. "I have to keep it to keep my old wooden tour boats", she told me. The boathouse was soon allowed to go to rack and ruin, and the tour boats with it. Soon after the boathouse collapsed there was a terrible fire which destroyed (cleaned up?) what was left of everything. How strange, with no power in the boathouse. So we loose our wonderful old buildings!,
Charles
Best, Charles
Comment by: Jim Walters ( )
Left at: 8:18 AM Monday, May 16, 2011
---
I spent my summers on Dingman Point starting in the 60's, and had the privilege of working summers on Sport Island in the early 80's for Mrs. Baker. Great woman who loved the river and the history that came with all the islands. I've heard Sport was purchased with the intent of refurbishing the property. I hope the people who purchased the island follow through with the plans and don't sit back and allow the same to happen the the once beautiful island. The 1000 islands hold a special place in my heart and all should take the time to learn about the most beautiful place right in our back yard.
Comment by: Andrew
Left at: 12:52 PM Monday, May 16, 2011
---
Maybe the re-assessment had a little to do with this sad situation? Anyone ever think the owners could have looked at the cost to fix it, vs the new tax burden, and chose to just keep their place? Can you imagine choosing between fixing a beautiful building like this or staying on the river? Seems to me it could have been saved as late as 2004 or 5. Shame.
Comment by: Peter Charron ( )
Left at: 3:23 AM Tuesday, May 17, 2011
---
Every evening after diner, weather permitting, my wife Catrine takes her Chris Craft Speedster and our 5 year old daughter Cosette on a sunset tour. Ina's boathouse is the highlight of the route. They stop, peek inside to study and discuss the day by day deterioration. For both it's become a little obsession. It's even the wallpaper photo on her iPhone! I heard the boathouse would be torn down and gone when Cosette returned to the islands this summer! I don't have the heart to tell her.
Comment by: Bert Harris ( )
Left at: 3:53 PM Friday, October 4, 2013
---
The boathouse on Ina is gone now. I was looking and looking thinking I was at the wrong island. Thinking it had to be around here someplace. But it's not anymore.
I had the pleasure of staying with Anita Baker for more than a few summer trips to the 1000 Islands. Best time of my life. Correct on a beautiful person. Anita Baker was a class act. She really tried hard to preserve Sport and all by herself. I still have a cook book she gave me. A most interesting book on how to cool everything from bear claws to beaver tail. She even had her own notes in there. I smile every time I show someone.
Comment by: K. Watkins ( )
Left at: 2:50 PM Tuesday, May 27, 2014
---
I spent each summer at our house on Summerland Island which was first bought by my great grandparents, the Bentley's, in 1919. My grandmother, Catherine Bentley, later inherited the property but it was sold after her death (1969) to a family named Richardson. The house is on the very eastern side of Summerland Island. The front yard faces New York (Goose Bay) and the boathouse in the back faces Canada. The Seaway is the most romantic place in the whole world and I plan to visit again as soon as I possibly can. My favorite uncle, Jack Burtch, from Alexandria Bay married my Mom's oldest sister in the 1950's and spent a great deal of time on the island as well. The house was again sold in 2008.