The longest day of the year is coming next week. This year we enjoy high water (for some it may be too high), and incredible flowering bushes. This Lake Fleet rhododendron on Wood Island is just one example. June is also the month we welcome islanders back to the River and activities begin. Michael Folsom's Sailing Seaway Clayton Week promises to be a great success (July 14-19) and at the same time The Thousand Islands Land Trust's Picnic at Zenda Farm will be held on June 17. There are many more events planned around the region. Please get out on the water and enjoy them all.
| | |
| --- | --- |
| | |
| June's rhododendron on Wood Island. Note the many birdhouses, like our cottages, all waiting for summer guest... Photo by Doug McLennan, Wood Isle Lake Fleet, 2011. | With the birds come the bees… Photo by Doug McLennan, Wood Isle, Lake Fleet, 2011. |
Dennis McCarthy, Cape Vincent took our thumbnail photograph this month. Kathy and Dennis wrote: "Not all the wooden boats in Clayton are in the museums. Here is a wooden hull found this April in 50 feet of water off Bella's Restaurant by Skip Couch and Dennis McCarthy, authors of several books on scuba diving in the Thousand Islands." Dennis and Skip found it while doing research for their next scuba diving book to be released in 2012.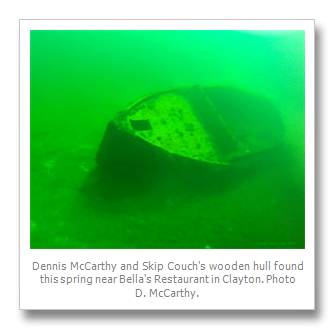 This month may seem as if  we are fixated on boats and ships and that is not bad.  Kim Lunman presents Fulford Yacht's Historical Homecoming.  Lynn McElfresh explains her favorite game of Ship!  Captain Brian Johnson presents The End for the "SS Wolfe Islander,"  the first in a series of articles from his soon to be published book. Ferry Tales of Wolfe Island and  Joel Godfrey, gives us the interesting Remembering the "Aycliffe Hall."
Avid collector Tom French shares his 3-D views in Stereoviews–New Book Features River History in 3-D….  Star Carter, from TILT, introduces wildlife caretaker, Sue-Ryn Burns in She Saves Wildlife.
Jennifer Caddick returns this month with some good news in Save The River is growing!
I have the pleasure of introducing Robert Orr's Knives and Wood and describing a new book in Heather's dedication, "For my Father" published by Heather Chitty, of remembrances written by Thousand Islanders.  I am proud to be one of the contributors, as the book is outstanding.  At the same time it will serve as a fund raiser for the Arthur Child Heritage Museum in Gananoque.
New Contributor
Tom French - "Stereoviews" A preview of Tom French's new book…



Tom French was raised on Wellesley Island at Thousand Island Park. He received his bachelor's degree from St. Lawrence University, his Masters from Potsdam College, and he now teaches English in Massena, NY. His work has been featured in Mac Life Magazine, Adirondack Life, Stereo World, and The Watertown Daily Times. Several of his commentaries have aired on North Country Public Radio . In addition, he is a member of the band, The Buoyrockers.

Tom purchased his first stereocard in 2000 as a birthday gift for his mother, Nellie.  "Mom didn't own any at the time, but she had borrowed some over the years to have prints made for the Thousand Island Park Museum, so we were both familiar with them. Our collection now has over a thousand."
Cornwall Brothers Store – Night to remember
On Wednesday, June 8, I posted a draft version of Anthony Mollica's latest article, " Honoring Hutchison," the 2011 Exhibition at the Alexandria Township Historical Society's Cornwall Bros. Store Museum. An hour later I received an email from Martha Grimes, "Don't know if you are on the river, but today at 5 PM a major wind and rain storm came through and ripped the entire roof off the Cornwall Brothers Store Museum. There was a lot of damage all over Alex Bay. We managed to get some roofers there within an hour and they put plastic sheeting and tarps over the remaining rafters and all over the floors of the second story. When I arrived I ran to three of the local bars and begged some of the "patrons" to come and help us move exhibit materials into a space that was still somewhat protected. About 12 men came and worked some miracles in saving our collections. The Hutchinson photo exhibit is half up on the first floor and they were able to consolidate that and cover all with tarps. It is still pouring rain and I don't have high hopes that the tarps will protect it all."
[Click to enlarge]
| | | |
| --- | --- | --- |
| | | |
| Cornwall Brothers Store Museum in the neighbors yard.  Photo courtesy P. Tague, ATHS | The roof.  Note the heavy beams.  Photo courtesy P. Tague, ATHS | The floor soon after the storm.  Courtesy P. Tague, ATHS |
I am pleased to report that the River community immediately offered assistance. The Museum now has a temporary water and wind-resistant roof installed, the second-floor artifacts have been moved to a donated safe storage and many positive actions will allow the museum to begin the slow process of returning to normal.
Tony Mollica's exhibit will not open as planned, but as they say, "The show must go on" and the Museum Board is hard at work on contingency plans. If all goes well, there will be a wonderful preview exhibit opening in August. The Museum also hosts a number of Victorian Teas and a Speakers Series. These may still be held in the building or in other venues. Please check their website and/or our TI Life Events page for change of venue or dates." And check back in July as we will once again post Tony's story.
Readers Exchange
Last month I asked our readers which articles were their favorites and what other topics they would like to see in future articles. Keep them coming. We also received this special letter:
Hello Ms. Smith,
My husband, two baby sons, and I spent two days camping in the Thousand Island region this week. We came knowing almost nothing about the area, loved every minute of our stay, and left with a thousand questions about the past and present of the river. For instance, our campground at Keewaydin had amazing, unexplained gazeboes. We noticed on the campground brochure a brief mention of a "former summer estate". We wanted to know more about the owner, where the house was, what it had looked like.
Since returning home, I have spent hours and hours reading about the Thousand Islands online--google searching the names gilded age families and their summer houses, perusing property listings so that I could see pictures of the insides of buildings, reading articles about preservation, feeling bad about how many of those houses are already gone. The name "Paul Malo" kept popping up wherever I looked (on a Carleton Island Villa website, in an article about the Waldorf Astoria, and in an article that I found when I clicked the "Restoration Controversy" link on the Boldt Castle wordpress blog). In an article about Castle Rest then and now, I read that he had left the island region as a young man, feeling bad about the destruction he saw, but came back to do what he could. I was so touched by that. It's easy to take a look around--wherever you are!--and feel overwhelmed by the problems there are to face. The only answer is to dig in and spend your energy and gifts making things better.
I finally figured out that "thousandislandslife.com" was the place that all my google searches were leading me back to and that the site is part of the legacy of Mr. Malo, carried on in an AMAZING way by all of you. It is a beautiful site! It must take a huge amount of work to make it what it is. Thank you.
We are West Coast-ers living in New York temporarily (my husband is a pianist, finishing his doctorate at Eastman in Rochester). Wherever we end up, I hope that we find many more opportunities to return to Thousand Islands--it is a magical place. Sincerely, Gillian Bowman
Needless-to-say, Ms Bowman's comments are appreciated by all and we wrote to invite her to come back often!
Otter's Claim
 

Joan A.W. Kimball has summered on Hickory Island, just upriver from Grindstone Island, for 79 years, starting at the age of six months.

Joan wrote to TI Life saying, " When I hit the 70s, I started submitting poetry to journals. "Otter's Claim," was published five years ago in the nature journal Avocet.

 

Hickory Island

 

 

____________________________________

 

Published Sept. 2006 in Avocet
Sailing Seaway Clayton a Success, Already
Michael Folsom, our regular TI Life contributor,  announced this week that all scheduled sailing excursions aboard tall ship Lynx are sold out.
"What an outstanding gesture to make to the folks from Lynx and the entire tall ship community. Clayton has proven that this is an event they wish to have here by selling out all of the possible excursions before the ship even reaches the dock," said Michael Folsom, event organizer. "I believe this will help to put Clayton on the radar of other tall ships looking for a place to visit in the future."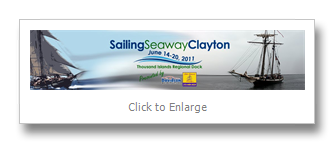 Nearly 400 people will sail aboard Lynx over the course of six days that the ship is in Clayton. In addition, more than 3,000 people are expected to visit Frink Park over the course of the entire event. Clayton is the smallest scheduled port stop of the 2011 summer schedule for Lynx and the only port to have sold out all scheduled sailing excursions prior to the ship's arrival.
Sailing Seaway Clayton presented by Davidson Auto Group and Lake Ontario Realty officially kicks-off on Tuesday, June 14th at 12 noon with the grand arrival of Lynx hosted by The Ship Watcher. For a complete schedule of events, log onto www.sailingseawayclayton.com.
Slide Show
Mike Cox, Creative Information Solutions, our volunteer web magician, added a new feature to the site this month.  A photo slide show that can appear at the end of an article.  Examples are below and also appear on  Ship! and "Stereoviews" A preview of Tom French's new book….
Hover your mouse over the image and the photo credit will appear.
The most popular scene to captured this month was the steamboat:  "Cangarda". Yes, this beautiful lady, "The Cangarda" caused quite a stir in the region. Great appreciation goes to the owner, captain and crew who graciously visited many non-profits in the region, allowing their patrons to  share a piece of Island history as the "Cangarda" was once the "Magedoma," owned by the late Senator George Fulford in Brockville.
Our thanks to M.W. Quart, Ian Coristine and Sue Marsh for sharing these photos.  And to Kathy and Dennis McCarthy for sharing their June Photos with TI Life.
Susan W. Smith, Editor, susansmith@thousandislandslife.com