Editor's Note:  In early August I gave a presentation at the Cornwall Bros. Store Museum in Alexandria Bay on Place Names in the Thousand Islands.  One of the questions I was sure to be asked was, "How the American Thousand Islands are Named and Renamed?"  To find the answer, I went to the expert, Ross Pollack, who has been studying and recording Island Names for the past five years.  His answer was not only in-depth, it also deserved to be shared.  Ross will return next month with Canadian information."
Official names of places and features in the United States are selected by the Board on Geographic Names, now in the US Geological Survey of the US Department of the Interior. It dates from 1890 and all federal agencies must recognize and use the official names created or accepted by the Board.
Obviously, many places and features in the United States were named many years before the Board came into existence, including many of the larger and some of the smaller Thousand Islands in New York State. A large number of those Island names have been officially recognized by the Board.
Since detailed US topographic maps and hydrographic charts are created by federal agencies, rulings by the Board on Geographic Names will control how the Thousand Islands (and all other places, islands and landforms) are labeled on those maps and charts. As a practical matter, therefore, official decisions of the Board largely shape name usage by New York State and its citizens and visitors alike. To be sure, other informal, historical and family names may still be in wide use – but not officially.
While the power to determine names may lie with the federal board, the Board takes into its decision-making process many factors, not least of which is accepted local usage. Among the other considerations are these: postal names for places may provide guidance, but do not establish official island names; Census name usage may also help establish evidence of local usage, but Census names are not in themselves dispositive; official names may not use ethnic or personal slurs; etc.
The Role Played by New York State
While the actual transfer of land ownership in New York (including the American Thousand Islands) is accomplished by the giving and registration of a deed, the name reference in a deed to an island that is being sold (in whole or in part) is not definitive as to official name. Typically, other information, the sheet/block/and lot number of the parcel, and a metes and bounds description, along with the village, town and county of its location, defines the land being transferred.
Nor do land transfers result in official name changes, and when an island changes hands, it does not automatically take the name -- at least officially -- of the new owners. It would be very disruptive if each new deed made obsolete any chart or topo sheet showing one of the American Thousand Islands.
But New York State does have an office devoted to tracking place names in the state -- the New York State Committee on Geographic Names -- and its pages on the New York State Museum Web site make clear the Committee functions as an advisory committee to the federal Board with respect to islands and land and water features in New York: http://www.nysm.nysed.gov/services/srvnames.html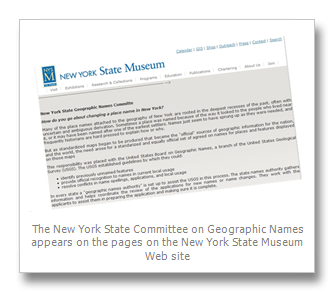 The Committee offers specific advice on changing a place name in New York, (including the American Thousand Islands) on its Web pages. Those pages begin by acknowledging the sole jurisdiction of the Board to: identify previously unnamed features; provide official recognition to names in current local usage; and resolve conflicts in name spellings, applications, and local usage.
The Committee – like the "geographic names authority" established in every state -- assists the Board by doing names research and participating in the review of applications for name changes. In practice, the Committee helps name-change applicants fill out the federal name-change application.
According to Wikipedia, "Any person or organization, public or private, may make inquiries or request the Board to render formal decisions on proposed new names, proposed name changes, or names that are in conflict." The form for that purpose can be read and downloaded here.
While assistance in shaping the proposal may seem to be the most helpful work the Committee does, it also has the power of influence, and its decision to support or not support a proposal can carry considerable weight with the Board.
 Once the final proposal reaches the Board – with or without the Committee's recommendation pro or con -- the Board will put the application on its agenda for review, after which it may adopt or deny the proposal.
According to its Web pages, "The New York State Committee on Geographic Names is established as part of the State Education Department, Office of Cultural Education. It is made up of historians, archivists, librarians, geologists, anthropologists, and geographers."
How to File; Why You Should Seek the Committee's Help
While it is permitted for an individual or other applicant to file directly with the federal Board, seeking to have a proposal previewed by the Committee often makes sense. For one thing, the Committee is very familiar with Board standards and practices, so it can advise applicants on the circumstances in which changes might be permitted, and what names might or might not be allowed.
Then, too, the Committee's expertise may lead an applicant to strengthen an application by suggesting when additional documentation is needed. This additional step may turn out to be both a clarifier and a time-saver. Often, including more detail will be advised, to show the existing island name and its historical origin, the historical justification for the proposed new name; whether the proposed new name is actually being used locally; and whether there is support among local leaders, residents and businesses for changing to the proposed new name.
Though it seeks to be included in the application process, the Committee urges applicants to first make contact with the federal Board by writing to: Mr. Roger Payne, U.S. Board on Geographic Names, U.S. Geological Survey, 523 National Center, Reston, Virginia 22092, requesting application forms and guidelines for submitting a geographic names proposal.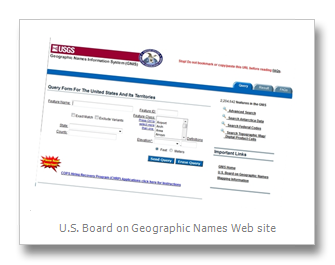 Applicants are then advised to review the forms and an included booklet and to prepare the proposal in two copies, in consultation with local historians, as well as town and county government historians. Attachments should include their letters of support or comment, as well as those of local governmental officials, businesses, and residents.
Send the two original completed proposal copies to Mr. Payne, with a photocopy to: George Hamell, Room CEC 3097, New York State Museum, Empire State Plaza, Albany, NY 12230. This will not only get both the Board and the Committee going on your idea, it will enable the federal and state agencies to coordinate their work.
For further information on the Board, including its policies and procedures for geographic names proposals, click here: U.S. Board on Geographic Names Web site . To see if the name by which you know one of the American Thousand Islands or any land or water feature on the US side of the International Boundary is official, check the Geographic Names Information System (GNIS).
Obviously, I would appreciate hearing from any reader who embarks on the name-change journey, both for reasons of personal curiosity about how smoothly the process works and to make certain that any approved name changes are captured for my Thousand Island Gazetteer database, the latest online edition of which is available here.
By Ross David Pollack. Copyright 2011© All Rights Reserved
Ross D. Pollack, a contributor to Thousand Islands Life.com since 2007, is a writer and communications consultant based in the Hudson Valley of New York. Ross was Intranet Editor for IBM's Personal and Printing Systems Group. His work has appeared in the New York Times Book Review, USA Today, The Royal Gazette of Hamilton, Bermuda, and various local Hudson Valley and Westchester County, NY, newspapers and magazines. He is a member of the District of Columbia Bar, a former US Court of Appeals law clerk, and a former JAG Officer in the US Naval Reserve.