Written by
John Peach
posted on September 13, 2011 22:33
During the early to mid-1900's, Alexandria Bay's boat building and repair business included several machine shops. My favorite shop was Cranker's Machine Shop owned at the time by John and Carl Cranker, located at the tip of Mill Point – next to Van's Motor Marine. As a young boy, to enter this building, filled with large, whirling handmade machine tools powered by leather straps driven from a single overhead shaft running the length of the building, was an enchanting event. Metal shavings were constantly accumulating on the oil soaked concrete floor, and John and Carl would move slightly aside from their stance beside one of the lathes and precision machines to show any interested youngster how they were shaping a chunk of metal into a replacement part for a boat or its engine.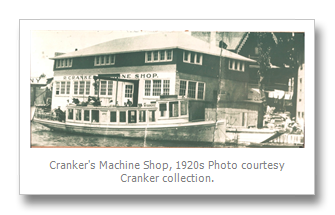 As you stepped carefully over and around the accumulated projects needing repair, it was normal to see several boat shafts being spun in lathes, and see the sparks of a welding gun or hear the hiss of a brazing torch as one of the brothers repaired a propeller strut. The din of the machinery was often punctuated by the loud pounding of a ball peen hammer as they reshaped a propeller blade, or fashioned a red hot piece of steel into a special bracket needed to hold a generator on an engine. Both of the brothers were such fine machinists that it was not unusual to see them working over a shotgun barrel or receiver making a repair on an intricate piece of a firearm.
Like many of our Thousand Islands marine repair facilities, Cranker's also did a lot of Island repair work. John was always available for emergency repairs on the temperamental island generators, well known for breaking down on wet and stormy nights. The high humidity of such evenings would raise havoc with the starting relays of the generators, and frantic pleas would go out for John to rush over in his tool laden 20' Lyman to work his magic on the beastly machines. Quite often, all that was required was a light sandpapering of the starting relays or a cleaning of fouled spark plugs. However, to a young boy fascinated with the machinery of the Islands, it was the equivalent of watching a magician work his magic on those sparking and noisy machines down in our Manhattan Island generator house.
Cranker's Machine Shop was purchased in December 1917 by John and Carl's father, Robert, from Louis Tassey. According to the Watertown Daily Times, Robert apprenticed to local blacksmith Tassey during the early years of fitting boats with gasoline powered engines. Not only did Cranker become an accomplished blacksmith and mechanic, but he harbored an entrepreneurial bent that pushed him to jump at the opportunity to purchase Tassey's recently built two story fireproof machine shop when it became available. The shop was located near the tip of Alexandria Bay's upriver point due to the proximity to sheltered deep water and several other boat building and repair facilities, such as Fitzgerald and Lee and Hutchinson Brothers. A diesel engine provided power to run the primary shaft that spun the leather belts looped to the lathes, drills, presses and other equipment on the shop floor. The diesel engine was converted to a backup power source as electric power became cheaper and more reliable in the 1950's. Robert trained both of his sons as apprentice, and then master machinists. Carl ventured off to university in Pennsylvania, and returned to work alongside his brother, John, until they closed the business in the late 1960's.
Robert Cranker was often called on by other boatbuilding businesses to solve some of their more complex mechanical challenges. He built shafts and stuffing boxes for Hutchinson's WWII military boats. His drill bits and shafts were essential tools for the contractors building the Seaway, and North Country paper mills sent many of their machines to his shop for quality repairs. He turned most of the shafts that went into the early wooden tour boats that introduced thousands of tourists to the Thousand Islands region. As an accomplished gun smith, Robert built rifling machines to turn out high accuracy barrels for rifles and shotguns. Rumor has it that his machines were so accurate that one of the large gun companies brought action against him to stop production of the tools.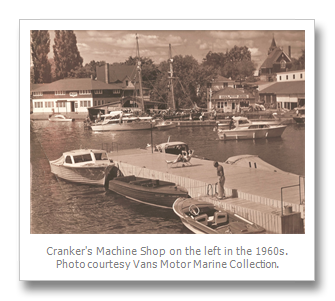 Not only were the Crankers world class machinists, but they were among the region's best diesel and gasoline engine mechanics. They serviced Uncle Sam Boat Line's fleet, along with many of the Islanders boats. Many an island boat was towed into Cranker's with a bent propeller or shaft, and an accompanying plea to please get the boat running before the island cottage refilled with the next wave of waterskiing and fishing guests. The midnight oil would burn late as John and Carl labored through the night to make the repairs, as well as keep all their other commitments to the River community that relied on them. It was not unusual to see a large marine engine or transmission hanging from the trolley mounted chainfalls that rolled along a steel I-beam extending from inside the building out over the water. The repaired motor was waiting to be slowly lowered into the bilge of a boat and meticulously realigned with the shaft before again starting service on the River.
Suffering the same fate as many of our essential Thousand Islands marine businesses over the past few decades, Crankers faded out of existence in about 1968. I think the advent of the fiberglass hulled outboard boats, coupled with many other economic factors, made it very hard for machine shops to stay in business on the waterfronts. Competition for River front space forced a lot of these unique businesses to close or relocate. What was once a thriving local business was wound down and sold to be converted to a motel. The motel was torn down in 2007, and today is the site of a townhouse development. The memories of a special part of the Thousand islands, along with the noises, smells, and knowledge passed down to many of us, is all that remains today of Cranker's Machine Shop.
By John Peach
John Peach and his wife, Pat, live on Huckleberry Island near Ivy Lea from May through October. The rest of the year they reside in Princeton, NJ, although John continues to make frequent return visits to the Islands throughout the winter. John retired several years ago from his career in international business. His family has owned a place in the Thousand Islands for over 50 years. John is a past president of Save The River, and is still active on the Save The River board.
Editor's Note:  Do you have memories of Cranker's Machine Shop, or photographs?  If so, please add a comment or send them to info@thousandislandslife.com.