Written by
Kim Lunman
posted on December 13, 2011 07:39
Carolyn Pratt spent summers as a young girl with her family on Mudlunta Island just a pebble's toss away from Kitsymenie Island.
The island next door came up for sale when their cottage burned down in a fire in 1985. Carolyn and her husband, Geoffrey, then living in Montreal, bought the property with help from her family to start a new chapter of island life.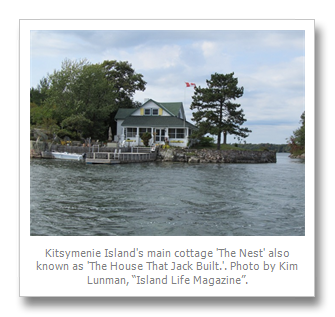 There was just one hitch. The Pratts' children asked them to change the name of the island when they were told the native translation for Kitsymenie: "All Who Dwell Here Speak the Truth."
Of course, the name remained, Carolyn said with a laugh from the cottage's wraparound porch offering sweeping views of the Admiralty Group. Family and friends gather here at the cozy century-old retreat called 'The Nest' with pine floors and a pink granite fireplace.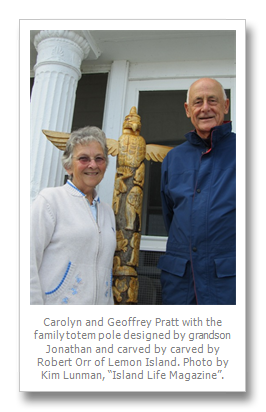 "This is a happy place," said Carolyn of her island retreat known as 'The House That Jack Built.' Jack McMurchy, of Gananoque, purchased the island for $150 in 1894. His mason literally broke the moulds he designed to build the home, so it is indeed one of a kind.
The Pratts, of Kingston, return every spring to 'The Nest'. A symbol of family sits by the cottage's front door. The cedar totem pole is the work of carver cousin Robert Orr, of Lemon Island, and brainchild of the Pratts' grandson Jonathan who decided at the age of 10 to design the pole with animals representing each family member. Orr is the brother of Mudlunta Island's David Orr.
The Pratts are members of the foundation that oversees Half Moon Bay services at nearby Bostwick Island. Parishioners have gathered at the crescent-shaped cove every summer since 1887. Today they arrive in power boats, sail boats, and Zodiacs for Sunday services in July and August to worship on the water in what is billed as the 'World's Tallest Cathedral.'
Kitsymenie Island, was first named Island 16 by British surveyors in 1873, when it was valued at $15. The one-acre island has three cottages: The Nest, the main cottage, the Roost or Relatives' Roost atop a hill at the centre of the island and the Perch, aptly perched on a rocky bluff overlooking the River.
The Roost is a prefab home that was raffled off at Toronto's Canadian National Exhibition 1945. A previous owner won it and relocated his prize to this prized property in the middle of the St. Lawrence.
By Kim Lunman, kimlunman@thousandislandslife.com
Kim Lunman is the owner and publisher of Island Life Magazine (http://www.islandlifemag.ca) based in Brockville, Ontario. Kim's  2012 magazine,will be distributed in May in local newspapers in eastern Ontario and northern New York.  A special Islander Edition will be on sale in local book stores in both the United States and Canada in the summer.  This article was originally published in the 2011 edition of Island Life Magazine under the title "The House that Jack Built".  This reprint presents additional photographs.  

Kitsymenie Island was featured on the 2009 Thousand Islands Watershed Land Trust's house and garden tour.  Its history charmed the appreciative audience.  Carolyn Pratt's cousin and neighbour, Robert Orr's wood carvings were featured in June, 2011 TI Life's  Robert Orr's Knives and Wood…