Editor's note:  Dave Whitford originally wrote this as a novelette for the Righter Monthly Review  which features original stories, book reviews, commentary and humor.  Dave pared down his original story and added real names and commentary.   It is longer than most of our pieces, but we think you will enjoy it.  So, for the long winter evening, enjoy…
Red-haired Charlie Clough was fifteen when I met him in 1955, just my age. He lived in the west end of Richmond then, as he does now. He keeps his boat on a Virginia river now just off the Chesapeake Bay, while his younger brother, Stewart, still summers at the Grenell Island boathouse cottage where they spent boyhood summers.
I biked over to see their sailboat under construction in their garage in 1955. It was a high-sided sixteen-foot knockabout sloop with a Marconi rig, but no backstay. Mrs. Clough was upstairs making sails from surplus red parachute material on a heavy-duty sewing machine. They planned to name the boat Sunset, a play on words on the Red Sails in the Sunset song that was then current. Before they got the name on the boat, however, the Thousand Island Park Yacht Club sailors were to trump its intended name.
***
I wangled my way onto their sailing crew for the Thousand Island Park Yacht Club's Sunday afternoon races during that summer. Our normal triangular course with the prevailing wind was to tack upriver across the start-finish line that ran from the Park Dock to the tall chimney on Castle Francis Island, then tack halfway up the south shore of Grenell to make a turn around Tidd Island, which was no more than a big shoal with grass and some bushes on it. From there we reached across the main shipping channel to make our second turn around the green channel buoy. Then we ran downriver with the wind at our back. Our final turn around Black Rock Shoal, opposite Rock Island Light, began an exciting sprint to the finish.
***
On the first Sunday race-day afternoon, Fourth of July weekend, Charlie reported us in with Don Brown, who ran things. Don had a little podium on the Park Dock and was registering entrants. A telescope on a tripod was on the dock aligned with the castle's big chimney to provide a sight line to detect premature starts and close finishes.
Don's own boat, a Lightning, was among the fleet's fastest.
"Name of entrant?" Don asked Charlie. Charlie told him.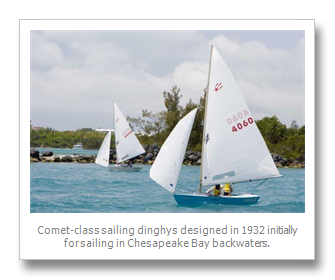 "Names of crew?" Don continued. Charlie told him.
"Name of boat?"
"Sunset," said Charlie.
"I don't see that name anywhere on your boat."
"The boat's new," Charlie said. "Haven't got around to putting the name on her yet."
"Okay," Don said, eyeing the red-parachute sails lying dormant on the snow-white deck. "Let's just call her Red Sail for now."
Charlie gulped, but the name stuck.
"Have you ever raced your boat here or anywhere else?" Don continued
imperiously, checking off spaces on some sort of form.
"Uh, no, never", Charlie said. "The boat's really new."
"Okay," Don said, eyeing the boat again. "We'll put you with the Comets for this first race. They're the slowest in our handicaps. This first race is just sort of practice anyway. Sail the best you can, and how you finish will establish your handicap for the season.
"You and the Comets start first, at one PM sharp! Check the clock on the dock,
which has the official time. Synchronize your watch if necessary. You cross the line
early, you're disqualified. Got it?"
"Yes Sir," Charlie gulped. "Can we leave the dock to start sailing now?"
"As you wish," Don said. "Do you understand the race course?"
"Yes Sir," said Charlie.
***
We set out from the dock and sailed downwind from the Park Dock to get behind the start-finish line. We were the only sailboat out, which taught us when to start: not so soon next time!
We finished last. We'd learned about starting, spinnakers that the Lightnings could deploy downwind, and how to get around the course without fouling.
"You boys did real good at the start", Don said afterward. "Some of us on the
dock here were wondering whether you'd bluff Janet out and steal her Comet's wind on that starting tack. She's pretty experienced, you know, so don't feel bad that she didn't fall for your bluff. Your strategy was good. You keep up that savvy sailing, you might grow up to be somebody!"
Don adjusted our handicap by a gracious few minutes, based on our finish. We needed that. We needed all available help.
Although we scored last overall for the season, we beat some boats, although we never came first. We even beat a Lightning once.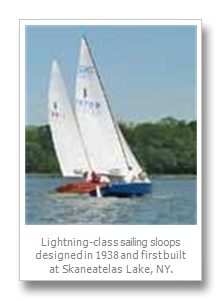 The nineteen-foot, open-cockpit Lightning was our nemesis. On our handicap system, they started last and needed to play catch-up all during the race. Lightnings have low freeboard compared with Red Sail and were more apt to take in water over the side in really rough weather. We couldn't sail faster on a reach than a Lightning, but percentage-wise, we could sail a bigger maximum because our boat was chunkier and less apt to take on water. That little edge was how we beat that Lightning. Even so, we were just plain lucky that time too! That Lightning was a visitor, not one of the normal pair in our sailing league.
***
In Richmond during the ensuing winter, the Forbes boys sanded the roughness from the bottom that they'd fiber-glassed while building the boat and waxed it to a fare-the-well. The steel centerboard got its paint polished off and replaced with layers of Simonize. Meanwhile, Mrs. Clough made new sails from the same red parachute material, but this time under the tutelage of an old master sail maker from Gloucester, Virginia. He advised her where to take in the design and where to leave it fuller. The subtle changes were hard to discern, but significant.
I found a book about kids sailing Moth Class sailboats from a club in Hampton in my high-school library. It was full of good tips, so I loaned it to Charlie. Although the Moths are smaller one-man boats that carry only a single sail, the basic sailing lore was applicable. We'd been doing some things wrong.
***
Back on the River, our shakedown cruise definitely proved Red Sail to be quicker and our sailing of her sharper.
"First race is on Sunday a week," Charlie said. We're gonna burn 'em all a new river, aren't we, Boys?"
We started with last year's handicap, which meant first. Wind for the first race was our favorite, quite fresh from the northwest. We nailed the start within a minute and just sailed away from the rest of 'em. No one ever caught us. Don's Lightning came the closest, but we were almost over the start-finish line while he was still rounding Black Rock Shoal.
Don seemed flustered, putting his Lightning away in his privileged spot behind the Park swimming dock.
"You boys must've been studying some this winter," Don said. "You sailed a fine race. I never came close."
"We read a sailing book," I said, "And …"
Charlie came from nowhere and gave me a big shut-your-face nudge from behind.
We lost the next race large when we needed to sail a reverse course in zephyrs from the northeast. Red Sail was at her best in moderate-to-heavy wind, where her seaworthiness and short sail worked so well. The daintier Comets with their big sails had us beaten in light air at the outset. We scarcely stood a chance.
We won the next race handily. Clearly, we were much fleeter than in the previous year, and we still had last year's generous handicap.
"You boys are sailing so fine," Don said afterwards, "That we might need to
rethink your handicap, to keep things fair."
At first we thought that an idle threat. As Commodore, however, Don could do
with the rules as he wanted to.
And so he did. A week into August, we'd won every race except for our humiliation in the reverse-course fiasco, which found us well down in the rankings for that one race. The seasonal points scheme so far made it possible for one of the Lightnings or Comets to win the overall Championship. All that was necessary was a pair of finishes in front of us by either a Comet or a Lightning.
At registration for the second race in August, Don told Charlie, "You boys still
start first, but we'll need to adjust everyone else's handicap by four minutes."
"Huh?" said Charlie. "Sir, can you explain that a little better?"
"It's simple statistics," Don said. "I've correlated all the season's scores and times so far. I discovered that you boys are finishing -- on average -- four minutes better than the average for everyone else. That big a difference requires a fair adjustment."
***
Continue on Page 2