Towards the end of the twentieth century, Thousand Island Park was not the place that is now, when the twenty-first century advances. A constant and concerted effort has improved the quality of the community, involving both public and private properties.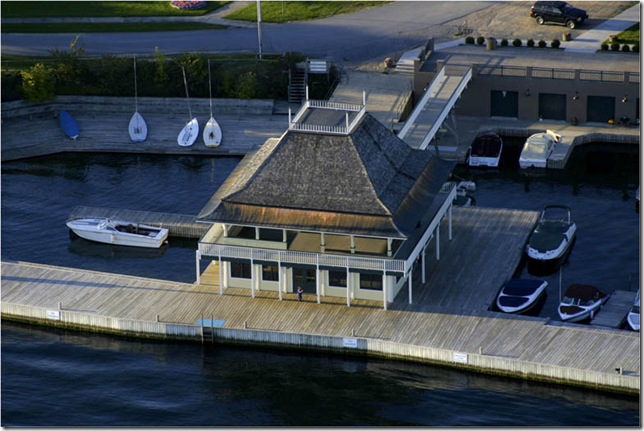 Other places may learn some lessons from how his upgrading was accomplished, but should be aware that Thousand Island Park has certain conditions not found everywhere.
First of all, Thousand Island Park was from the outset a planned community, conceived as a social entity where all residents were bound by strong common interests. Although the focus on religion has waned--there is no connection with the Methodist Church today--a tradition of shared purpose was instilled, and planning anticipated a congenial life style of residents living in close quarters. Even today, one should not choose to reside in the Park, unless one is agreeable to living rather communally. Privacy is a rare commodity, as the narrow streets are in effect community living rooms, where residents on porches participate in the life of the street.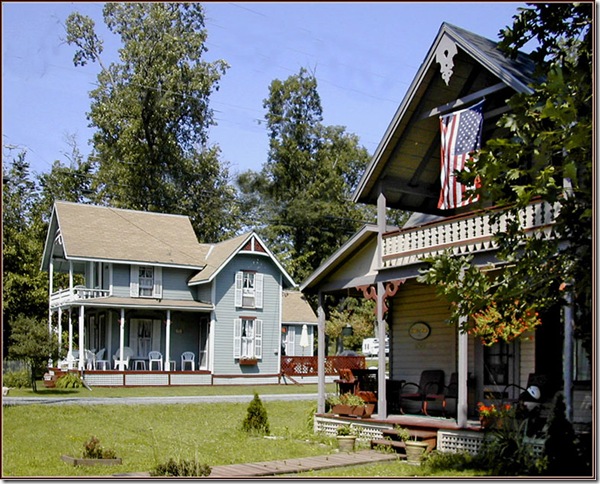 Secondly, Thousand Island Park is not a municipality. It is a corporation. Many other camp-meeting communities have become typical municipalities, but Thousand Island Park (like Chautauqua) retains a basically different mode of governance. Most critically, residents do not own land, but lease it from the Thousand Island Park Corporation. They may build and maintain structures on the leased land, but the corporation retains control of what is done. This has been critical to improving the quality of property, as the corporation can enforce maintenance, determine appropriateness of additions or alterations, as well as of new construction. Few municipalities have the legal means to restrict and guide development so comprehensively.
Towards the end of the twentieth century this power of the corporation was not much used. There was little pressure for development and the general consensus was for laissez-faire, allowing individuals to do with "their own" property as they chose. Some glaring mistakes, however, became evident--such as an aggressively "modern" villa built on a prominent waterfront lot, viewed by all entering the Park. More typically, there was slow erosion of character, as residents glassed-in porches, applied composition siding, and removed high-maintenance "gingerbread."
At this point Trude Fitelson became active, as related in another article. There was little thought initially of the corporation using its power to control development. Rather, and rightly, the first phase of the preservation campaign was educational--to determine what was of value about Thousand Island Park and convey this to residents. The newly formed Thousand island Park Landmark Society surveyed more than three hundred structures, evaluating them for submission to the National Register of Historic Places. The entire community was listed, providing considerable argument for stronger development controls.
Implementation of design review controls evolved slowly. Members of the review board needed to become informed about historic practice. Few residents who served on the board had much exposure to architectural history. There was a tendency merely to disapprove egregiously inappropriate proposals rather than (as is the case today) to suggest more appropriate solutions. Furthermore, good intentions counted; if one proposed a project that was basically flawed, say by size and scale, the addition of some period trim on a porch might suffice to render it "historic." There was much to learn.
Much has been learned. Today the board recognizes, for instance, certain characteristic window types that were employed at certain periods and will reject many modern window or door types--no sliding "patio doors," for instance.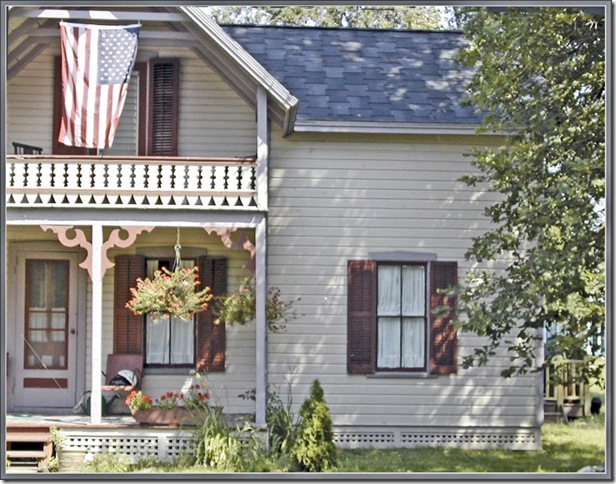 Addition to cottage, right, with new window replicating originals.
The major problem continues to be size and scale: many proposals today envision buildings much larger than those in the immediate neighborhood. No amount of quaint period trim can correct such a mistake.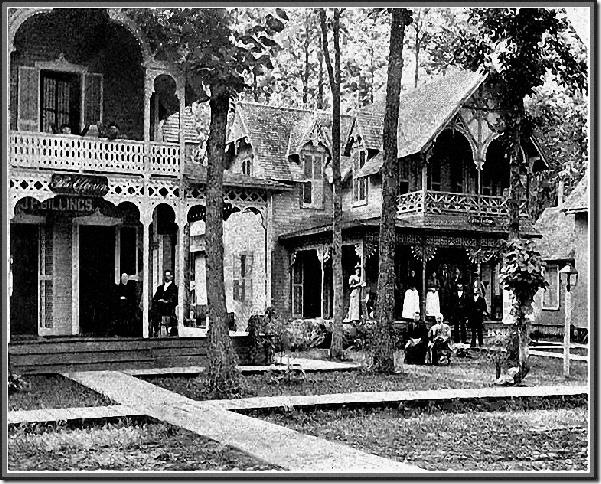 Typical early cottages, narrow on the street, wider in the rear, and merely a story-and-a-half high.
Generally the review process has become more prescriptive than restrictive, endeavoring to guide applicants towards a satisfactory proposal from the outset, rather than waiting to react, often negatively, to a design after considerable time, energy, and cost have been invested in preparation of drawings
The intent is not to freeze Thousand Island Park, averting change. Cottages continually are being enlarged, and new buildings are being constructed. The test is whether the new project looks new, hence out-of-place in the historic context, or whether it can merge imperceptibly into the fabric of the community.
Written by Paul Malo, April 2008