I happened to meet a fellow the other day who asked what I did with my time. I told him that I had the privilege of being a licensed boat captain for the Antique Boat Museum; that I averaged 300 hours on the River each summer transporting passengers in a variety of beautiful wooden Museum boats.
     "That sounds like fun," he said. " You're a lucky man!"
Yes, I thought, I am a lucky man, but the work is so much more than simply fun.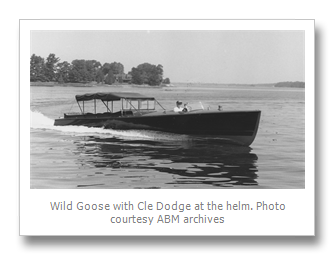 On one hand, being a captain on the St. Lawrence is challenging and demanding. The inherent responsibilities involved with carrying passengers on a body of water where the vagaries of wind, weather, and current often produce less than desirable boating conditions call for a high degree of vigilance and competency.
Yet, on the other hand, one of the great joys of the position is the interaction with passengers and the special experiences, often merry and humorous, sometimes poignant and emotional, that you become a witness to.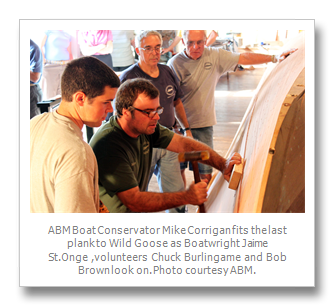 There seems to be no typical passenger; their ages, backgrounds and nationalities are as varied as the reasons why they book rides aboard a Museum vessel. They can be newcomers to the River and your job as captain may be to help introduce them to the geographical, geological, historical, or social  aspects of what they are seeing around them during a boat trip. Frequently, your passengers are celebrating; the occasion may be a birthday or an anniversary, it might be the surprise proposal of marriage; you may be transporting the bride and groom to a reception after a ceremony. Sometimes it is the celebration by a family for a departed loved-one. Happy or sad, it is difficult not to be touched by these occasions and in a way, emotionally enriched by them.
I had an interesting and unique experience a few years ago that I still think about often. I had just returned to the Museum yacht house after a scheduled ride and was washing the boat when John MacLean, then Museum Director, appeared and asked if I'd "like to go pick up a boat" from an island near Clayton. Not being one to turn down a boat ride I quickly agreed to go.
Fifteen minutes later we were approaching the dock at what I realized was Wild Goose Island, off the head of Grindstone. There were a half dozen other boats tied up, and a group of 25 adults on the dock, but it was summer and such gatherings are common; I didn't give it much thought. Once we landed and became part of the larger group on the dock  I noticed the venerable and iconic Hutchinson launch,Wild Goose, tied to the outside slip; it then occurred to me that it was the boat we were there "to pickup"; the Goose was coming back to the Museum for good!
Much has been written about this 40 foot mahogany classic. Built in Alexandria Bay in 1915 for Frederick Lovejoy as Onondaga III. She was sold to Cleveland Dodge of Grindstone and Wild Goose Island in 1928 and renamed Wild Goose. For over eighty years, the Goose was an important member of the family, serving several generations of the Dodge family as a water taxi, to and from the island; as a floating venue where several wedding ceremonies were performed. The boat transported family and friends on countless sight-seeing cruises and even served as an ambulance a few times, as well.
Now, the boat was being donated to the Antique Boat Museum, and members of the family had gathered on the island dock to remember and to say farewell.
Each family member in turn shared their memories of growing up with the boat. There were funny stories shared along with some sad ones; there were big smiles, and teary eyes. The family was saying good-bye to a loved one.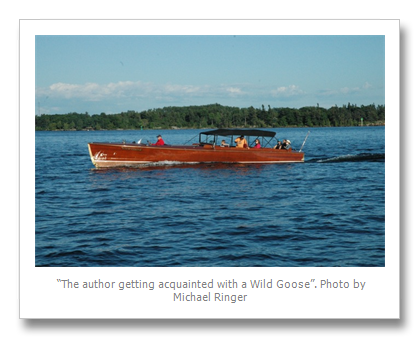 John gave me a nod to say that it was time for us to board and depart. As the engine was started, flutes of champagne were passed to the family and Wild Goose was given a final toast as we cast off. I did the best I could to not show the tears that rolled down my cheek as we pulled slowly away.
From my position in the stern, I happened to look back as we moved away from the island. The dock had become a flutter of white, as if fifty gull wings were all waving in unison. Each of the family had been given a white handkerchief to wave the boat good-bye with!
It wasn't until recently that I learned that the ritual that I had observed was a family tradition begun by Pauline Morgan Dodge, many, many years ago to see loved ones away from the island.
Over the last few years, Wild Goose has had quite a lot of attention by Museum Boat Conservator Mike Corrigan and a dedicated group of volunteers who have put some 3500 hours into a rebuild of the boat's bottom. Currently, Wild Goose is getting several coats of varnish in preparation for her re-launch on June 30, 2012, at the Museum's River Reunion.
Wild Goose was familiar to me as a boy growing up on the River, and I hope that we will become good friends in the near future.
By David Dodge, Coordinator of In-Water Fleet, Antique Boat Museum, Clayton.
David Dodge is a retired middle school Science teacher who is fulfilling a lifelong dream of being a River Captain. Like all Antique Boat Museum captains, he holds a USCG Master Mariner credential. This is David's third article for TI Life.  See  46 Years and Counting…  August 2012, and Rideboat, March 2010.  David wrote this article for the Antique Boat Museum's June, 2012 membership newsletter.