Nothing screams summer like hot weather, lazy days, motor boats, swimming, fishing, and ice cream!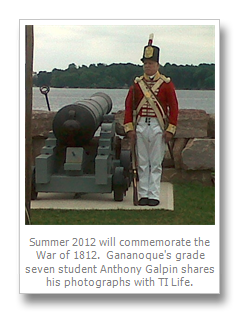 Summer is here!
This month: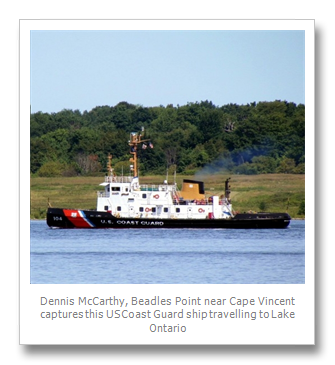 Lynn McElfresh's gives us Grenell Aglow which tells how Grenell Islanders recreate the popular cottage lighting, and That's Her" Story… reveals the history of the newly-restored "That's Her". David Dodge from the Antique Boat Museum describes another restoration in Meeting A Wild Goose - A Captain's Story.
Mark Russell reviews A 1000 Times Over… 1000 Islands Then & Now. Captain Brian Johnson presents Beacons of Hope…Kayaking for MS.
I have the pleasure of introducing Bruce Sherman - Just a River Boy... and Painter Passing Through! and Mitchell & Wilson Ltd.'s Minute Book, Part I. 
The War of 1812 festivities are described by Morley Verdier in Where it all Began while young Anthony Galpin, a Gananoque student (grade seven) shares his photographs.
Tom French shares "Mom Makes River a Garden", A Short Story, which is published this month in his new book, Wind Water Waves. 
New Contributors
Mark Russell - A 1000 Times Over… 1000 Islands Then & Now

Mark Russell  first came to Hay Island in1956 as a six month-old and his family has summered on Hay Island ever since. In 1968, his parents bought the Cedar Nook Girls which was built, and owned, by the Lewis family of Virginia Beach, VA in 1968. Mark and his three siblings continue to spend as much time there as the seasons allow. His time away from the River has been consumed by raising three now twenty-something children and working in industrial investment banking and business development. His first novel - The Adventures of Buster the Black Lab, is with his literary agent in New York.

Morley Verdier - Where it all Began

Morley Verdier holds a masters degree from Royal Military College in Kingston. He is a retired public servant, having worked in several Departments of the Canadian government in Ottawa .

He began researching his grandfather's service with the 16th Battalion – Canadian Scottish and later with the 1st Division HQ. He discovered that his father was a cartographer and machine-gun officer. Morley's latest project is the Russell Legion Branch 372 Memorial Project which has identified, and catalogued, all service members listed on the five cenotaphs in Russell township – Russell, Embrun, Limoges, Vars and Casselman, Ontairo. In addition to his interest in the War of 1812 he is the current President of the National Capital Civil War Round Table in Ottawa.
New River Website
Tom French's Riverstories.org features several items of historical interest.
One is of the burning, 100 years ago this month, of the Columbian Hotel at Thousand Island Park. The late Grant Mitchell, who was 12 described the events which were recorded by Tom's mother, Nellie Taylor, in 1970. In addition, Tom has over five hours of history by his grandfather, Thomas Mitchell.
Some of these stories can be heard at http://www.riverstories.org/Riverstories/Gramp_Stories.html.  Current postings include Bootlegging, Filling the Ice House, Building the TI Bridge, and Tragedy at Waterson's Point. Tom will be adding more material, including historic, video, footage.
Building Bridges with Brushes
By Phil Chadwick
The American group, "Plein Air Painters Thousand Islands Region (PAPTR)" became truly international on June 27th, 2012. Like the weather, flora and the fauna of the Frontenac Arch Biosphere, the longest, undefended, international boundary in the world allows artists to travel freely in search of their next painting. Ten artists visited the Chadwick property on Singleton Lake north of Gananoque on a beautiful, blue bird day in June. Inspiration was unlimited and the pig(ment)s certainly flew.

Painting "en plein air" usually start with a rising-sun session. By noon the light changes and paintings are set aside for a leisurely lunch which can provide other forms of inspiration. Following the multi-course, pot-luck, lunch was the afternoon session where the sun casts a new light on one's level of inspiration. After day in the sun and wind we were quite exhausted. However, there is still a sunset to be captured!

Nothing builds friendships and memories like sharing goals, dreams and creativity outside in a beautiful environment. Not every painting is a master work but every painting does build the bonds across the border with our like minded American friends and artists.
Looking to work in Thousand Islands?
Search on the Web and you will find this job opportunity: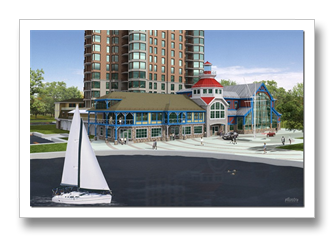 The Aquatarium in picturesque Brockville is seeking an experienced Curator to oversee the development and on-going management of the Aquaria and River Otter exhibits. The Aquatarium will be a significant regional attraction featuring live animals, simulators, and imaginative set designs relating to the Thousand Islands Region of the St. Lawrence River. The facility is currently under construction and is set to open in June of 2013.
Yes, City of Brockville's Aquatarium, formerly known as the Maritime Discovery Centre, is well on its way to completion. TI Life's first article about the project  was written by Kim Lunman in Brockville's Waterfront in November 2008.  Today there are many volunteers and City officials working hard to make this year-round attraction a reality.  TI Life will keep you posted.  
Photographs
As the summer progresses we hope you will take along your camera, smart phone or tablet and take photographs to share with TI Life.
We start with Lillian Cooledge's M/Y Luna at anchor near the Summerland Group on July 8, 2102. The yacht , owned by Russian billionaire Roman Abramovich, was touring the Thousand Islands.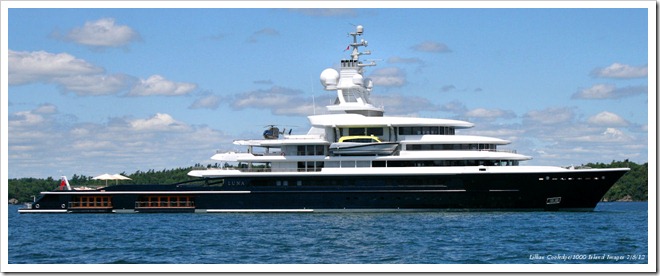 © Lillian Cooledge, 1000 Island Images
Our baby-loon photograph was sent by Martin Zonnenberg. He wrote, "This is the one surviving baby Loon out of two, hatched in the Delaney Bay floating nest."
Jeffry Weldon writes, "I always enjoy seeing the sunsets at TI Park, especially through a silhouette of trees."
Janet Staples took the photograph of the "Just Married" couple. The boat was decorated with paper bells. Did they tie tin cans on the stern?
Dennis and Kathi McCarthy of Beadles Point, near Cape Vincent, send photos to their friends and TI Life is fortunate to be on their list.
Chris Murray posted his photograph on our Facebook page "Early Morning Rain": "I shot this scene at dawn, this past Saturday, as storm clouds were moving in. Look closely and you can see the raindrop marks on the water."
Sara Scott from Lake of the Isles, Wellesley Island captured the Scott grandchildren celebrating the Fourth of July.
Kristen Pinkney author of our 2009/10, 12-part series of May Dewey's Diary, vacations in the Islands. She has a great spot on her verandah for capturing the passing ships. 
Conclusion 
Are you planning any excursions off the River.  If so, record them for our Excursions Page.  Also, please join  Facebook and Twitter; leave Comments on each article and make suggestions for the future.  Even better, submit  an articles…  but most of all enjoy a safe and happy summer!  We will be back in August. 
Susan W. Smith, Editor, susansmith@thousandislandslife.com
Special thanks to Jane Taylor and David Ray for their editing skills and Mike Cox for the computer magic.