Articles from August 2014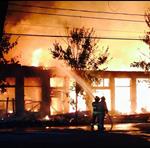 When we published this August issue, we just learned of the fire on August 14th, on Wellesley Island at the corner of St. Lawrence Avenue and Rainbow Street east, home of the Guzzle. Our thoughts are with all those whose summer-lives are touched by this tragic event. Luckily there were no injuries, however the Park lost its Fire Station and equipment. I find the footage difficult to watch, but it is important...
by: Susan W. Smith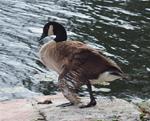 I have a love/hate relationship with Canada geese. One goose by itself I can handle, but as a group…oh, my! The n...
by: Lynn E. McElfresh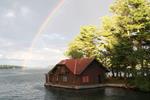 What's in a name? The dictionary defines 'Kismet' as "a power that is believed to control what happens in the future." ...
by: Kim Lunman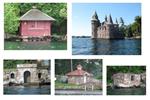 The most widely recognized pump house in the 1000 Islands stands at the downriver end of Heart Island. George Boldt's ma...
by: John Peach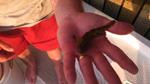 I am not really old and wise, yet, but I have been fishing the St Lawrence for all of my 68 years. I am not a fisheries ...
by: Hunter Grimes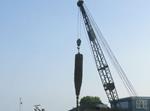 Good questions…. and there is one more:  "Do you want it back"?  Here is the beginning of the mystery. Early ...
by: Richard L. Withington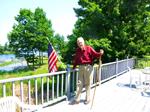 I recently had the pleasure of meeting Hugh Papworth in Alexandria Bay. Our conversations were much like reviewing a ...
by: Susan W. Smith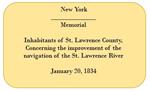 I accumulate stuff. Thirty years on the staff of the United States House of Representatives in Washington, gave me an o...
by: Cary R. Brick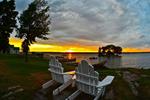 All along the shores of the St Lawrence River in the Thousand Islands are small communities. Most consist of year-round ...
by: Kathleen Thomas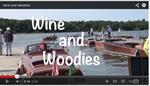 The first time I experienced the Grenadier Island Country Club or GICC, as it's known to its members, was in 2003. ...
by: Elaine Vedette Tack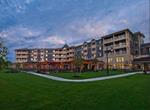 On 9 July, 2014 Governor Andrew Cuomo announced the opening of the 1000 Islands Harbor Hotel in Clayton, NY, with the fo...
by: Rex Ennis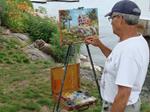 NOTE: We have been notified that the Paint-Out for this year has been cancelled. We will keep you informed ...
by: Bruce Sherman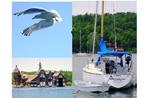 All Photographs by Sue March How excited I was to be invited for a week of sailing on The River! I summered there all o...
by: Sue March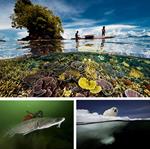 Yes, we have more news.  National Geographic Event…Sea-Doo Ride...Boat Parade… and a Wedding Celebration. David Do...
by: Susan W. Smith