Written by
Susan W. Smith
posted on November 13, 2012 15:10
As we launch our November issue, there are still thousands in NJ, CT, NY, and NYC, suffering from the loss of family, power, homes, and livelihoods, and we extend our heartfelt thoughts and prayers to them and all those affected.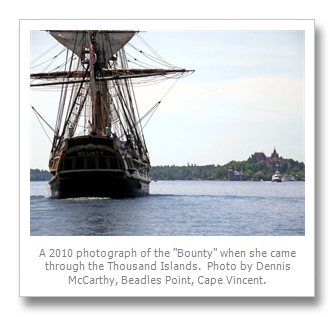 On the day that "Superstorm Sandy" hit the Eastern Seaboard, we learned that the tall ship Bounty had sunk off the coast of North Carolina and her captain, Robin Walbridge was lost at sea. Michael Folsom, The Shipwatcher, kept us informed through tweets throughout the storm. Bounty was known to upstate New York, having visited Ogdensburg in June 2010. The ship was also likely to visit Clayton, NY, in the summer of 2013 while in the Great Lakes for the "Tall Ship Challenge."
The replica of the original Bounty, first commemorated through the story of Capt. William Bligh's voyage in 1789— Mutiny on the Bounty — was built in Lunenberg, Nova Scotia, and launched in 1960.
Current Issue
Kim Lunman presents One Pilot's Dream: Paul Island a story about one of the tiny 1000 Islands.   Lynn McElfresh shows us how to make lemonade out of lemons in What to do? Low Water. 
New contributors present:  Winter With the Otters by Bob Arnebeck; Bridge or Ferry? by William J. Elliott;  Had Enough of the War of 1812? by Bill Fitsell and our own  History Detectives…in Leeds and the Thousand Islands is presented by Pierre Mercier.
Ian Coristine proves he has a Rare Encounters,  Brian Johnson pays tribute to  Grant 'Lindy' Lucy, boatman, founder of GBL and I review an important new book Honour on Trial: The Shafia Murders and the Culture of Honour Killings by Kingston author, Paul Schliesmann .
M.A. Noble provides a second article for TI Life as she attended a private showing of the reality TV program: The Great Escape at Singer Castle.
New contributors
Bob Arnebeck – Winter With  the Otters

Bob Arnebeck is a writer who lives year-round at Thousand Island Park. He moved to the islands with his family in 1994 from Washington, DC, where he was a free lance journalist and historian. In 1991 his "Through a Fiery Trail: Building Washington 1790-1800, published by Madison Books and Proust's Last Beer: A History of Curious Demises. Links to his web pages and blogs about his experiences with animals in the Thousand Islands can be found at http://bobarnebeck.com.

William J. Elliott  - Bridge or Ferry?

William J. Elliott was born in Toronto, Ontario, but moved to Brockville as infant. He attended schools in the region and served on several volunteer committees including the Brockville Epilepsy Association. His interest in writing and history began at an early age. He holds a vast collection of reference material, postcards and photographs about Brockville and the Thousand Islands. In addition to these interests, William also writes poetry.

 

Bill Fitsell – Had Enough of the War of 1812?

Bill Fitsell is a naval veteran and an amateur historian. A former People columnist for The Whig-Standard and author of four books, he usually focuses on a somewhat less-violent war on ice! He was the founding president of the Society for International Hockey Research and serves on the Board of Directors of the International Hockey Hall of Fame in Kingston, Ontario, Canada.

In 2006, the Society for International Hockey Research presented him with the Brian McFarlane Award for outstanding research and writing.

 

Pierre Mercier  History Detectives…in Leeds and the Thousand Islands


Pierre Mercier is archivist of the Leeds & the Thousand Islands Archives -  a partnership between the Leeds & 1000 Islands Historical Society, Municipal Heritage Committee, and Leeds and the Thousand Islands Public Library.  He is a retired librarian and secondary school teacher. He is co-chair of The Municipal Heritage Committee and serves on the Library Board and the Historical society.  Pierre and his wife, Joy, live in Escott in their 1844 stone house
Readers Exchange
Summer's back for 3 minutes … 
An email from Doug McLellan:  In August, Canada's Juno nominated band "Great Lake Swimmers" visited McLellan Group's 'Eastern Office' in the 1000 Islands. With a couple of great shooters, perfect weather, underwater cameras and the River's funkiest barge, we created their official video for "Ballad of a Fisherman's Wife" from the "New Wild Everywhere" album. Right now it's cold and grey out ... Winter is snarling around the corner. This is only 3 minutes long and you deserve a last hit of Summer. Watching right now is highly recommended!  
See Great Lake Swimmers Dive into the River, by Kim Lunman (Sept. TI Life) for the whole story.
Wedding bells: 
If you thought the Story Book Wedding (October '12) was terrific, wait until you see this!  Andrea Scott  Parisi shared this with TI Life Facebook.  Andrea and Scott Ruehle were married on September 2, 2012.  "It was terrifyingly exciting!"  "We have lived in Sackets Harbor for two years but have both been part time residents of the TI region our entire lives."

Hot Air Balloon Wedding Over the Thousand Islands from I Love Upstate New York on Vimeo.
Long ago, but not forgotten…
Comment by: Jack Kemp ( Rochester, New York )
Left at: 10:19 PM Saturday, November 03, 2012

---

I enjoyed your article on the Rock Island Lighthouse and found it by accident while searching the web for information on the history of Fisher's Landing. This was brought about by my finding a postcard of CCC [Civilian Conservation Corps], number 1251, Fisher's Landing, N.Y. Since my area had at least two of these camps, I have a special interest in them. The postcard is postmarked 1945 and was published by Wm. Jubb Co., Inc., Syracuse, N.Y. I have been a volunteer and at times an officer of the Charlotte Genesee Lighthouse [built 1822], for several years, specializing in the history of Charlotte, a town annexed by the City of Rochester in 1916. Hope your research continues and that good luck smiles upon your efforts.
Jack Kemp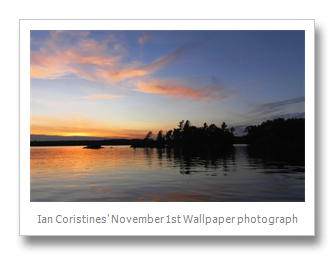 A Gift to the River Community
If you subscribe to www.ThousandIslandsLife.com you receive two emails each month.  On the first of the month from November – April Ian Coristine will send you his "wallpaper" image.  The wallpapers are available in wide screen and standard formats. Standard also services the iPad.  The second is sent on the 15th of every month from TI Life and announces that the new issue is online.  Enjoy!
TI Life's Photo contest…
Help us remember Year 2012 in the Thousand Islands - winning photographs will be selected by Ian Coristine.  Submit to info@thousandislandslife.com.  People, places, landscapes, marine life, boats, wildlife, events... the list is endlless!      
Reminders
We have 963 (+20 from October)  Facebook "likes"  - Help us get to 1000   Be sure to check our page throughout the month,  as we add material about the 1000 Islands. 

Follow us on Twitter.  Send us your tweet tag and we will start to follow you.
Do you write about the River (next to, from above, or below), then consider submitting an article.
By Susan W. Smith, susansmith@thousandislandslife.com
Special thanks to our Kingston editor David Ray and to Jane Taylor for proof reading this month's articles.  We also thank those who leave comments on our articles or ask questions. The more the better.