Hub Island's "Miss Lady Slipper"
Written by
Paul Malo
posted on May 15, 2008 20:28
Hub Island house, built by Steve Taylor from Wellesley Island.  Originally posted in the old format of TI Life as part of the series Grand River Summer Homes Between One Gilded Age and Another: Nelfred, Fairview Manor, Spaidal House, Niagara Island, "The Camp", Totem Point on Tar Island, Rouse-Lechler Resident, Lion's Head and this home called The Hub.  Note: Photographs by Charles Wainwright (unless noted otherwise)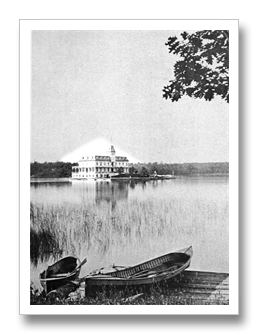 Little Hub Island, a small low-lying, half-acre island, off the head of Wellesley Island, once carried a large hotel that offered liquid refreshments to residents and guests of dry Thousand Island Park, a short row off. After the hotel burned, a boat service business occupied the island. 
The Lindsay family boat service business survived three generations, then the island fell into disrepair. Not well endowed by nature, the island provided a blank slate for the designer.
Mr. and Mrs. Farell bought the island in 1995. Mrs. Galt recalls that, covered with scrub growth and having few large trees, the island also had little soil, but much debris from previous uses.
While it did have deep water docking, Hub was not a very promising site for a new summer home. In fact, the Farrells' son insisted, "Not on that island." Because of the debris, the island had to be thoroughly cleaned, "capped," and contained within sea walls. Over the years, friends have contributed trees to plant, and the soil in which to plant them.
Photo by Paul Malo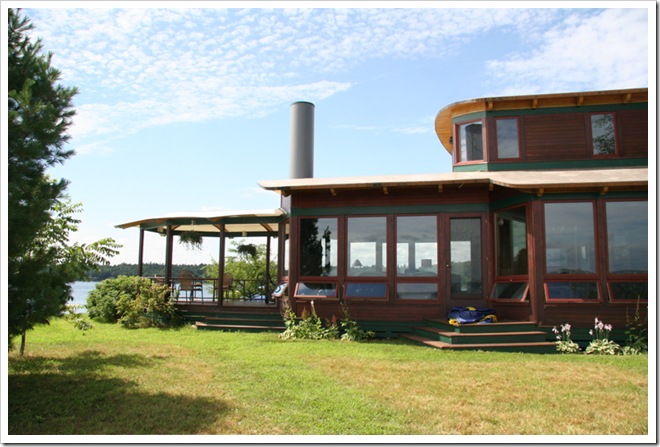 The long,narrow boat configuration allows much glass on the sides. Photo by Paul Malo
The house conceptually is a yacht, but the ship metaphor was not the point of departure. Architects often observe that a good building requires good clients, who know what they want (and don't change their minds). Mrs.Farrell did want to feel as if on the water, seeing it on all sides. The Farrells definitely did not want a conventional lodge sort of summer home, dominated by a massive stone fireplace. They wanted to be on the water, not in the woods. The nautical approach was Steve's idea, but the real point of departure was the plastic material employed for the porch canopies which, used over a porch, might recall the familiar curved canopies over yacht decks.) This was the origin of the nautical theme. Steve Taylor had originally proposed "just a house," according to Mrs. Farrell. When she was disappointed, he came back with the boat idea.
Steve built a large topographic model of the island, on which he placed a scale model of the the proposed house, large enough that the Galts could envision the relation of every room to each other and to the surroundings and the outlook.
Steve Taylor, one of our leading building contractors, is also a talented designer of several island properties. Steve favors innovative use of materials such as the translucent plastic sailcloth canopy over the porches. Because this building is so finely crafted, readers (and certainly other architects and builders) may be interested in a fuller discussion of materials and fabrication techniques.
A boat requires a name. The Farrels call their "yacht" Miss Lady Slipper, the name referring to an heirloom glass cabinet that became a feature of the interior. Miss Lady Slipper really is designed like a yacht, making use of every inch of interior space. Although the building appears spacious it really is compact (about 1500 square feet of living space.)
At a certain point, Mrs. Farrell recalls, Steve told his clients that he had put together just the right team to build the rather tricky house. He urged them to arrange their financing in short order, so that he could build the house quickly and efficiently with his crew of specialized and talented artisans.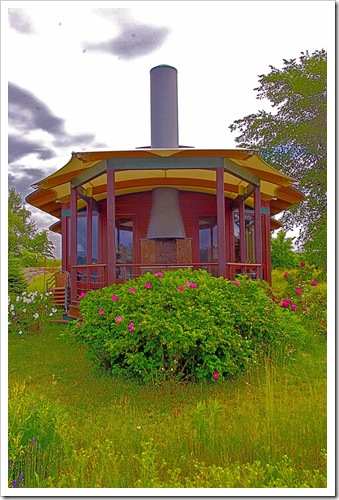 Bow of Miss Lady Slipper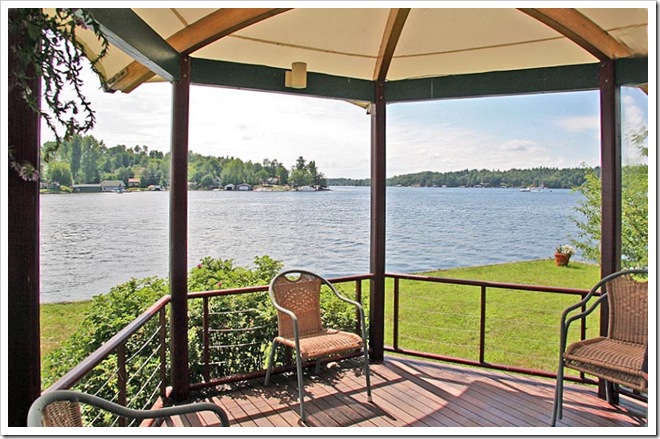 The translucent sailcloth canopy provides a pleasant glow on the porches. Photo by Paul Malo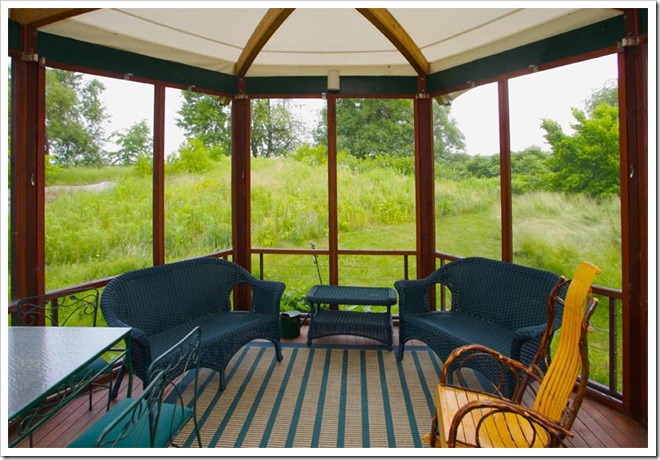 Screen porch at the "stern"
Interiors recall boat cabins. Certainly this is a "modern" house, but not "modern" as a fashionable style, but more as an inventive mode. As discussed in other articles in this issue, what is "modern"? It is not necessarily a style: white walls and metal furniture. It is more an attitude about design, and how to design.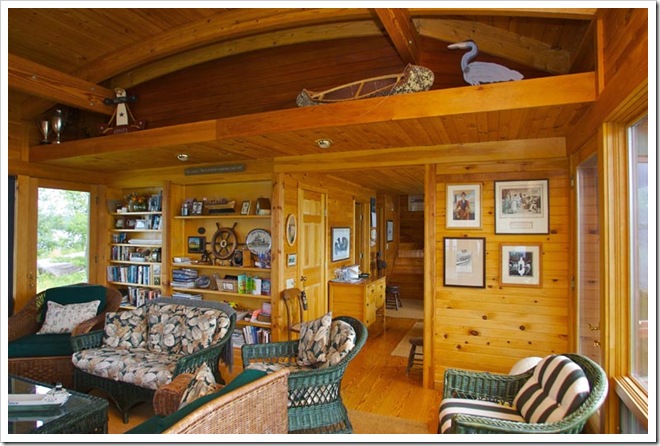 Steve Taylor had an professional architectural "mentor," James A. Kerr, better known as Arch Kerr. Steve knew him from here on the river. Arch was a fifth generation Grenell Islander. His family was one of the main benefactors that built the Grenell Island chapel. The family owned the islands that are bridged together on the south side of the island. Arch studied architecture at Princeton University. Steve was an apt, if unmatriculated, student, as evidenced by this and other work.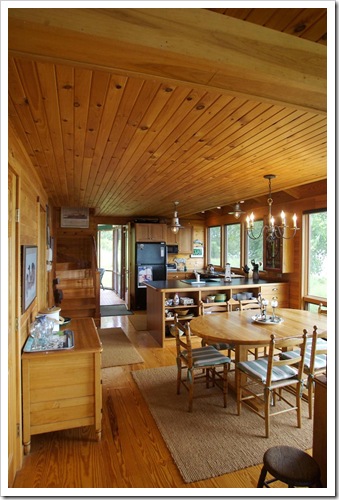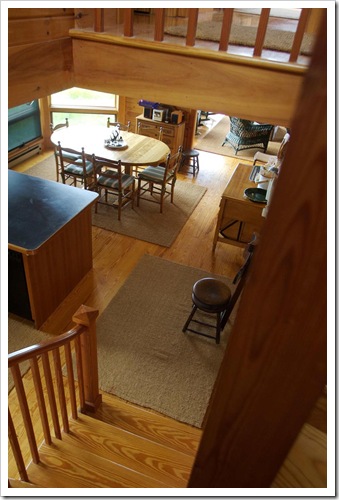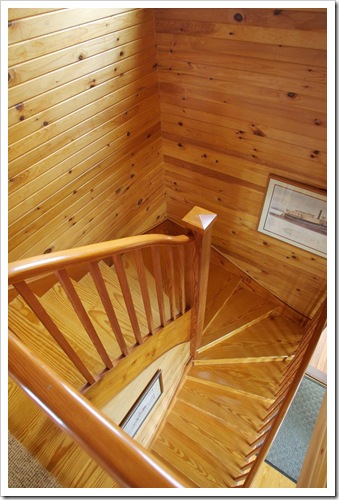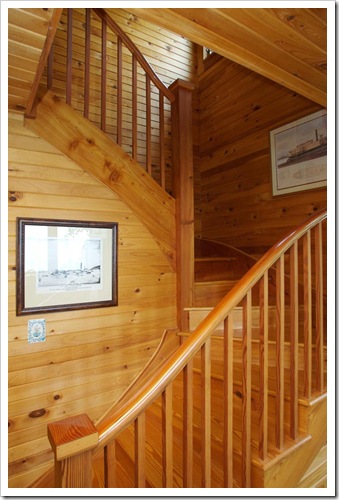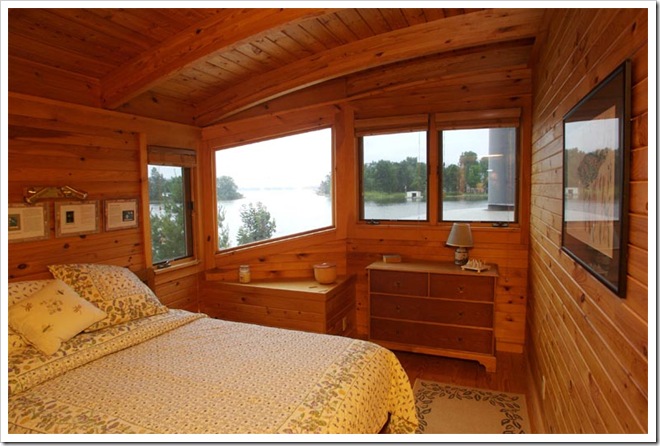 The Farrells are one of the old Thousand Island Park families. When not on the river, Dr. and Mrs. Galt Farrell reside in Plattsburg, New York, where he is an ophthalmologist. They have two grown children, Julie and Colin. All of the Farrell family was actively involved with Steve Taylor in planning the unusual cottage and now the Farrells enjoy sharing River life together with family and friends in this distinctive home.
By Paul Malo
Comments
Comment by: Ray Unseitig ( )
Left at: 1:13 AM Friday, March 23, 2012
---
This came out beautifully. Must be fun to stay there.
Comment by: Andy Huck ( )
Left at: 7:45 PM Monday, July 29, 2013
---
I found this article about Hub Island while doing some research about the Island. A a young boy I remember going to Hub with my dad to have some work done on our 16' Century boat. The only thing on the island was the shop and while the job was being done I was placed with the son of the shop owner for some mischievous boating over to TI Park. What great memories I have of that day and those days gone by. The islands still hold a place in my heart and I will visit the Bay in August.