In this month's Sudoku article you may find a couple of surprises!
First, we will revisit the approach as discussed in Dan's first six TI LIFE articles …
DAN'S 8 STEP APPROACH TO SOLVING ALL SUDOKU PUZZLES
Once you have completed the puzzle to the extent that you have filled in all obvious answers and have written all potential options across the top of the unsolved cells (PUZZLE PREPARATION), Dan recommends the following steps to complete the puzzle.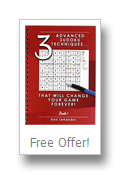 See TI Life Puzzle Preparation:
Step 1: Sudoku Pairs, Triplets and Quads – September, 2015
Step 2: Turbos & Interaction – October, 2015
Step 3: Sudoku Gordonian Rectangles and Polygons – November, 2015
Step 4: XY-Wings & XYZ Wings – December, 2015
Step 5: X-Wings – January, 2016
________________
Step 6: DAN'S YES/NO CHALLENGE
Step 7: DAN'S CLOSE RELATIONSHIP CHALLENGE
Step 8: AN EXPANSION OF STEP 7
Steps 1-5 are relatively common techniques and are explained in the TI LIFE articles per above. Steps 6-8 are covered in detail in Dan's book.
Also see Sudoku Puzzle Challenge… February 2016, Sudoku Puzzle Challenge–March 2016, Sudoku Puzzle Challenge–April 2016, May 2016, and June 2016.
PUZZLE #11
In keeping with the theme of the last 3 months, puzzle #11 can be solved with Steps 1-5, and puzzle #12 will require advanced techniques. Please remember to process obvious pairs in the puzzle preparation phase.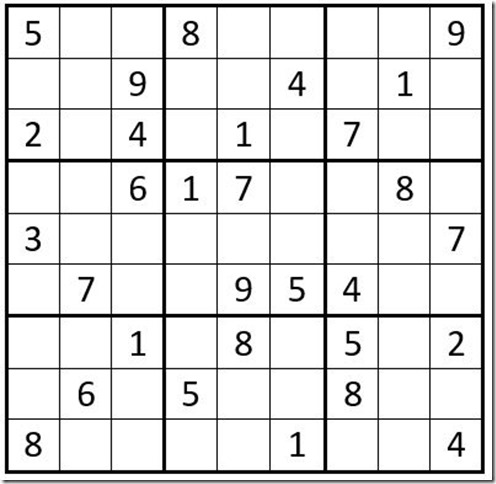 Puzzle # 11
If you need assistance, Puzzle Preparation should result in the puzzle looking like below: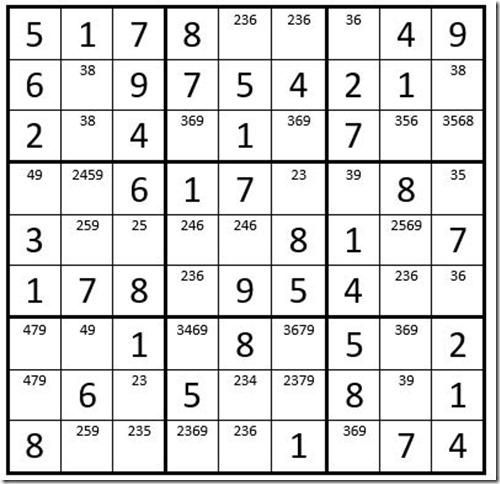 Puzzle # 11 Through Puzzle Preparation
If your puzzle does not look like the one above, you probably missed something in Puzzle Preparation. Steps to complete Puzzle #11 …
Step 1 (pairs, triplets, & quads) … In box 7, C1R7 (Cell in column 1, row 7), C1R8, & C2R7 form a triplet 479, eliminating the 9 in C2R9.
Step 3 (Gordonian) … C2R2, C2R3, C9R2 & C9R3 form a Gordonian Rectangle Plus, eliminating the 3 and 8 from C9R3. Therefore C9R2 = 8, then C2R2 = 3, and C2R3 = 8.
Step 4 (XY & XYZ – Wings) … C7R1, C9R3 & C9R4 form an XY-Wing, eliminating the 3 from C7R4, making C7R4 = 9. From here the puzzle is easily solved, recognizing just one obvious pair along the way.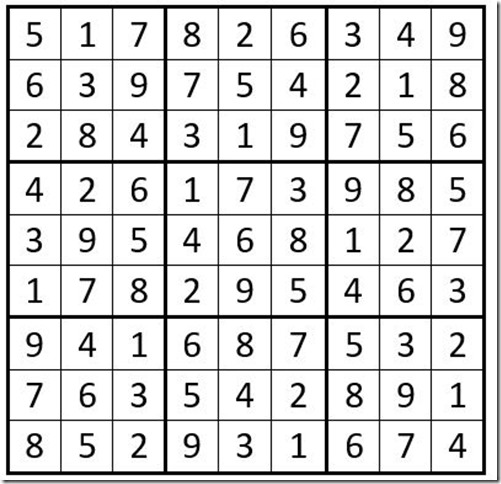 Puzzle #11 Complete
This month I am pleased to introduce Step 7 … DAN'S CLOSE RELATIONSHIP CHALLENGE.
Years ago I was breezing through a Sudoku puzzle every day using Steps 1-5. Then one day I encountered a puzzle that I could not solve. This happened for the next dozen puzzles. In researching advanced techniques on the Internet and in books I realized that most techniques were difficult to understand, and if understood, were difficult to detect in actual puzzles. In the quest to being able to solve all Sudoku puzzles, over the next year I was able to develop Step 6 and Step 7, and a year later Step 8.
All three of these techniques meet my criteria for an acceptable advanced Sudoku Technique …
1. Understandable
2. Logical
3. Easily detectable
4. Accurate 100% of the time
5. Fun & satisfying
Puzzle #12 below will require a Step 7 exercise. So today please enjoy this introduction to Step 7!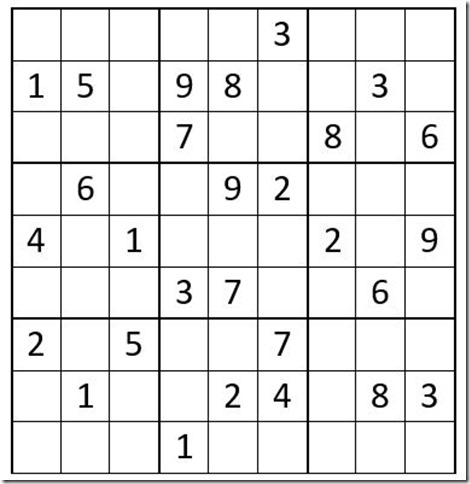 Puzzle # 12
PUZZLE PREPARATION for this puzzle is rather challenging, so here are a few hints to help you.
Once you have filled in the options for the unsolved cells please look at each row (and then column & box) carefully to see if there is just one unsolved cell that has a particular number as an option. This is referred to as a "1-choice" situation.
Look for and process obvious pairs. This will happen a few times.
If you need assistance, Puzzle Preparation should result in the puzzle looking like below: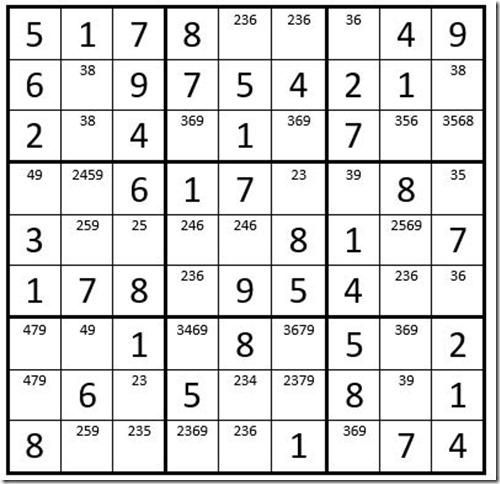 Puzzle # 12 Through Puzzle Preparation
Again, if your puzzle does not look like the one above, you probably missed something in Puzzle Preparation. If so, and you do not find the clue, then I suggest you continue with the above to see if you can reach a conclusion to Puzzle #12.
Steps to complete Puzzle #12…
Step 1 (pairs, triplets & quads) … in column 9 there is a triplet 148, eliminating the 4 from C9R2.
Step 7 (DAN'S CLOSE RELATIONSHIP CHALLENGE)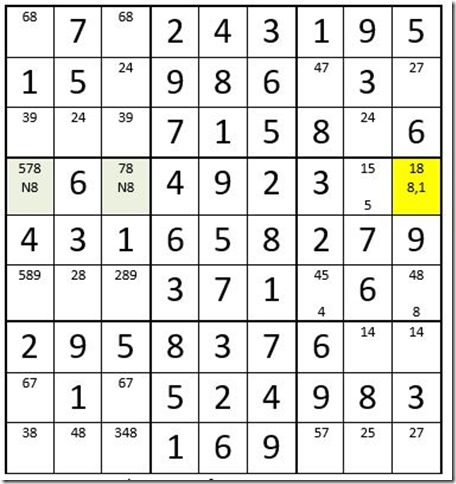 Puzzle #12 at the start of Step 7
We begin Step 7, Dan's Close Relationship Challenge, by examining the unsolved cells with two options. Cell C9R4 is a 2-option cell and we will begin our focus with this cell, which is highlighted in yellow for ease of identification.
We will select a sequence for this yellow cell as 8,1 and indicate this sequence in the yellow cell as shown above. This means we will first assume C9R4 = 8, then we will assume C9R4 = 1, in order to understand the relationship of this cell to the other unsolved cells in the same row, column, and box.
In row 4 there are two other unsolved cells (C1R4 & C3R4) that could possibly be an 8. If C9R4 = 8, then neither of C1R4 nor C3R4 is an eight. We will highlight these two cells in gray and mark them as "N8", simply meaning that they are not an 8 if C9R4 = 8.
Picture all unsolved cell having 3 vertical levels. The "first level" indicates the options. The "second level" allows space to indicate the "8,1" and the "N8". The third level is reserved as a working level for "tracking".
Next we will assume C9R4 = 1. If this is true, then only one of the two gray cells can be an 8! Can we figure out which one? YES! We will "track" the results in this third level as follows …
C9R4 = 1
then C8R4 = 5
then C7R6 = 4
then C9R6 = 8
continue the tracking throughout the puzzle, you find the following :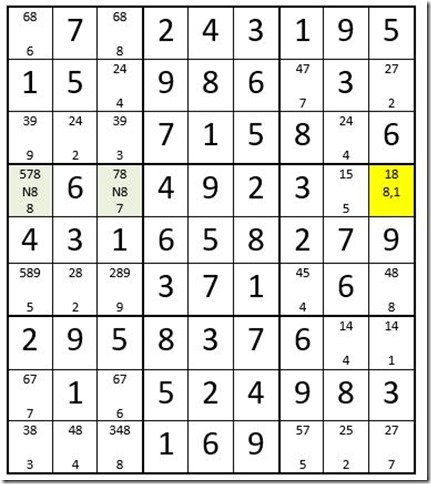 Puzzle #12 with "Tracking" Complete
Ok, what did we learn? Well, two things …
If C9R4 = 8 then C3R4 is not equal to 8. If C9R4 = 1, then according to our "tracking" C3R4 = 7. Since C9R4 has to be either a 1 or an 8, in neither case can C3R4 = 8. Eliminate the 8 from C3R4, and then C3R4 = 7.
The second thing we learned is that if C9R4 = 1, it leads to conflict within the puzzle. For example two cells in column 2 are both 2's. Two cells in column 3 are both 8's. That violates the basic rule of Sudoku, that a number cannot be repeated in a row, column, or box! So what does that tell us? It tells us that C9R4 cannot be a 1, and therefore C9R4 = 8!
The puzzle is easily solved from here.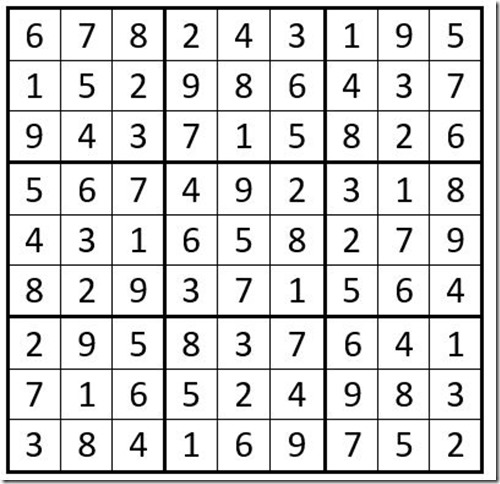 Puzzle #12 Complete
This process may seem complex if this is your first exposure to Step 7. But in time as you become more familiar with the procedure, it will become second nature.
In the Step 7 procedure above, we were fortunate that the 1 tracked completely through the puzzle. Often it does not track completely, but as long as it tracks far enough to identify the value of the "gray" cells, you have accomplished a successful
Step 7. We will define a "successful Step 7" as one which eliminates an option from at least one unsolved cell.
Once you are familiar with this technique you will be amazed at its raw power! A really complex Sudoku puzzle may require as many as ten Step 7 procedures to crack the puzzle. One last word about Step 7 for this month … as we have learned, a Step 7 procedure can only be applied to an unsolved cell containing 2 options. Some Step 7's do not work because they do not track far enough. But on a large percentage of the very complex Sudoku puzzles, there is at least one Step 7 that will start to open up the puzzle. For example, a Step 7 exercise may reduce the options in an unsolved cell from 3 to 2. Now that cell could be a candidate for a Step 7 exercise.
In the next few issue of Thousand Island Life we will continue with puzzles needing a Step 7 procedure. In the August issue we will discuss more of the philosophy of Step 7, including how to pick the best starting cell and the sequence within that cell.
If you have any questions, comments, or suggestions to improve my monthly articles, I would really like to hear from you. You can post on this TI Life issue, or contact me directly at my e-mail address … djlsuniverse@yahoo.com.
Editor's note:

Do you tackle a Sudoku on your cottage veranda, sailboat cockpit, or at a campsite? TI Life is taking full advantage of Dan LeKander, from Wellesley Island, who is a Sudoku expert and author of "3 Advanced Sudoku Techniques – That Will Change Your Game Forever!"

In January 2016, we published a final article in his series – but many of us enjoy using "Dan's Steps", so when he asked if we would like a puzzle to solve every month … this editor said an enthusiastic… Yes, please!

I suggest you try this relatively easy puzzle and that you also purchase Dan's book, "3 Advanced Sudoku Techniques, That Will Change Your Game Forever!"

Most importantly, I ask that you leave comments on any part of his series and throughout the coming year. Remember when your teacher said – no such thing as a silly question – as we can all learn together.

Dan's book is available at two locations online, djlsuniverse.com,amazon.com and on ebay.com.

Purchase of a book includes a 50-page blank grid pad, 33 black and two green tokens, to assist with Step 6.…

Author's Note: FREE BOOK OFFER!


The first 10 people to send an e-mail to me between July 15 and July 20, 2016 will receive a free copy of my book, including free postal shipping in the USA or Canada.
Thanks to my spouse, Peggy LeKander, for suggesting this offer. Just e-mail me your postal address and in a few words describe your progress with Sudoku.
May the gentle winds of Sudoku be at your back!
By Dan LeKander, Wellesley Island, dlekander@yahoo.com
Dan LeKander and his wife, Peggy, have been seasonal residents of Fineview, on Wellesley Island, NY, since 1983. In addition to being a Sudoku addict, Dan explores the 1000 Islands to enjoy the wildlife, beauty and of course, Catch-and Release bass fishing.
[See Jessy Kahn's Book Review, "3 Advanced Sudoku Techniques…" by Dan LeKander, June issue of TI Life.]