We were fortunate to spend Easter weekend on our island. The dock was free of ice, as was our front bay. The back bay still looked frozen solid. Saturday was cold, or crisp, and that night we received the "Wind Alerts" for both Kingston and Clayton. By morning, the clear dock was iced in.  Large blocks as well as smaller cubes.  (One of us asked where the Scotch was kept.)  After the Easter Bunny's eggs were discovered, safety concerns had us pack up and head out. We were grateful that we did not have our fiberglass run-a-bout, but rather our son-in-law, had the Stanley, which made its way through the ice, slowly and carefully.  Now the ice is gone, but the weather is cold and crisp.
Sunday, April 1, 2018, courtesy Janet Smith Staples
This Issue
This issue of TI Life is meant to bridge winter to spring.
Happenings in April 2018 features two fascinating videos showing our River, tributes, and news events
Two must-read articles include Beth Campagno's The "Colored Section" and Mike Cox's Mike Cox Rides Again (get ready to put on your helmet!)
Lynn McElfresh presents Denison of the Deep – Another worry when I am swimming?
Two important history articles with Tom King's Captain, O Captain! and Linda Twichell's Chapel at Westminster Park, 1892
Marilyn Neulieb reminds us  April is Poetry Month and Susan G. Mathis shares An Excerpt: Finding Family on Wolfe Island.
And finally, Dan LeKander gives three Sudoku Puzzles -  #36, 37 & 38.
Enjoy.
New Contributors






Beth Campagno - The "Colored Section"

Beth Campagno and her husband live near Rochester, NY but they spend as much time as they can at their "summer home" near their friend Victoria and the Fun-E-Farm. They can be found cycling, kayaking, exploring or just relaxing with family and friends! Beth provides management support services to small businesses and start-ups. She has also been fortunate enough to begin her "second act" by pursuing her love of writing and currently writes for an online parenting and lifestyle magazine -www.leslittles.com.

.

Susan Mathis - An Excerpt: Finding Family on Wolfe Island

Susan Mathis is the author of "The Fabric of Hope: An Irish Family Legacy" and four other books. She is the vice president of Christian Authors Network and the Founding Editor of "Thriving Family" magazine and former Editor of 12" Focus on the Family" publications. She has written hundreds of articles and now serves as a writer, writing coach, and consultant. For more, visit www.SusanGMathis.com.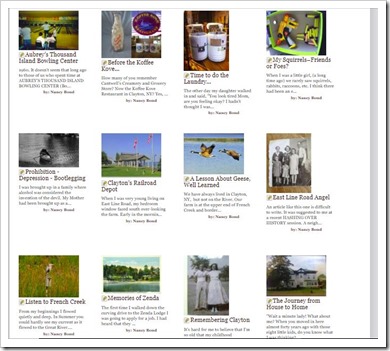 Sad News
On the afternoon of March 31st, Nancy Bond's family and friends celebrated her life in Clayton, NY.  Nancy wrote a dozen marvelous articles for TI Life, each describing her early live in the place she loved the most. I suggest you take the time to read a few, you will not be disappointed.
Artwork submission deadline May 10
NORTH COUNTRY – St. Lawrence County Arts has published an annual calendar showcasing the fine art of regional artisans for the past.
SLC Arts has published an annual calendar, showcasing the fine art of regional artisans for the past six years. The deadline for artists to submit work for the 201 9 Fine Art Up North Calendar is May 1, 2018.
Artists may submit up to three high-resolution images of their artwork; pieces must have been created within the last two years. The entry deadline is May 10. Entry is free for SLC Arts members, submission fee for non-members is $25. Submissions will only be accepted online at www.slcartscouncil.org, Check their website to find details.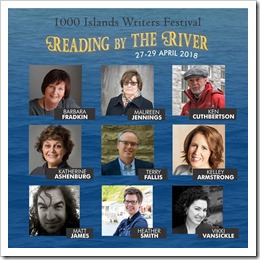 1000 Islands Writers Festival, 2018
Information is now out about "Reading by The River," the 2018 1000 Islands Writers Festival.  The Firehall Theatre, at the Thousand Islands Playhouse, is the location for ticket and book sales, as well as some festival events.
Up close and personal!  The 1000 Islands Writer's Festival's Signature Living Room Sessions offer truly unique opportunities to meet and engage, with guest authors, in the relaxed and intimate ambiance of some of the finest B&Bs of the region. These accommodations also offer the perfect getaway for those visiting the 1000 Islands for the weekend. Special events will also be taking place throughout the community at locations including The Thousand Islands Boat Museum, The Arthur Child Heritage Museum, Heather Haynes Gallery, The Old English Pub and the Gananoque Public Library.
Check out their Facebook page for details.
Grand Opening of The River Muse, Clayton NY, May 5th, 2018
Opening May 5th 2018, this new gallery in Clayton is one more reason to plan a day's outing in this small Northern New York town.
In addition to the group of like-minded artists, they plan to have guest artist showings throughout the year. There are 4 workspaces for their artists to demo their work for visitors. The studio space will flex as an art classroom for students of all ages and abilities.
For more information check out facebook and the website which goes live on April 15th.
Beautiful River Morning by Johnny Truesdell
A Sure Sign of Spring…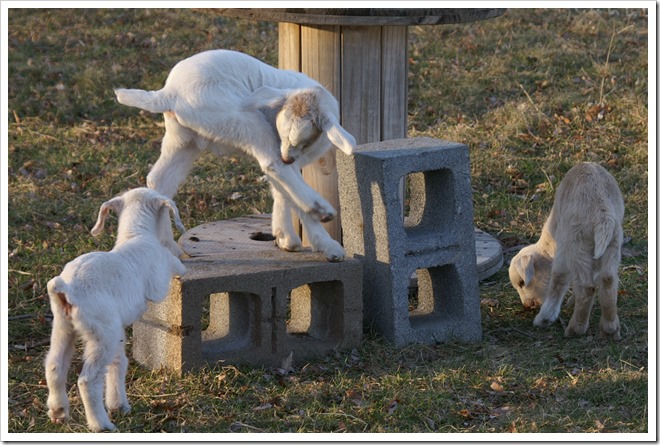 Celebrate Earth Day at Cross Island Farms:  Pet baby goats, feed the animals, collect eggs, enjoy nature.  Fun for the whole family.  Saturday April 21 and Sunday April 22.  Contact the farm at 315-482-3663 or organic@crossislandfarms.com to reserve your tour.
Please Remember

We certainly appreciate having you hit our button
at the top of each article and Support TI Life – although we: Authors, Photographers, Proof Readers and Editors – including this one(!) all publish TI Life as Volunteers, there are costs, including our Email Program - Constant Contact, and we must update our software, now working in its 11th year.
We also encourage you to  Remember our Facebook page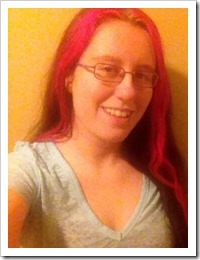 throughout the month, as we post information and photographs & follow us on

Please take your camera out on the River and capture Spring as it arrives… but STAY SAFE! Send them to info@thousandislandslife.com.
And, this Editor is looking forward to receiving new submissions, throughout the year. I bet our readers are too!
By Susan W. Smith, Editor, info@thousandislandslife.com
Special thanks to editor Bill Stallan and proofreaders Rick Taylor, Georgia Barker, and Dane Zabriskie.  I especially thank Mike Cox who is the magician behind the website. What a team …
​