Who knows the correct answer?
If you are a "subscriber" to TI Life, then from November to April, Canadian photographer Ian Coristine comes into your life twice every month. Ian's photographs appear in each new issue of TI Life as revolving "Headers" when it is published online on the 15th of the month. And on the 1st of the month you receive a photograph of the Thousand Islands in an email from Ian with a gift for your computer screen called a  "wallpaper."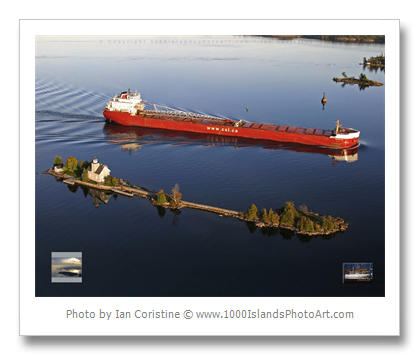 This past November 1st Ian wrote:
It is that time of year again when most of us have to resort to memories and photographs to help with winter withdrawal. Traditionally, I've shared images of lesser known spots to test your knowledge of the region by identifying where they were taken. I think it's about time to broaden that concept and include some of the more easily recognizable places so we can hopefully dredge up some interesting stories about them.
Ian then asked his readers to share stories about the location in this beautiful photograph of the St. Lawrence Seaway, with a ship mirroring Sister Island, located near Chippewa Bay, NY.  He wrote: "Please don't be shy to share your most interesting stories about this island and/or the passing ship. A set of 8 x 10 prints awaits the most interesting story."
We encourage you to go to his site to see all the comments he received – but not until you see how the Internet, a purchase Ian made on eBay a few years ago and some sleuthing have once again challenged us to step back in time to try to identify island history.
Historic Photograph of Sister Island
Soon after the November Wallpaper announcement went out, Ian received a comment and an historic 1885 photograph from Mary Alice Snetsinger.  Mary Alice is a conservation biologist. She grew up in the United States and Canada, and worked for four years at St. Lawrence Islands National Park. She became interested in the 19th century lighthouses of the Thousand Islands in 1997, and has sporadically been researching them ever since. She has written two articles for TI Life, Fiddler's Elbow and Lindoe Island Lights in June 2010 and Wolfe Island's Lighthouses in November 2009. 
Mary Alice wrote: 
The lighthouse on Sisters Island (also known by variants of the name, including Three Sisters Island) was built in 1870, and was close to last in the series of nineteenth century lighthouses built in the Thousand Islands, with the exception of Brown's Point Light (aka Knapp's Point Light) on Wolfe Island (1874) and the lights on the Cape Vincent Harbor breakwater (1900). William Dodge was keeper from 1870 to 1921: 51 years! Although they were poorly paid and sometimes subject to the winds of political interference, this kind of longevity was not uncommon (witness William Gillespie's 54 years as keeper of Wolfe Island Lighthouse), and the light keeper position was often passed from father to widow or son.
Ian's eBay Sketch
That led Ian to send Mary Alice a sketch he purchased on eBay several years ago. Here is Ian's note:
Mary Alice, I was extremely fortunate to win this 1870 pencil sketch on eBay a few years ago. An interesting explanation about the artist (Napoleon Ledochowsky) can be found in the description posted on eBay when this item was auctioned (see below). What made this a particularly important treasure to me is that it instantly explained why Sister Island seemed to have an earlier name that I had only heard occasionally. 

I know this lighthouse as being on Sister Island, but the bottom sketch uses the earlier name; "The Three Sisters." I never understood why the name seemed to have changed along the way. This sketch, by coincidence drawn in the year the lighthouse was built, reveals the answer in a blink.

Originally, there had been three entirely separate islands (the three sisters) joined by two wooden bridges. Look at any recent image of Sister Island, like the one in last month's wallpaper or more clearly still in your 1885 image and you'll instantly discover that it is not naturally a single island.

At some point in time, a causeway had been built out of stone, joining three islands into one. Thus the Three Sisters became Sister Island. I happened to discover that Allan Newell in Chippewa Bay also managed to win a sketch from Ledochowski's sketchbook drawn while he was passing through the Thousand Islands in 1870, so very happily two Thousand Islands treasures have been preserved.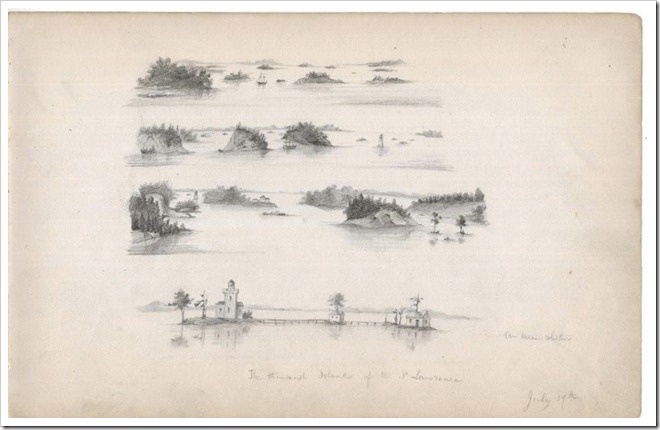 From Napoleon Ledochowski's personal sketchbook album  "Through the Lakes, Chicago - Montreal, July 1870". These are his original pencil/graphite drawings.
eBay Item Description:
"From Napoleon Ledochowski's personal sketchbook album - I am continuing to list the drawings that were from his collection "Through the Lakes, Chicago - Montreal, July 1870". These are his original pencil/graphite drawings.

Here are 4 detailed vignette drawings on a sketchpaper page measuring 10-1/2" by 6-3/4" titled at the bottom "The Thousand Islands of the St. Lawrence - July 17th". The top vignette measures 5-1/4" by 7/8"; the second measures 5-1/2" by 3/4"; the third measures 6" by 1-1/4"; and the bottom vignette measures 5-3/4" by 1-1/4" and is titled "The Three Sisters". Some age discoloration around all edges.

Count Napoleon Ledochowski arrived in America apprx. Spring 1869. He drew many scenes of New York and some of Canada in 1869, and the Midwest in 1870. He lived with my Great-Grandparents abt. 1900-1916/17 on Lake Park Ave. in Chicago, IL. In the late 19th C he was a much revered and sought after Music Teacher whose forte was piano and violin. Associations: Edgar Stillman Kelley, Great Amer. Composer, studied under Ledochowski for 2 years in the late 1800's; Per Froding, Swedish Composer; Fred L. Morey, listed, published Amer. Composer. Ledochowski was b. abt. 1845 Paris, France; Great Nephew of Baron Claude-Francois de Meneval (Secretary to Napoleon Bonaparte I during the Napoleonic wars); Nephew of Baron Napoleon Louis de Meneval b. 1813 (listed with the National Museum Des Chateaux de Malmaison et de Bois-Preau); Cousin to Baron Napoleon Joseph de Meneval b. 1849, d. 1926. Ledochowski's Memoirs, written in French titled Fifteen years of Parisian Society, are housed at the Newberry Library in Chicago, acquired 1916, Case MS F 3997.49 An accomplished Musician, Napoleon Ledochowski, Compte, sketched these drawings as he traveled. There were very few people who traveled the country with pencil/paper documenting 19th Century America at a time when galleries & collectors were interested in magnificent romantic landscape painters. It has been said that in a time when photography was still a primitive & cumbersome ordeal, without the wonderful pencil/pen & ink drawings of a few 19th C artists, we would not know what these places looked like. Ledochowski's drawings are extremely rare and one of a kind, and what makes them more invaluable is that he identified and dated what he drew; and of the few original drawings surviving 134 years more or less, most of them do not give a clue as to location or time. These are very rare visual paper documents of our history; an irreplaceable legacy for us to cherish."
Mary Alice immediately wrote: 
Hi Ian,

 Well, thank you, I *did* enjoy that [seeing the sketch] very much. Thank you so much for sharing it. What a beautiful set of sketches. I love the rickety little bridges connecting the islands (not unlike an 1874 sketch of Red Horse Rock lighthouse in Picturesque America, which unexpectedly has more sketches of Canadian than American lighthouses in the Thousand Islands).

It looks like there are lighthouses in two of the sketches above the Three Sisters image as well. Taking the title as applying to all the sketches, they look to me like they are perhaps Canadian lighthouses, possibly two angles on the same one. Sunken Rock is the only American lighthouse that looks like it sits out alone in the water that way, and it seems too busy with surrounding islands to be right. By 1870, all but two of the Canadian lights were in place (and Fiddler's Elbow had already  been removed). But just which one it could be is a mystery to me. If I could convince myself it were Cole Shoal, I would be ecstatic, but there are just too many islands for it too, even allowing for artistic license. That leaves Jackstraw Shoal or Spectacle Shoal lights, but those too were pretty isolated from other islands as far as I can determine.
Most tantalizing you say? Well Ian and I challenge our readers to take a good look, think of how the islands may have looked in 1870 and give it a shot! Do you know where these mystery lighthouses might have been or can you identify any of the three upper scenes?
P.S.  Susie Wood of Chippewa Bay won the prize for her comment about Three Sisters Lighthouse:
Re: Wallpaper November 2010

Three Sisters Lighthouse with Third Brother behind and Whale beyond. When I was a kid, the Royal yacht Britannia came through with Queen Elizabeth on board. We flew out from Chippewa Bay to admire the yacht and scout for the Queen. It was a windy day and there was a lot of chop from all of the onlookers. I remember looking over the side of my grandmother's Lyman off the head of Three Sisters to see a shoal "RIGHT THERE". (It is not visible in your photograph.) In the chop we were about to bounce on it, and visions of broken boards and flying splinters filled my head. I hollered and the helmsman roared ahead and avoided disaster. He positioned us on the US side of the channel after that, and we were rewarded with a sighting of the Queen. Much to my delight, the wind blew her skirt up. By Susie Wood and David Duff on Monday, November 01, 2010
[Editor's note:  When I was posting this article, I googled Napoleon Ledochowski.  I discovered a PowerPoint presentation posted on a website by the Polish Genealogical Society of America.  The genealogist used Napoleon Ledochowski as an example of how to find a complete family history.  Enjoy the work of Cynthia Piech]