The ice is thawing and the birds are starting to migrate back to islands. However, birds aren't the only ones making their way back to a common place this month. On March 22nd, the St. Lawrence Seaway's lock doors open and traffic will begin to flow again after a brief winter layoff. That means ship personnel will be finding themselves kissing their families and home cooked meals goodbye, yet again.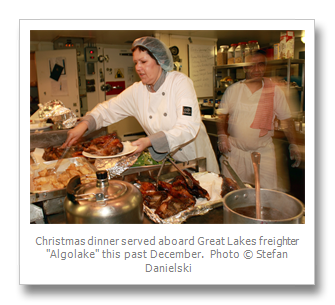 A good home cooked meal is something everyone cherishes. Perhaps it's a nice pot roast or maybe it's the homemade pasta sauce your grandmother makes on Sundays when the family comes to visit. Either way, everyone has a "comfort food" that no one can replicate, no matter how hard others may try. Replicating homemade meals is something that is not attempted once a ship sets sail, but a good effort by those in the galley is certain.
Kim Collins of Thorold, Ontario is Chief Cook aboard a frequent St. Lawrence River visitor – CSL Tadoussac. Collins has spent more than 20 years hidden in the galley of ships on the Great Lakes serving up meals for those she considers to be her ship family. When spending months at a time on a ship, everyone becomes familiar with one another quite well and the cook is one who sometimes knows everyone best.
With a grocery bill of nearly $13,000 a month, Collins and her Second Cook need more than a medium sized cart you would find at any regular grocery store, especially when it comes to purchasing items the crew will enjoy most. "Once you get the hang of it, it isn't bad. If you have a family of four at home you just multiply that by six to plan your menus two weeks in advance," explained Collins. "This time of year because of the weather you always order extra 'cause you never know when you will anchor because of bad weather."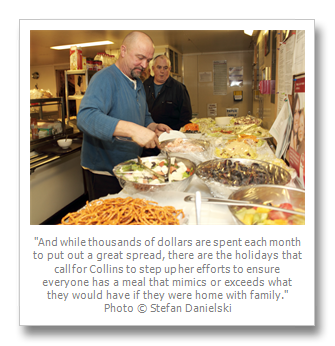 Planning 'menus' may be a little different than planning meals in a regular household. With three meals a day needing to be prepared, the Chief Cook and her kitchen mates may find it hard to keep the daily 'menu' fresh and exciting. "You can't please everyone," said Collins. One thing you can expect from Collins' kitchen everyday though is cookies. "I make fresh homemade cookies every afternoon." Collins shared her cookie recipe with Thousand Islands Life for the purpose of this article – see below.
When the weather is nice, Collins may take the cooking from down below and fire up the grill up on deck level for burgers, ribs or steaks. Can you envision your backyard grill with 25 burgers or steaks on a warm Saturday afternoon? That's a big grill job, one that even a TV grill master can't shake a stick at, and its best to be left to the professional… Kim Collins. But, let's not forget, where there are 25 people chowing down, there are plenty of dishes to be done. "If you're lucky like I am, I have an awesome second cook to help with dishes."
And while thousands of dollars are spent each month to put out a great spread, there are the holidays that call for Collins to step up her efforts to ensure everyone has a meal that mimics or exceeds what they would have if they were home with family.
"I really enjoy the holidays – Christmas, Easter and Thanksgiving. We can create special things for the guys that are normally too time consuming during the season. We always put on a big spread for the holidays." And by big, Collins means enormous. From turkey, ham and cornish hen for carved meats. Too many different salads, various hor d'oeuvres, meat, cheese and fruit trays. Don't forget the cookies, along with other favorite holiday desserts. Some ships this past Christmas even reported having lobster!
While lobster might only be a special holiday treat onboard a ship or while you are out to a fancy dinner on the town, keep in mind, there is a Kim Collins in the galley trying their best to make your meal one to remember.
Chief Cook Kim Collins shared the following recipes with our readers…
Sweet Tooth Lovers Cookies
½ cup margarine, ½ cup peanut butter, ½ cup sugar, ½ cup brown sugar, 1 egg, 1 ½ cup flour, ½ tsp powder, ¾ tsp baking soda
Include either Rolo chocolate pieces, mini peanut butter cups, Hershey Kisses. Roll into a ball, bake in 375 degree oven for 10 minutes
Country Chicken Mac & Cheese
Cook one bag of elbow macaroni with about 4 cups of cooked, seasoned chicken strips (not breaded) CHEESE SAUCE - ½ and ½ cream, 4 cups of jalapeño cheese, 4 cups cheddar cheese, 1 jar of cheese whiz and 1 jar of nacho cheese
Stir on top of stove until all cheese is melted, mix together and bake at 325 for one half hour
By Michael Folsom
Michael Folsom is a regular contributor to TI Life.  He covers the Seaway News on his popular web site, http://www.theshipwatcher.com/, as well as a twitter site: http://twitter.com/theshipwatcher. His work has been featured in the Thousand Islands Sun, as well as on boatnerd.com and northcountrynow.com. 

This coming summer Michael will be the organizer of Sailing Seaway Clayton presented by Davidson Auto Group and Lake Ontario Realty. "The display of tall ship Lynx at the Thousand Islands Regional Dock at Frink Park is geared towards enhancing the scenery of our great village of Clayton and thanks to our sponsors and community leaders we are able to host this event and show off the beauty of the park and enjoy this astonishing sailing vessel," explained Folsom.  This event promises to be popular.

2010 articles by Michael Folsom included:  Avoiding A Slick; Not Easy Being On A Ship: Part I; Not Easy Being On A Ship: Part II; Don't Spill The Beans: A River Grounding; Spring's Seaway News; Workin' "Robby Bay";  Ships and Clicks; 2009 Seaway Season Recap; and Thousands of Island Images.