Written by
Robert L. Matthews
posted on April 13, 2012 07:21
Editor's Note:  Following the article published last month by Robert Matthews (Fishers Landing), T I Collectables, Part IV, Detroit Postcards, Bob sent us these post cards. 
Canadian readers may find these views especially interesting as they are early postcard scenes of the Canadian Thousand Islands published by the Detroit Photographic Co.
Postcards published from 1901 to 1907 had undivided backs. This meant only the address was allowed on the back of the postcard and messages were written on the front. If you have a postcard with an undivided back, the card dates 1901 to 1907.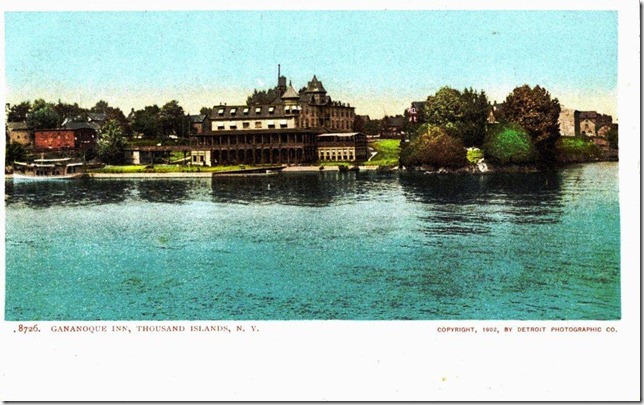 No, this is not the Gananoque Inn of today but the first Gananoque Inn which was destroyed by fire in 1907. Copyright date is 1902.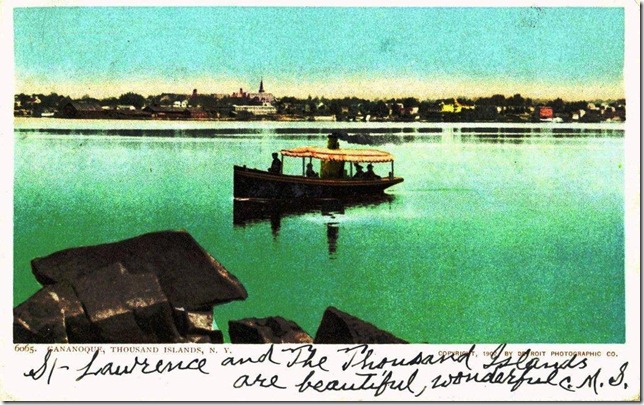 Gananoque as seen from Quarry Island. The steam yacht, in the foreground, probably used wood as fuel as evidenced by the black smoke. Copyright date is 1902. 
Note:  Quarry Island is known to day as Forsyth Island, Admiralty Island, near Gananoque, ON.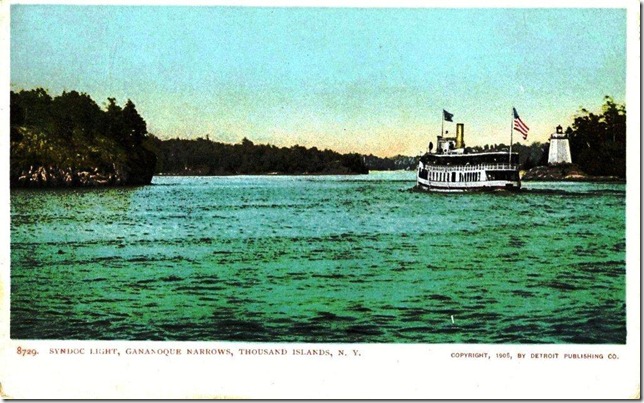 Syndoc Light in the Gananoque Narrows. Copyright date is 1905.

Note:  Syndoc is misspelled. It should read Lyndoch or Lindoe Light.  

[Editor's note:  In March 2012 I visited the Apsley House in London England.  This was the home of Sir Arthur Wellesley, the Duke of Wellington.  I learned from the audio guide the name Lyndoch is pronounced "Line-dock" and not as Lynn-dock, which is the way most Thousand Islanders recite the name.  For more history of this important lighthouse see: Fiddler's Elbow and Lindoe Island Lights  by Mary Alice Snetsinger or Searching for a Pirate's Lost Lair  by Shaun J. McLaughlin]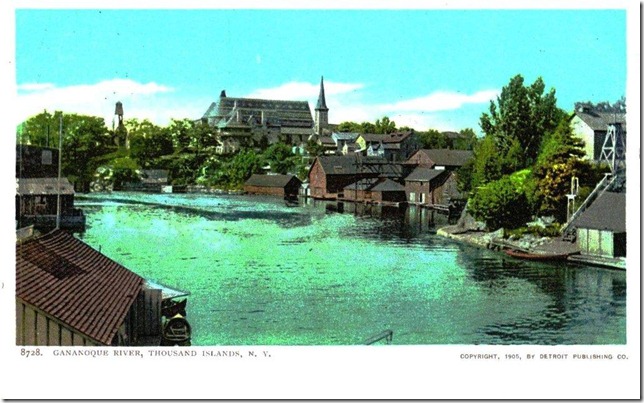 Gananoque River. Copyright date is 1905.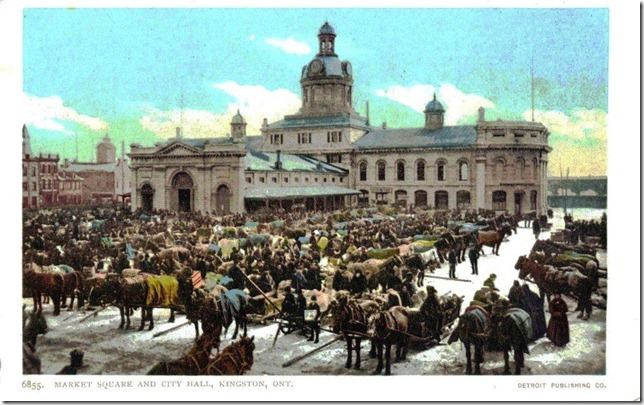 Market Square and City Hall in Kingston, Ontario. This card dates after 1907 [it has a divided back] and is one of my favorites. I know market square as the farmers market but why the gathering? This winter scene must tell a story. Does any reader have an idea?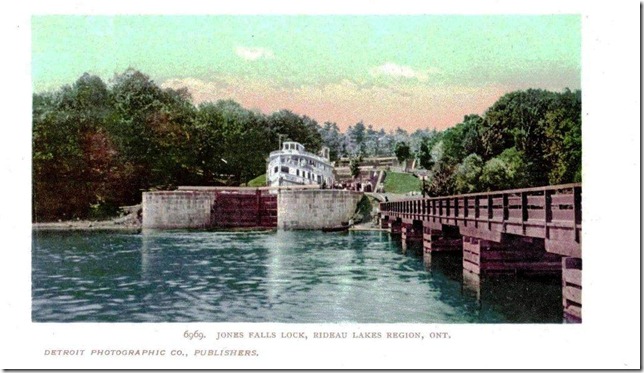 Scene is the Jones Falls Lock on the Rideau Canal. This canal was opened in 1832 and connects Kingston, Ontario with Ottawa. The postcard dates before 1905.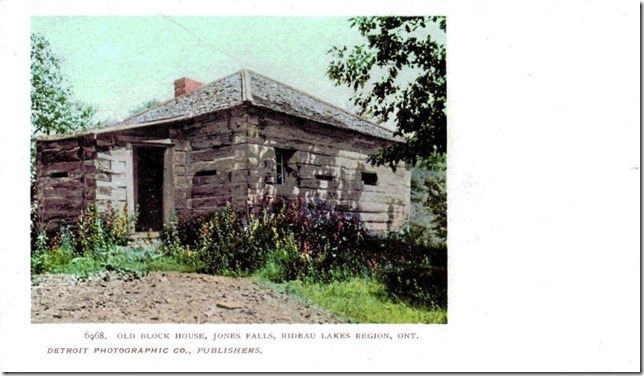 The old block house at Jones Falls on the Rideau Canal. This card dates before 1905.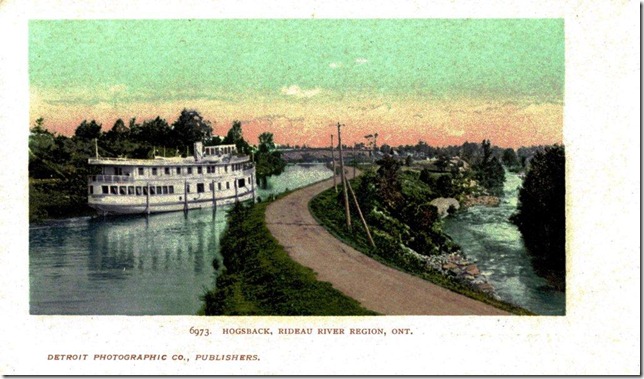 Hogsback, on the Rideau Canal in Ottawa, is the location of the second highest dam on the canal. The highest dam is at Jones Falls. This card dates before 1905.
By Robert L. Matthews, Fishers Landing
This the fourth article by Robert L. Matthews giving us a sample of Thousand Islands memorabilia. The first,  TI Collectables, Part I Squiggle Glass, appeared in the November 2011 issue , in December we presented  TI Collectables Part II, Four Track Series Brochures  and in January he wrote T I Collectables, Part III, Wheelock Souvenir China.

Robert  is the author of two popular books:  Glimpses of St. Lawrence Summer Life: Souvenirs from the Thousand Islands: Robert and Prudence Matthews Collection, and A History of the Thousand Islands Yacht Club, published in 2009.  Bob presented five articles last winter.  He and his wife Prudence ( well known River artist whose work was presented in Hooked on Prudence in 2009) have one of the most extensive collections of  Thousand Islands memorabilia.  When not at their beautiful River cottage at Fisher's Landing, they live in St. Petersburg, Florida.

NOTE:  Do you have a favorite Thousand Islands postcard collection you would like to share?  If so contact us.  We may be able to mount a section for postcard collectors.