Thanks for putting a thousand islands in your life in 2012 and we wish you and your family a happy and joyous 2013.
The December issue is always one of my favorites as we have the opportunity to look back over the year. There are so many instances when I have been overwhelmed by the enthusiastic response we keep getting from our readers… suffice to say we are grateful.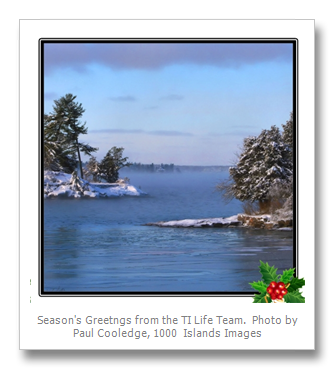 This month brings one new contributor, Melinda Stubbee who answered my call for new authors. Her assignment was done well in telling us about
Living the dream: the story of Cross-Island Farms
.
Photographer Martin Zonnenberg captures the life of a Seaway Pilot in Photo Tribute to the Cape Vincent Seaway Pilots.
Dr. Richard L. Withington, presents two articles. The first Dear People of the United States of America and Canada… passes on the spirit of Christmas… This editor had a grand time tracking down the right photographs for his tribute to the Dutch ship MARIETJE DEBORAH. I found one photographer, Jeff Poppe, who was formerly in the coast guard and was disappointed that his career ended without being posted to Alexandria Bay! Martin Zonnenberg, from Grindstone Island and also a Dutchman, helped by contacting the shipbuilder and translating important material into English. While Ottawa photographer Lucy Bottomley provided the link to the Ottawa Tulip Festival.

Dr. Withington's second article "Last Chance"… Review makes us grateful for past gifts. (This summer at the TI A/Thousand Islands Association Breakfast, the "Last Chance" came to Gananoque and provided a water salute to the appreciative crowd…)
Chas Cochand, sent The T.I. Christmas Yarn from his home in England , while Lynn McElfresh provides two articles, one in partnership with Save the River Cattail Caper and the other Grenell: Decade-by-Decade, is a final review of Grenell Island's 100th Anniversary.
Robert L. Matthews presents more of his island knowledge and historic material in Who? George Rockwell [1821-1897]; I introduce three members of the Class of 2012 - North Country's 20 under 40; and, Ian Coristine presents the results of Season's Greetings– Photo Contest
New Contributor

Melinda Stubbee - Living the dream: the story of Cross-Island Farms

Melinda Stubbee is a career broadcast and print journalist who works in corporate communications for a British-based pharmaceutical company. A native of Iowa and long-time resident of North Carolina, Melinda has spent summer vacations in the Thousand Islands for the last 20 years and owns a house in TI Park with husband David Mallette, who is a third generation North Country visitor. This is her first story for Thousand Islands Life.
The River's Loss
We are saddened to hear of the loss this month of two members of the most well known philanthropic families in the Thousand Islands.
Irving Rosen 1931- 2012

The Kingston Whig Standard, Monday, December 3rd: "Businessman, philanthropist, Rosen passes away"
Irving Rosen died on December 2nd at the age of 81. Well known for his participation in dozens of fund-raising campaigns, and business enterprises, in the Kingston area, he was familiar to many of us in the Thousand Islands. Irving and his wife Gini, often welcomed family, friends, and community non-profits to their property on Wellesley island. We offer our sincere condolences to his family.

Mary Macsherry 1918-2012

The Watertown Daily Times, Thursday, December 13: "Watertown philanthropist remembered as force behind community causes" Mary H. Macsherry died on December 10 in Watertown, NY. Mary and her husband, Richard Macsherry's name will be remembered in the North Country for the financial support and countless hours of personal time they gave to important institutions. Of the many outstanding legacies Mary leaves is Alexandria Bay's Macsherry Library. The Thousand Island Land Trust's Macsherry Trail was funded by her children in honor of their parent's 50th wedding anniversary. Our sincere sympathy to her husband Richard and their children. The Thousand Islands has lost a great lady!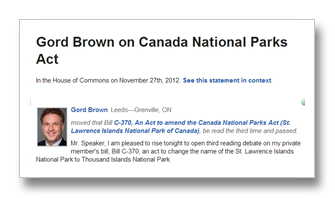 Thousand Islands National Park…
TI Life congratulates Gordon Brown, the member of Parliament for Leeds and Thousand Islands who rose in the Canadian House of Commons on November 17 and moved that Bill 370 be read for the third and final reading before being passed. The Bill will amend the Canada National Parks Act and officially change the name of the St. Lawrence Islands National Park to the Thousand islands National Park. Now the Bill has moved from the House of Commons to the Canadian Senate for a final vote. Accordingly once approved the Park will begin changing signs and all printed materials. I join others in thanking Gord Brown for his personal efforts to make this happen – a far better name for this important Canadian National Park.
Readers Exchange…
Susan, ( email excerpts from David Hoag, Charleston, SC)
…..My great-grandfather, Chester R Hoag, as a summer resident of Clayton (the house is on the point at the end of White Oaks Lane) from at least 1905 to 1935. He is mentioned in your magazine in the article about the first seaplane. Also, have any of your writers heard of Chester R Hoag and do they have any information about him?
….. I have read quite a few online editions of your magazine. It is an excellent publication. I am sure that there are an unlimited number of family stories that could be passed on to your magazine by descendants which would be very interesting to your readers. Both the business and recreational side of these Gilded Age people is an interesting read. Although I have never been to Clayton, I know it is a relative hidden gem. I think the tourism industry could be revolutionized up there with the right combination of publicity.
….My family sold the White Oaks house in Clayton in 1935 when Chester R Hoag died. My grandfather eventually moved from Newark, NJ to Windham, Maine and built a summer cottage on Pleasant Lake, in Casco, Maine around 1958. This was my grandfather's and his family's version of the Thousand Islands. A beautiful picture of the large Clayton house hung prominently at the cottage…
NOTE: if you have information about Chester Hoag let us know… and if you have questions about your relatives who may lived in the Thousand Islands – US/Canada – ask us! We may be able to find some answers.
Check out Events for the winter in Eastern ON and the North Country
Be sure to add info@thousandislandslife.com to media distribution lists to ensure important events are shared with TI Life readers.
Keep these dates: April 5th and 6th, 2013

Want to know more about classic Canadian-made boats?

A Wooden Boat Expo and Seminar in Kingston will feature speakers relating the history the Ditchburn, Minett, Greavette , Peterborough, and Shepherd boats and there will be an exclusive screening of the feature film, "Dreamboats of Muskoka". Sponsors include Wooden Boat Magazine, Lakeland Boating Magazine and Tommy Bahama. There is more information at www.woodenboatsymposium.com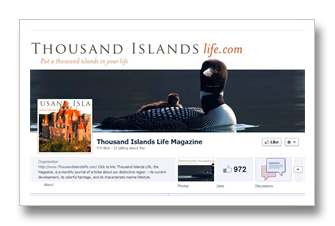 Reminders
We want 1000 Facebook "likes" - Help us get there… Be sure to check our page throughout the month, as readers post information and photographs .
Follow us on Twitter. Send us your tweet tag and we will start to follow you.
Do you write about the River (next to, from above, or below), then consider submitting an article.
By Susan W. Smith, susansmith@thousandislandslife.com
Special thanks to our editors David Ray, Jessy Kahn and Jane Taylor. We also thank those who leave comments on our articles or ask questions. The more the better.