"April showers bring May Flowers"… rings true this year as the wildflowers and blossoming trees are spectacular.  The cold wet spring also helped water levels rise slightly.
This month we present 13 articles…  Each comes with a story.
On May 15 I received an email  advising that the Skydeck, built in 1965, on Hill Island, was to be sold by day's end. Michelle Caron, who wrote about the Tower in July 2011 wanted readers to know that Konrad and his wife, who had learned about the Tower through her article, would be its new owners.
Within an hour, Konrad and I chatted and here is "I'd like to buy a tower today…"
Earlier in May Missy Rosenberry asked if we knew about a program for Fort Drum families "1000 Thanks" to Military Families. She found out about "1000 Thanks" from a colleague at Webster Thomas High School , Cheryl Navarra (one of the organization's founders).  Missy felt this is a program of great merit and she offered to publicize it through her column, press releases, and this month's article in Thousand Islands Life.
Lynn McElfresh, in  A Cottage By Any Other Name", tells us why your cottage has the name it has.  Robert Matthews and Jan Eliot provide a short three minute video with  A Look Back in Time…
We have four literary reviews:   Kim Lunman's  It's Island Time: "Island Life Magazine 2013" gives a sneak preview to be delivered to 25,000 households this month and available through her website.
Captain Brian Johnson tells of "Growing Up on Wolfe Island", history and storytelling… and we provide M. A. Noble's "Taking Hart" an excerpt and April Scott-Clark reviews "Upcountry" a novel by R.M. Doyon.
I  invite you to Explore Bay House Artisans and Anthony Mollica gives an in-depth history of Alexandria Bay's Remarkable Boat Shop, which compliments John Peach's original January 2011 article Van's Motor Marine.
Summer 2013 boating season starts in good style with Celia Medcalf's Paddle the Arch Tours, Arthur Bronstein presents A 1000 Islands' Mariner… the first in a series and Dennis and Kathi McCarthy share their Photographs from Mother's Day 2013.
______________________________
 

Missy Rosenberry - "1000 Thanks" to Military Families


Missy Rosenberry lives in Webster, NY with her husband Jack. When not at her full-time job as a library teaching assistant at one of Webster's high schools, you'll likely find her sitting at her laptop, working on her daily blog or weekly column for Rochester Democrat and Chronicle newspaper.

 

Celia Medcalf - Paddle the Arch Tours

Celia Medcalf retired from a full career in software development and project management to volunteer for various non-profit organizations. Usually in leadership roles, she is currently a director of the Frontenac Arch Biosphere Network and lives in Brockville, Ontario. Current interests include sustainable community development in eastern Ontario. Twitter @CeliaMedcalf.

Arthur Bronstein - A 1000 Islands' Mariner… the first in a series

Arthur and Nancy Bronstein live in Syracuse, NY.  Their boat is a C&C 35 Mark II, named HAMBONE, built by C&C Yachts in Niagara On The Lake, in 1975. Arthur is a Private Fire Investigator and a member of "The BABY BOOMERS Band".  Arthur plays acoustic and electric guitars.
Dodging Bullets
"Border fee for Canadians banned by U.S. Senators…"

It was a headline on CBC News and has been welcomed by thousands in  the North Country.  The Department of Homeland Security asked Congress to consider implementation of a fee on those entering the US at land crossings bordering Canada and Mexico.
We immediately asked Gord Brown, the Leeds-Grenville Member of Parliament, to start lobbying.  His office responded with, "We believe that any fee on travelers crossing the Canada-US border would be bad for jobs and the economy. There is $1.6 billion in daily-cross-border trade and  Canadian officials will vigorously lobby against this proposal."  He did so as Co-Chair of the Canada-US Inter-parliamentary Group.
The Senate judiciary committee voted on May 9th to amend the immigration Reform Bill by banning the fee.  Vermont Senator Patrick Leahy, Chair of the committee, helped define the consequences of such a fee. 
"Rideau Canal Fee Frozen"
Other news from the Canadian government came this week when Gord Brown expressed his pleasure with the announcement by Canada's Environment Minister Peter Kent that Rideau Canal fees will be frozen for three years at 2008 levels.
"I and my colleagues have been working long and hard on this issue and I am happy to announce that our request for consultation on the future of the canal has been answered," he says. "This will give us all time to take a long look at what we can do to improve the canal."
Certainly this comes as welcome news for boaters, marina operators and the tourism industry throughout the Township.
All in all Thousand Islands residents should consider they have dodged not one bullet but two!
Freshwater Jellyfish in 1000 Islands Region of the St. Lawrence
Sandy Mackenzie shot this video last summer in front of Bratt Island, Ivy lea near the Canadian span of the Thousand Islands Bridge.
"As soon as my hands were dry enough to touch the keys, I went on Google."  he says.  "I found that they do exist here and have done so for a century, give or take!  They hitched a ride over on a ship from Asia.  Apparently there was s spike in their numbers last year, with sightings in the Great Lakes and lakes to the north."
Sandy, like all of us, knows the consequences of invasive species, and found the sightings of these jellyfish the most shocking of all.  However he also learned that they have been around longer than the Zebra Mussels or the  Round Gobies.  "Every River Rat" that I have talked to about this has never seen a jellyfish, so it's fun to share the video and watch the horror in their faces… then I tell them they don't sting…"
---
Readers Exchange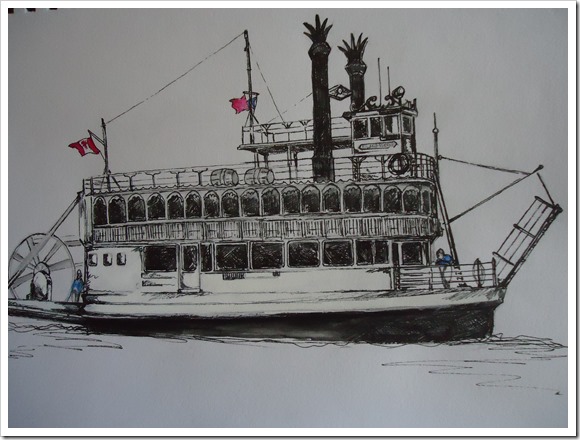 Ted Bradford sent this drawing he made of the Island Queen III.  Ted grew up in Gananoque and is now living in Syracuse, NY.  He takes great pleasure in bringing his wife and three children back to the River as often as possible.  He completed this pen/ink/watercolor from a picture he took of the Island Queen returning to the Crawford Warf in Kingston.  Ted is a broadcaster and voice actor. You can reach him at tedbradfordmedia.com."
Dale Hull wrote on our Facebook page, "Love the magazine… this is a real color picture of the sunset taken from Wellesley Island State Park looking toward Gananoque Ontario.
---
The Enduring Popularity of Lyman Boats  By Anthony Mollica
Great article. My father bought a 24 foot Cruisette in 1966 and I am still using it today after three transoms and many new bottom boards. The last transom is being put in by St. Lawrence Restoration as I write. I say last as I am 73. Thanks for the great article. Ted Emerick ( Cazrenovia, NY )
---
Imagine the Thousand Islands without shoal markers… by John Taylor
Hit a shoal last year on the St Lawrence rive cost 3.200 dollars to fix. you should the contact the insurance
companies and get them to Donate money, Reg ( Las Vegas NV )
---
"Dock Spider" - Friend or Foe? by Tom King
Another very informative article, Tom. I don't remember coming across anything like the species pictured but certainly have encountered some spiders over the years. a favorite tale was one where Capt. Marty Mangan was returning home aboard the Miss Gan full of passengers as the sun was going down. Then, from between various lifejackets mounted overhead....First one piercing scream... followed by another... Brian Johnson (Kingston ON)
---
Bringing Back River Memories by Philip Jellie
This shows that you do not have to travel far to enjoy the St. Lawrence River and that is why I would never move from here. Stories of about growing up are the best. Remembering the times spent with family, you can't ask for anything better. Thanks for making me remember. William (Bill) Elliott ( Brockville )
---
Spring Symphony by Richard L. Withington
Where Oh Where could you ever experience the peace and joy of this glorious symphony except thru the metaphorical pen of Dr. Withington and his beautiful river island photos. Can't wait to return to hear the river's summer symphony! Marilyn ( Ossining New York )
---
Clayton, Tour Boats, Alexandria Bay – 60's Style by Mike Fesko
I have not been back to the Island since 1967. I was 7yo at the time so I'm sure a lot has changed. My fondest memories are of the little toads hopping at your feet, and of course the chipmunks scurrying all over the place. I also recall the ships travelling down the seaway at night blasting their fog horns. PRICELESS! Dave Farnsworth ( Kansas City, MO )
---
Her Majesty's Royal Yacht – By Lynn E. McElfresh
We had just returned from Expo 67 on our family's cruiser, when we saw Britannia pass through. There is a painting that Michael Ringer did of that day in his book "River Life", that shows the boat going by. Lots of pleasure boats were out to see Britannia that day. Dave Montrois ( Tallahassee/Clayton )
---
Wanted:  Please get your cameras ready! Assignment for June:  Landscapes, wildlife, water views and people… to info@thousandislandslife.com
In June we will announce our 2nd Annual Photo Competition scheduled for December 2013 with our esteemed juror, Ian Coristine, providing details.  
Be sure to check our EVENTS page often each month.

Be sure to check our facebook page throughout the month,  as we post information and photographs . Follow us on Twitter

Do you write about the River  - near to it, from above or below?  If so, please consider submitting an article.  Let us know what you like, or dislike, about TI Life  so we can share more ideas.
By Susan W. Smith, Editor  susansmith@thousandislandslife.com
Special thanks to our editors David Ray, Georgia Barker and Jane Taylor.  We also thank those who leave comments on our articles or ask questions. The more the better.