Last year at this time we were wishing those hit by the hurricane Sandy a speedy and safe recovery, this month we know that the Philippines, a half a world away, is suffering an unimaginable devastation from the Typhoon Haiyan. Each day brings more sadness. We join in sending our condolences and encourage readers to contact their local relief agencies to help.
November in the United States is marked celebrating Thanksgiving with family and friends. In Canada we pause for Remembrance Day in recognition of the end of WWI when the Armistice was signed at the 11th hour on the 11th day in the 11th month. This year I am sure both will remind us how fortunate we are and how fast lives can change.
This Issue
This month we bring to you two love stories written about the River: Closing Up is Hard to Do by Mark Russell, Hay Island, and Daydreams of My River by Dudley E. Danielson, now a resident of Pennsylvania.
Two historical accounts, one Remembering the Battle by John Carter recalls the 1838 Upper Canadian Rebellion with the Battle of the Windmill while Dennis McCarthy presents Re-enactors return to French Creek with present-day photographs.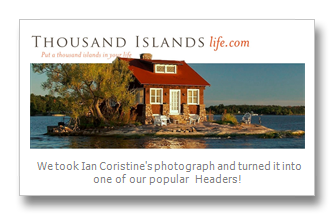 Lynn McElfresh's
The Traditional Shore Dinner
will make you wish it was summer and Kim Lunman presents
Five Years of Island Life
with a sneak preview of next May's
Island Life Magazine
. Nancy Bond's
Remembering Clayton
in the 1930s and 1940 will make you smile.
Ian Coristine calls all photographers in Get Ready for the 2013 Photo Contest…
Richard Withington reviews "Last Chance" and "Stormy's" Season 2013 and pays tribute to his friend Paul A. Thiebeau and I have the pleasure of introducing Will Salisbury's new sculpture in The Library grows a tree
Rex Ennis discovers St. Lawrence East on the Queens Mary 2 and we have suggestions For the bookshelf: "I am Algonquin", "Too Young to Fight" and "The Congregation"
New Contributor
Daydreams of My River by Dudley E. Danielson

Dudley Danielson left Clayton on his next life's excursion in 2009. At that time. Ian Coristine paid tribute to him in "Saying Goodbye to the River" (TI Life, June 2009). Readers will remember his "Relax! In the 1000 Islands," a newspaper he published from 1985-1998 or his book of post cards, The Way We Were. He has also written several books, three were treasure books: Silver Treasure, Treasure Island II and Joshua's Secret. Each was filled with clues to find a magic key which, when discovered, gave the winner anywhere from $1000 to $1500 to $2500. Since leaving the river and settling in Amish country in Pennsylvania, Dudley has continued to delight a growing list of subscribers with his photography and his writing. He latest novel "The Congregation" was published in 2011.
In Memoriam
It is with sadness that we record a number of deaths of those who played a special role in our River communities.

Edythe Taschereau, Bung Island, Navy Group, died on October 16 in Montreal, QC. Edie will be remembered for her great hospitality and for inviting dozens of friends over the years to visit the region. Many in turn became life-long residents. Edie's family, the Fallons on Stave Island, helped protect many acres on the island and she and her husband, Edmund, supported several River organizations.

Frank W. Slate, age 45, died on Sunday, September 8 in an accident on Grindstone Island. He worked for over 27 years at Northern Marine and was always helping their customers as well as the community-at-large. He leaves his wife Betty and young children and will be sadly missed by his many friends and River families.

Paul A. Thiebeau, Jr., 76, of Clayton passed away suddenly at his home on Monday October 28, 2013. Paul was an active member of the Clayton Fire Department and the current Director of Jefferson County Fire, Commissioner of the Town of Clayton Fire District, and Captain of the Fire Police and of both the Clayton Fire and Ice Boats. He was also actively involved with Thousand Islands Emergency Rescue Service (T.I.E.R.S.) Dr. Richard Withington has written a special tribute to Paul in "Last Chance" and "Stormy's" Season 2013."

William J. Foltz, Grindstone Island, died on October 31, 2013 in New Haven, Conn. at the age of 77. Professor emeritus of African studies and political science at Yale University, Bill was the director of the Yale Center for International and Area Studies from 1983 through 1989 and served on the National Intelligence Council. He also counseled the Clinton administration on its foreign policy toward Africa. He originally summered on Murray Isle, but built a home on Grindstone in 1976 and has been part of that community since.

Margaret L. Taylor, Grindstone Island, 94 died on October 20, 2013. The Taylor family, with husband Chester and their son's families (Donald and Linda / David and Shirley) are all part of the active Grindstone Island community. An accomplished nurse, Margaret served in several theatres of war. She will be remembered for her many charitable works on Grindstone Island and as an active participant in the Ladies Coffee on Thursday mornings throughout the summer.
Johnny Truesdell's video camera
ABay.com's Johnny Truesdell still has his video camera out on the River. He captured the ERIEBORG cargo ship passing Boldt Castle. For those not able to stay in the North Country all winter, you can thank "Johnny T" and his ABay.Com website. He posts news, videos and maintains a number of web cams throughout the year.
Tribute
Bill Fitsell, a former sports writer at the Kingston Whig Standard and The Gananoque Reporter has been named as one of the 2013 six inductees into the Kingston and District Sports Hall of Fame. He was the founding president of the Society for International Hockey Research. His article Had Enough of the War of 1812? was published in TI Life's November 2012.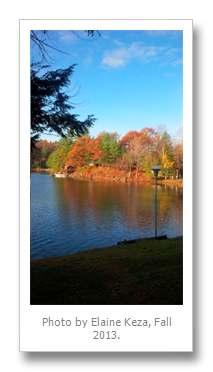 Notice
Rockport Customs' building and property – a prime waterfront property in the village of Rockport - has been declared surplus to the federal government's needs and will soon be up for sale. This property must be first offered for sale to Canadian Aboriginals, secondly to the municipality in which it is located, and thirdly to the public.
Gerry Last writes, "In recent years, the Customs' property has been left to decline in appearance. Both the property and the building hold great value to the community. The Rockport Development Group, comprised of local businesses and community volunteers, sees the sale of the Customs' property as an opportunity for our municipality to acquire a valuable asset for the entire township."
The sale was announced last spring. Wayne Lowrie's Brockville Recorder and Times article stated the sale would take place sometime this year and the building was part of the Doors Open Ontario last May.
A public meeting at the Rockport Recreation Hall on Nov. 27 at 7 p.m. will discuss this important opportunity. Please join community members to help determine the future of the Rockport Customs' property.
Winter Wallpaper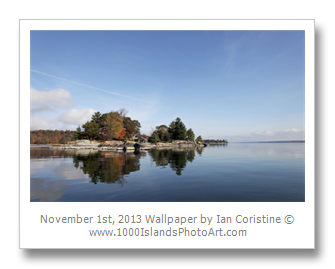 We remind readers that those who subscribe to TI Life not only receive my "now-online" email on the 15th, but on the 1st of each winter month, 1000 Islands photographer Ian Coristine sends subscribers a photograph to use as a computer wallpaper image. We hope you enjoy both.
Reminder

Remember our facebook page throughout the month, as we post information and photographs & follow us on Twitter

Do you write about the River - near to it, from above or below? If so, please consider submitting an article. Let us know what you like, or dislike, about TI Life so we can share more ideas.
By Susan W. Smith, Editor info@thousandislandslife.com
Special thanks to our editors David Ray, Georgia Barker and Jane Taylor. We also thank those who leave comments on our articles or ask questions.