One of our TI Life editors made an interesting comment: "Before I began editing TI Life, I only read those articles I THOUGHT I would like, but now I have to read them all, and I find every one of them fascinating."    I whole heartily agree.
This issue 
Start with some Haiku:  1000 Islands Haiku (Amazing talent)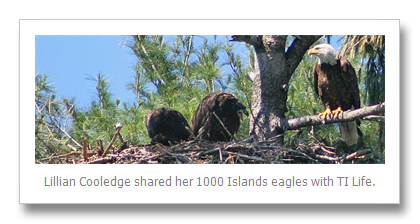 Economy improved:   Our First Year in the 1000 Islands Tower! by Konrad Linckh and Hayley Coristine introduces Flyboarding Takes Off Over The Thousand Islands.  Kim Lunman provides an introduction to Riverstone: A River Runs Through It. and New River Museum Floats Its First Boat
Island nature:  John Peach's Restoring the Common Tern in the Islands; Kelly Kearns Health Habits start early… and Tad Clark's A Dog's Life on Comfort Island.
People and Places:  A Pilot's Story, by Brian Johnson, Tracing a King's Man on the St. Lawrence by Arthur Pegg, UE, and I present Remembering Fallen Police Officers.
and Lynn McElfresh introduces us to LIL' BILL, the boat every island has or had…
New Contributors
Kelly Kearns - Health Habits start early…

Kelly Kearns is a summer intern for the Thousand Islands Land Trust. She grew up in Western New York, and is currently earning her BA in Global and International Studies, and her BS in Health and Wellness Management from SUNY Oswego. During the Fall and Spring semesters she is involved in the Health Promotion and Wellness Club as well as the Outdoor Club, and is passionate for staying active outside, year-round. The focus of her internship with TILT is in sustainability and wellness promotion.

Ronald E. Hammond - 1000 Islands Haiku

Ronald Hammond was born in northeastern Ohio in a farming community.  He came to New York to Nyack College where he received a BA in Social Science and Biblical studies. Always a lover of nature he spent much of his early years in the woods and streams hiking and camping, participating in Scouting and achieving the rank of Eagle Scout. His professional life was spent in management positions in electronics and ERP software consulting. Now partially retired he consults with small companies improving their integrated management systems.   Ron's hobbies include sailing, gardening, singing in an Episcopal Church choir and luckily for us - writing haiku.
Independence Day
Here is a short display of July 4th, 2014 fireworks – Thanks to Jeremy Hobbs, Paul and Lillian Cooledge, Tom Roberts and Richard Noonan, from those of us who could not be there!
TI Life – The Connector
Already this summer TI Life has been thanked for helping those living far away, to connect to the St. Lawrence River and its Islands.
Barbara Wilson:  Back in July 2012, I wrote a two-part article on Gananoque's Mitchell & Wilson Ltd; the construction company which b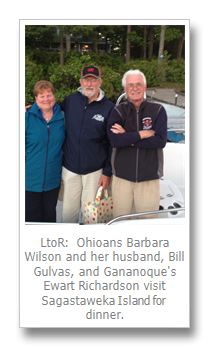 uilt many Island homes around the River.  Several months later, Barbara Wilson, living in Ohio, Googled her family history and found our articles.  "Would you be able to tell me more about my Grandfather, David Wilson?"  She asked.  A few minutes later we connected Barbara with Ewart Richardson, a member of the Mitchell family and before long Barb and her husband Bill began planning their first trip to Gananoque.

"We had a lovely vacation, I learned so much about the area and can't wait to match all my cemetery finds, to names on my family tree. We were very successful in finding relatives in Gananoque, Kingston, Toronto Cemeteries and also Prospect and Albury. I found relatives back as far as the 1800's. The main question I came to Gananoque to find, was not found: "Where in Ireland did the Wilson's come from?".  However, I learned much about the town and area and where my grandfather grew up. I also found his house! He died before I was born, so I never knew them. I also have more leads to follow and may yet learn the answer.  I want to thank Ewart Richardson and Gananoque historian, John Nalon for their assistance."  Barbara Wilson
Deane C. Parkhurst and Susan and Bill Schongalla:  In July we were invited to meet our TI Life author, Deane C. Parkhurst, who wrote Remembering TI Park and the Hurricane of '38 in August 2013.

Soon after the article was published I received an email from Susan Schongalla, who realized that Deane's article was written about her house, located on Ontario Avenue in Thousand Island Park!  It was easy to recognize as it is known as the New York Central house.

Several emails later, Susan learned that Deane, who has lived in Kansas City, MO, for many years, was coming back to the Park and would be staying in a cottage a few doors away.  Susan graciously invited us all to meet and together, with neighbors and friends, we reminisced about life in the Park and our wonderful Thousand Islands.
DONATE BUTTON… We fixed it!
We thank all those who generously took advantage of our TI Life DONATE button and sent in donations.   I received several messages saying the PayPal system was not easily accessible for US/Americans account holders.  We fixed it!
We will also set up a bank account for those who wish to send a check… But suffice to say, all those on the TI Life team are pleased and thankful for the support.  We will have more to report next month, as well as updates how the funds are disbursed.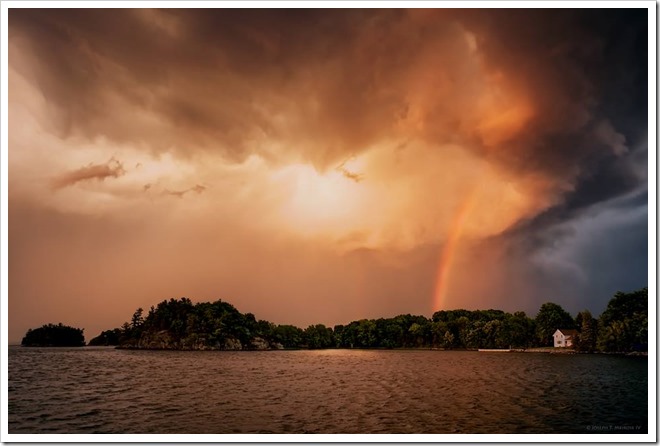 Joeseph T. Mierose, from Full Frame Works Photography, shared this photograph on our Facebook Page in June, saying, "I was rowing around Thurso Bay and Grindstone Island during late afternoon when the sky just opened up. As this ominous looking storm rolled in, I found myself fighting the urge to paddle for shore like a madman vs. pulling out my camera gear. I ended up doing a bit of both. Paddle, paddle, paddle, whip out the camera, paddle, paddle, paddle.... (See our TI Life profile on Joe in October 2013.)
Please Don't Forget

Remember our facebook page throughout the month, as we post information and photographs & follow us on Twitter

Do you write about the River - near to it, from above or below?  If so, please consider submitting an article.  Let us know what you like, or dislike, about TI Life, so we can all share more ideas.  And… most of all; please ask questions and leave comments.
By Susan W. Smith, Editor info@thousandislandslife.com
Special thanks to our editors: David Ray, Jane Taylor, Bill Stallan and Georgia Barker.