Written by
Susan W. Smith
posted on December 13, 2014 12:54
Each year's December issue is my favorite. Thanks to Ian Coristine our TI Life's 3rd Annual Photo Contest winners were chosen from over 160 submissions.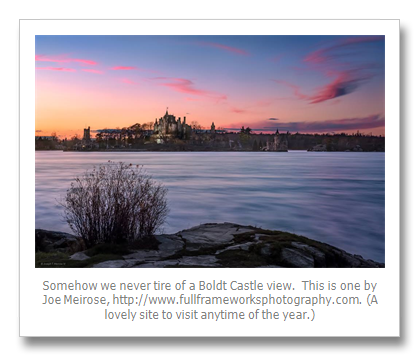 Regulars Lynn Elfresh and Captain Brian Johnson provide two wonderful pieces. Lynn's Island Anatomy … A Test, is a test to see how well you know which end is up! Brian generously shares, Wolfe Islander Lost in Snowstorm, a chapter from his soon-to-be-published book, "Ferry Tales from Wolfe Island'.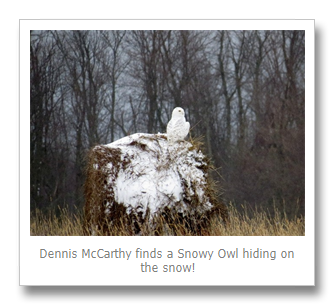 Richard Withington's title says it all… Nylons in the Shower… A Withington Review. and John Peach's Fish Tale … in an Antique St. Lawrence Skiff, is written by the man himself.
Nancy Bond, a mother, grandmother, great-grandmother, and writer (not necessarily in that order) presents Christmas Long Ago.
Gretchen and Terry Bambrick always wanted to get married in Half Moon Bay and they give us, 35-years later, Our Past, Celebrated in the Present.
Want to visit the Thousand Islands? Robert Matthews gives us All Aboard for the Thousand Islands; and Douglas Vittum takes us on a 4-day WCCB Fall Trip.
New Contributors
Douglas Vitton - Wine Country Classic Boats' Fall Trip

Douglas was born and raised in Western NY State. He and his wife Barbara, now live near Canandaigua Lake, in the Finger Lakes Region of NY. They spend winters in southwest Florida.

Douglas retired in 1999 after more than 30 years with the NY State Police. A US Army veteran, he served in Vietnam. He continues to enjoy travel, wooden boats, dual sport motorcycle riding, clay-pigeon shooting, and hunting.

This story is one that he wrote for his ACBS Chapters Newsletter, as he has done for almost 20 years. WCCB is an ACBS Chapter. ACBS is headquartered in Clayton, NY. (www.acbs.org). There are 56 ACBS Chapters in the US, nine of them are in NY State.

Gretchen and Terry Bambrick - Our Past, Celebrated in the Present.
Gretchen is a native of Gananoque and the islands. Her childhood summers were spent on Big White Calf Island (in the Admiralty Group), where life was all about sailing, canoeing, motor boats and Canoe Club dances! She and her husband, Terry, lived and worked in Wisconsin for 28 years before retiring to summers in Gananoque and winters in Vermont.

Terry is from Ottawa and worked in engineering management, in the pulp-and-paper industry in Canada, USA and abroad. He is well known in the Gananoque region for encouraging boating safety. Many a youngster (and adult) can become a "River Rat" if Terry finds them in a boat WEARING their life jackets.
We found our photographer, Robin Watson (nee Webster)!
Robin, from Petrolia, Ontario, and her husband, Jason, grew up on the Rideau-river system in the town of Newboro, Ontario. They now live in Toronto where Robin is a CT technologist and Jason works for the Province of Ontario.
Closing the Circle:

Jason and I took his mum to Boldt Castle on a day trip from Gananoque, Ontario. We were up on the balcony, and looked down at the waterfront. There was a man on one knee and I just had to capture this moment.

A lady next to me, cheered the couple on, as they stood and hugged. It was beautiful, and being a newlywed (married August 2013), I was touched.

We couldn't really tell what the people looked like from the photo taken, as they were too far away and there were a lot of people visiting the Castle that day. There was even a wedding about to happen."

At home, I looked at the photos and thought it might be fun to find the couple in the photo. "I posted the photo and started a twitter feed #findthecouple and I am really pleased to have found them."

Comments

Comment by: Herb Swingle
Left at: 6:47 PM Tuesday, December 16, 2014

---

Thank you Susan! Once again a superb issue.How have you been?