Spring is in the air… Truly… This editor spent the winter in the sunny south – so I join our readers in thanking those who "Manned the Ship" and stayed home to share news and photographs! And to get us ready for Summer 2015, we present the following: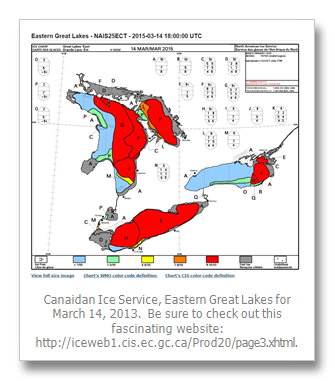 Boating: How the Thousand Islands Inspired Me to Cruise America's Great Loop by Bob Duthie.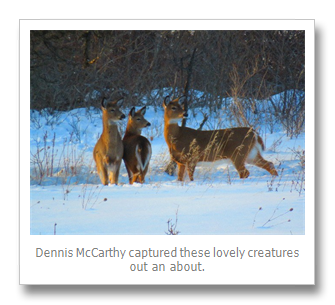 Nature: "A total of 1,624 tern chicks were banded…" by John Peach.
Solving mysteries: TI Park's E.R. Holden, Part I by Michael Stedem; How the end of the War of 1812 was celebrated by Richard Palmer; and Rex Ennis' Grindstone's Millionaire Yachtsman.
Artists and Photographers: Buildings Come and Go… by Artist Amy Pierrson; and Brian Knapp's River Visit''.
Profiles: Brian Johnson introduces us to Captain Hogan, "The Best of the Best" and Lynn McElfresh presents The Photographers of Grenell.
NOTE: The link listed in the Canadian Ice Service photograph does not stay "live," to keep up-to-date on Ice Conditions in the Great Lakes, link to their main page. [Click Here] You will see the square "Great Lakes" and you can follow the links to show the ice status on Lake Ontario.
New Contributors
Amy Pierrson - Buildings Come and Go… by Artist Amy Pierrson

Amy Pierrson is "a mother, an artist, an illustrator and a graphic designer." However, she does admit to doing a "few other things, which combine to allow me to pay the mortgage." She started her art career by chance, although she was always drawn to the arts. One day her employer asked her to find a graphic artist, to create a brochure. When they received the finished product, she realized, "I can do that!" and as she says, "I've never really looked back - The graphic design led to illustration - The illustration to art." When Amy's husband was posted to CFB Kingston, from Vancouver, they were looking for a house to buy and took a Sunday drive, following the River to Gananoque. "When we went through the West Gate and passed the Gananoque Town Hall, I announced, "I want to live here." And here I am; it's beautiful!

Bob Duthie - How the Thousand Islands Inspired Me to Cruise America's Great Loop


Bob Duthie grew up in Toronto and graduated, in Engineering Physics, from Queen's University in Kingston, Ontario in 1962. He worked 27 years with GTE Automatic Electric (Canada) Ltd and Northern Telecom, in R&D, product management, business development and general management. In 1989 Bob founded Duthie Learning, a Nashville Tennessee based publishing company that today provides books, cruising guides and digital adventure programs related to America's Great Loop and RV Touring in the USA and Canada.

Bob is a writer and photographer for Heartland Boating Magazine, and a speaker at PassageMaker's TrawlerFest. , A member of the Grand Lakes Yacht Club, he continues his memberships in the Brockville Yacht Club and the Antique Boat Museum in Clayton, NY.

Brian Knapp - Brian Knapp's River Visit

Brian Knapp works full-time as a software engineer near Washington DC, and as a portrait-and-event photographer. Spending his youth in the Thousand Islands made a lasting impression and his family looks forward to their annual visits. See more of his work at www.brianknapp.net

Mike Stedem

Mike Stedem hails from Orchard Park, NY. He attended Canisius College in Buffalo, receiving a BA Religion. Mike has been a new car dealer, since the 1980s. Today he owns the Hyundai of Slidell dealership, in the greater New Orleans area. A lifetime River visitor, Mike and his wife, Candy, their son, two daughters and six grandchildren, enjoy River life in TI Park, where they own two cottages, the "Centennial" and "Queen Bee."
Jeffry Weldon's Winter Tour
Jeffry Weldon shared one of his "very neat" and "well done" aerial videos. Next month will profile Jeffry's work, much of which has been shared this winter. Certainly touring the 1000 Islands in mid-winter, thanks to Jeffry, is almost as exciting as doing so in July. (Well maybe a close second!)

Published February 22, 2015. In Winter at Singer Castle by Jeffry Weldon
Events:
Summer in the 1000 Islands and there may be 1000 events to highlight. Now is the time to put TI Life (info@thousandislandslife.com) on your organization's mailing list. Please follow this format:
Press Release (who, what, when, where and why)''; Photographs or graphics; contact information; and what you think our Readers would like to know.
We will make every effort to publicize what makes "putting a thousand islands in your life…" so special.

Kingston has several performing arts theatres. "The Isabel", the newest home for creative arts at Queen's University and the well-respected Grand Theatre

Be sure to check out the Clayton Opera House for full details of their spring shows… What an amazing schedule for 2015
Clayton Opera House, Clayton, NY

Ashlie Corcoran, Artistic Director has announced the 2015 season. "This year, the inviting Springer Theatre will be home to big-stage music and laughter and the Firehall Theatre will deliver intimate works that inspire and delight."
www.1000islandsplayhouse.com


The Brockville Arts Centre presents some of the best Live Theatre and Live Entertainment concerts in Eastern Ontario and the 1000 Islands.
See their full 2015 schedule for details
www.brockvilleartscentre.com

This ain't your High School Shakespeare!

Outdoor Shakespeare on the banks of the St. Lawrence River in Prescott, Ontario.

Be sure to check out the 2015
July 18-August 22 Shakespeare Festival.
www.stlawrenceshakespeare.ca

Riverbank Productions, a fledgling theatre company in Gananoque, was created in 2013 to present staged play readings and musicals. The last production of the season will be Sunday April 19, 2:30.

Oklahoma
Overnights
When Paul Malo founded TI Life he wanted to find "good stewards" who would help maintain Island Life, in our wonderful Island cottages, to do so, he created our Properties Page. This page features those properties that have either significant historical interest, or are recognized for their unique character. (There is no fee for these, but there is a Donation button on each page of TI Life!)
Often in the past year we have been asked "Where can I rent a cottage for a week?" "Can you recommend a good B&B?" As a result we are combining a new feature – Properties, Rentals and Overnights." Contact info@thousandislandslife.com for details, questions and give us your feedback.
Updates
Anyone Staying in the North Country?
In February we asked those staying in the North Country to send their photos and they certainly did (see our slide show below). With the request was the suggestion, that those of us escaping, would be sure to check for snowflakes on beaches etc. Well Richard Calabrese, Pullman Island, actually did check for snowflakes on a visit to his island this winter. Richard caught these on his sleeve and mittens:
Got some free time???
Also in February we asked if anyone had free time to help TI Life? We needed to get our pages under the Tab: THE PLACE, updated… Kyle Peterson stepped up and must have spent hours going through the material as his corrections are not only timely and accurate, but also many! Now the holiday is over for this editor… we will get busy. Thanks Kyle.. a job well done!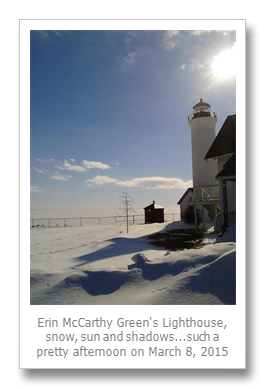 Please Don't Forget

Remember our Facebook page throughout the month, as we post information and photographs & follow us on

We also appreciate having you hit our

button and donate!
Question: Do you write about The River - near to it, from above or below? If so, please consider submitting an article. Let us know what you like, or dislike, about TI Life, so we can all share more ideas. And… most of all; please ask questions and leave comments
By Susan W. Smith, Editor info@thousandislandslife.com
[Special thanks to our editors and proof readers this month: Bill Stallan, David Ray, Jane Taylor and Georgia Barker.]