Written by
Susan W. Smith
posted on January 13, 2016 12:59
A new year of TI Life adventures. Blizzards… freezing temperatures… Lake-effect whiteouts and the occasional January thaw – all represent the first month of the year. No time like the present to enjoy 10 new articles – Enjoy!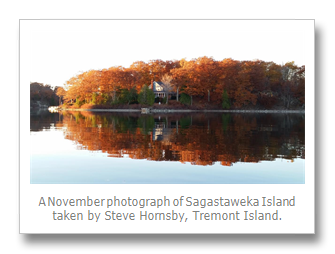 Lynn McElfresh starts us off swimmingly with The River… A Fountain of Youth? and Michael Folsom takes us back to spring and the Seaway's Scathing 2015 Season.
We have three articles for history buffs: The Tiffany Story by Rex Ennis; Memories of Mud Bay by William Tidd and One Last Secret from Hog Island by Paul Coté.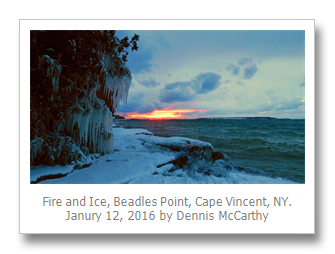 Short story writer (also known as a WDT journalist) Chris Brock, wrote his imaginative The Bensons Go to the Casino, illustrated by 2015 TI Life Photo Contest submissions. While Dan LeKander presents Part 6: X-Wings . This is the conclusion of our Sudoku series and we want to hear if these have helped you solve your daily puzzle.
I have the pleasure of presenting two articles. The first; "Miss Adventure" is For Sale, was written with Ernie and Lori Passaro, who tell the story of their adventure with "Miss Adventure." This boat has a proud history and we are hoping this will help them find a new steward who will love the boat as they have.
I also have the distinct honor of sending A Big Shout Out to Doug Tulloch for helping to make Christmas a little brighter for many children on the River.
New Contributors:
William Tidd - Memories of Mud Bay

William Tidd was born in Watertown, NY and now lives on the west coast in Oregon. After graduating from Watertown Senior High School he joined the United States Air Force, serving for 25 years, both as an enlisted and as an officer,retiring from the service in 1986, as a Major. He has a Bachelor's Degree in Economics, from the University of Missouri-Rolla, and an MBA from the University of Northern Colorado, working in the automotive, space sector and concluded his career as VP of Operations at Fastek. Today William volunteers with the Oregon Department of Veterans Affairs, the Air Force Association and the Military Officers Association of America.

Ernie and Lori Passaro - "Miss Adventure" is For Sale

Ernie and Lori Passaro live in Victor, NY. In addition to having 5 children, 2 grandbabies, one on the way, they are owners of three businesses, EJP Welding, All About Wood and Cape House Rentals. They write, "We both share a special passion for what we do for a living and are always using the philosophy that if you can envision something you can create it. Along with our family and businesses we enjoy boating, fishing and touring the country on our motorcycles."
Winter Pictures
If you are on the River this winter, take some photographs for TI Life. Send them to info@thousandislandslife.com.
Our River's Loss
Frank Cavallario 1922-2015


Frank Cavallario, Alexandria Bay, 93, died on December 18 at his home in Alexandria Bay. Many Islanders and mainlanders alike, expressed their sadness on hearing the news. Frank and his wife, Connie, established two best loved River restaurants – The Chez Paris in 1948 and then Cavallario's Steak House in 1962. His obituary explained it best, "A born host, Frank loved nothing more than providing good times for his customers who, as often as not became good friends."

We have Jim Cummings to thank; three years ago he produced a YouTube video in celebration of Mr. Cavallario's 90th Birthday.
Aminta Marks, 1924-2015
Aminta Marks, Grindstone Island, died at 91 on December 9, 2015 in Princeton, NJ. I had the pleasure of meeting Aminta and her husband John, several years ago and on that day I sat mesmerized as she related her love of Grindstone Island. Later, I like so many, enjoyed her expression of this love through her poetry. Her book. "So It Is""," sits on my book shelf on the Island.
Aminta's Grindstone friends were notified of her death by Betsy Fitter with a beautiful note, part of which read:

Aminta was a painter and a published poet. For any occasion on the Island; birth, death, birthdays, holidays or just because, she would compose a lyrical poem about the Islanders and the beauty of the River. This was the River and the people she loved. She celebrated her joy of the River by going swimming most every day, regardless of weather. She shared her joy of the people by leaving them with words that will always be cherished. Among her other remarkable talents was painting. Always a paintbrush in hand, and a painting on the easel, she captured the long standing Islander's portraits, events and scenes of the River which she generously gave to others for special occasions or also, just because. Our island is fortunate to have her jubilant paintings scattered in many households.
Missing the River…
Andrew Kane, creator of Feather in Flight Productions shared The Kane Camp on www.Vimeo.com.
"Let's Go Back"
Doug McLellan shares "Let's Go Back" Published on Jan 5, 2016. Created for Ed Huck Marine in Rockport, ON.
Please Don't Forget
1. Do you have an iPad or Tablet? Try viewing TI Life on the Flipboard App.

2. Remember our Facebook page throughout the month, as we post information and photographs & follow us on

3. We also appreciate having you hit our

button and DONATE – (Suggest you use the Canadian funds button… will save you lots.)
4. And finally, If you are on the River this winter, take some photographs for TI Life. Send them to info@thousandislandslife.com.
By Susan W. Smith, Editor info@thousandislandslife.com
[Special thanks to our editors and proof readers this month: Georgia Barker, Rick Taylor and Jane Taylor (Not related… but they are both terrific as they correct my errors…) and Bill Stallan]