It's that time of year again. Time to celebrate the beauty of our islands through your eyes while providing the Christmas gift of your photography to those who cherish the River.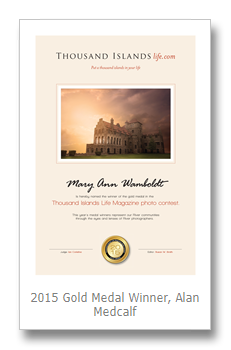 When we began the contest in 2012, the hope was to encourage, reveal and showcase photographic talent that might not otherwise find such a large and appreciative audience.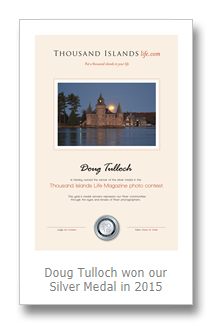 As before, there are three awards, gold, silver and bronze certificates, created by graphic artist extraordinaire, Dave O'Malley, ready for framing, for the best overall submissions.
In addition, we will also recognize and publish several "honorable mentions," in order to share as many worthy views as possible.
Whether you're shooting with an SLR, a compact camera, phone or drone, please share with us your favorites. Photographs that were previously published in TI Life articles, or on our Facebook page are all welcome.
Please send your three best images, with a short caption/explanation for each to Susie Smith, Editor of TI Life, at: info@thousandislandslife.com.
When all photographs are in, she will forward them to me, blind, in a batch. I'll make those agonizing decisions and then we'll showcase the winners and the best of the rest in the upcoming December 2016 issue.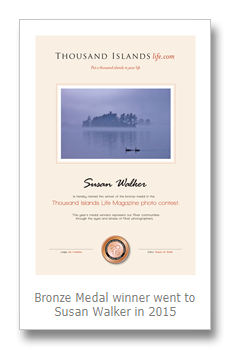 I'll also provide this hint: Remember, out of focus images, unintended crooked horizons and bad exposures, should be corrected with the software that came with your camera. Cropping-out extraneous detail, or re-framing an image can also increase impact. Despite trying really hard to get it right while shooting, most of my images are later improved through careful editing. If you don't already do this, you'll be surprised how often an ordinary image can be improved and sometimes transformed in this way.
In addition to certificates, the medal winners will also receive a copy of Susan Weston Smith's, (yes, our editor, Susie!) reprinted book, "The First Summer People, Thousand Islands 1650-1910." This book is a must for all islanders and the "go to" source for historical information on the region which very impressively gives background information on virtually every island to be found here.
Please don't delay because Tuesday, December 6th, is the deadline.
Past winners:
2015 - Our Winners – TI Life Photo Contest
2014 - TI Life's 3rd Annual Photo Contest
2013 - Season's Greetings–Photo Contest 2013
2012 - Season's Greetings– Photo Contest
Please send a maximum of 3 of your best images, with a short caption/explanation for each to: info@thousandislandslife.com
Tuesday, December 6th, is the deadline.
By Ian Coristine
Ian Coristine has been active in aerial photography for over 25 years and has written extensively for U.S. and Canadian aviation publications. The demands of air-to-air photography proved ideal training for an unexpected career of delighting residents of the Thousand Islands with seven books that showcase the region's beauty.

His Thousand Islands photographs have been featured internationally. DxO Labs of Paris, France, award winning publishers of revolutionary high-end camera and lens correction software, selected Coristine as one of their 12 founding "Image Masters" from professional photographers around the world.

Ian Coristine's recently published seventh book, "Ian Coristine's 1000 Islands," is the culmination of his twenty years of work.  He says, "These are my top picks, from the over 50,000 images I've captured since the River became my life's work. To not share these is unthinkable."

Since Paul Malo created "Thousand Islands Life Magazine," Ian has generously shared his photography in each issue as well as providing our special "page headers."
Editor's Note:  I have been asked why professional photographers are allowed and encouraged to submit their photography.  Ian and I feel strongly that we are looking for the Best Photographs that capture the Thousand Islands.  But l assure all photographers, it is the photograph that makes the winner, not the photographer's reputation.  Because Ian is never shown the photographer's name, the selections are made without any influence beyond the image's merit. Please enter your favorites!