Spring was in the air in February, but March not so much! Snowbirds, including me, are anxious to return to the River and several ask; "Is it time?" I can only say; if the thermometer is any indication – stay south for a few more weeks! In fact, Doug Tulloch wrote, "We had the ice go out and return three times this year. Never before in my life on the River have I seen this."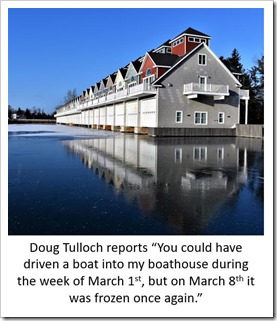 However, it is always a good time to read TI Life. And this month is no exception.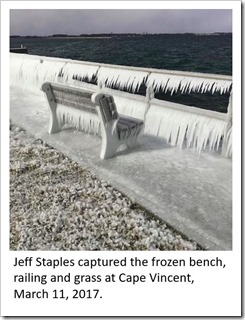 Remember last summer's Swimming Squirrels? Lynn McElfresh certainly does: A Bushy-Tail Look at Grenell.
And speaking about remembering we have four:
History and Nature are covered in:
We conclude with art work to be presented at Art at the Inn, 2017, written by Martha Stroud and once again, Dan LeKander challenges you to his Puzzle # 23 in the March Extreme Sudoku Challenge.
New Contributors
Martha Stroud - Art at the Inn, 2017

Martha Stroud's family emigrated from Ireland, around 1908, to live first in Gananoque, then Kingston and finally Toronto, where she was born. She has lived and worked on three continents, but is very happy to have retired back to Kingston and the Thousand Islands area, where she tries to capture nature ever-changing on canvas.
Joel Charles - Dark Island: Mystery and Memories

Joel Charles graduated from Clayton Central School, where his father was Principal for 17 years. He graduated from Syracuse University; his career spanned teaching and working in the insurance industry. When he retired to Tucson, AZ, he took up acting, directing, painting and building sets, for several Tucson theater companies. He has continued his painting and writing, with articles appearing in the "Thousands Island Sun." He has been a photographer since high school, with his favorite subject being the St. Lawrence River and the Thousand Islands.
Sad News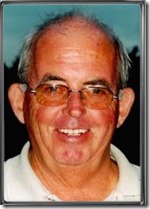 Gord Brown, the Canadian Member of Parliament, for Leeds and the Thousand Islands, was the first to Facebook post the sad news that Michael MacDonald (in his 74th year) died on March 7th, 2017 saying, "I was saddened to hear of passing of Mike. I had the honour of serving with him on Gananoque Town Council and he was a good friend. Condolences to Suzanne and the rest of the family."
The dozens of comments that followed, demonstrate how much Mike, as he was known, will be missed. This editor was on the board of the Arthur Child Heritage Museum with a Mike and always enjoyed his wise counsel and his sense of humour. He never forgot the Museum and even after he left the Board, he would help out. A true gentleman.
Dock Controversy
We start with the ending… Gananoque's Town Council has put off its decision until May, regarding the Docks, located on the waterfront,at the Thousand Islands Theatre. In addition, The Town will work with the Board of the Thousand Islands Playhouse, to find a mutually acceptable result. Making decisions regarding the tax dollars spent on arts and recreation can be a complicated issue, but this one seemed to hit a nerve, when the word went out that Council met in camera, on February 7 and decided to remove the docks. Immediately, social media, emails. letters and phone calls hit - resulting in the Council putting the decision forward, giving all parties time to work together. Read more February 16, by Wayne Lowrie, and February 24, 2017, Kingston Whig Standard.
Guzzle Update
This month's article Remembering the Corner, by Deane Parkhurst, allowed him to step back in time and remember his days visiting the Guzzle in Thousand Islands Park. We are happy to report the new building project is coming along with the projections of a soft opening for Memorial Day Weekend, and a bigger celebration in early July.
Construction continues! 3/10/17. Photo courtesy Tip Corp Office.
Not only will there be familiar jars of candy and a selection of ice cream, but several artifacts, rescued after the 2014 fire, will be on display. There is an "open call to the Park" for historical photographs, which will help bring the past to the present. One new feature will be the upstairs room, complete with book shelves and chairs – made for patrons to read the latest newspapers and enjoy a morning coffee.
A "Johnny Truesdell" Short
(Editor's Note: Don't worry there will be lots of warm water come July – and a lot more boats at the Bay Dock!)
Doug Tulloch's Full Moons
| | |
| --- | --- |
| February 2017 - photograph was taken the day after the full moon due to clouds on the real day. | March 2017 - It was a rare indeed cloudless morning. It was also –2F with a stiff north wind. The wind rendered my fingers useless to adjust the camera, so I went to automatic. |
1000 Islands Story on Facebook
We get them every day; warm and fuzzy stories, or videos, to make us smile and certainly offset politics! On March 5th, this story circulated. I recognized the story immediately and shared it on my personal FB Page. Many responded. One of my Friends responded that he appreciated the story, not being an Islander, he wanted to pass on his experience. I include this as it shows how our Thousand Islands links far and wide.
I like the story of Boldt. Very interesting.

I have a similar story. In 1969 I was working as an assembly artist, at an art studio that created art and type etc., for advertising agencies. I had been there less than a year when they went bankrupt. So, I lost my job. I didn't know what I would do. I knew no one. I had no confidence in myself in those days and the thought of finding another job was depressing.

The day the studio closed I was leaving the building and the wife of one of the artists was coming down the stairs, with a large box. I opened the door for her and helped her by carrying the box to her car. We had a nice chat and she asked me what I was going to do. I told her that I had no idea.

The next day I got a phone call from her. She had gotten my number from the office files. She told me that a large advertising agency was looking for someone with my skills and to phone a particular person. I did. I was invited to come in for an interview. They hired me on the spot and that was my start in advertising.

So, be nice to people, help people, and open doors for people. If you do, nothing negative will happen, and you just might find a new direction in your life.

Kieran McAullife
Therapeutic Photograph
Patients visiting Kingston's new Providence Care Hospital are visiting a moonscape of Halstead Bay.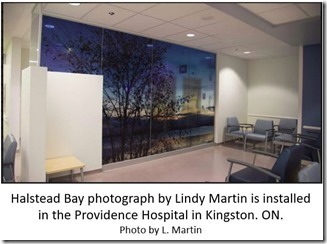 Photographed by Lindy Martin, our Bronze Winner of TI Life's 2016 Photo Contest,
"To me it's a bonus that people, who cannot travel to the islands, can actually see the beauty of them, while waiting in the hospital. It's pretty impressive to see your work that big!! The really neat thing is that you can see it from both sides of the hallways - it's see-through." writes Lindy. We agree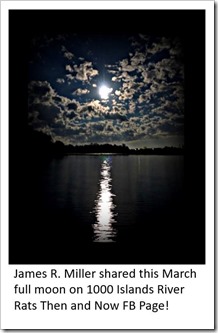 .
Please Don't Forget
Remember our Facebook page throughout the month, as we post information and photographs & follow us on
We also appreciate having you hit our button at the top of each article and Support TI Life – We have started to work on our new format. Stay tuned…
If you are driving by the River, or out ice fishing, once the safe ice has formed – take photographs, please. Send them to info@thousandislandslife.com.
And, this Editor is looking forward to receiving new submissions throughout the spring. I bet our readers are too!
Special thanks to proof readers Rick Taylor and Georgia Barker, and Bill Stallan, who is my co-editor. I especially thank Mike Cox who is the magician behind the website. What a team this month…
By Susan W. Smith, Editor, info@thousandislandslife.com
Thousand Islands Life Magazine