"Tom & I have been vacationing on the River since 1998, with our four children & their friends." states Kristen (Kris) Pinkney, "My parents dropped out some time ago, due to their age."

"It was during my research of May Dewey's Diary, that I came across the term, "rusticate" from the 'Brooklyn Daily Eagle."' So Tom & I use that term for our annual two week vacation on the River."
Kristen knows the River well as her parents lived in Watertown, NY from 1958-1976 and they owned a boat. "It was a 16-ft Thompson (wood, circa 1947 she thinks) and we spent a lot of time on the River. '
Also both Kris and her husband graduated from Watertown high schools – schools, as Tom in Watertown, Massachusetts and Kris in Watertown, NY. She graduated from Syracuse University and Tom from Boston College.
Over the past decade, many of us have enjoyed the Pinkney/Bregani vacation through our Facebook connection, starting with a countdown in the spring. Then during the two weeks on the River, Kris shares her lovely photographs which captures what we consider is an exact summer holiday in the Thousand Islands.
After a rough day….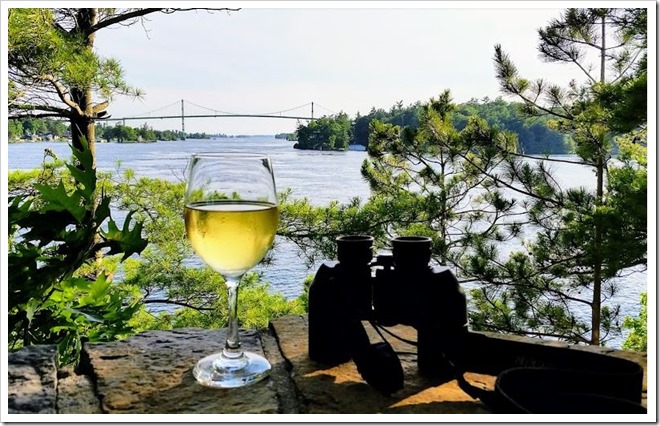 Kristen Pinkney: After a rough day of rusticating, we do enjoy our cocktails.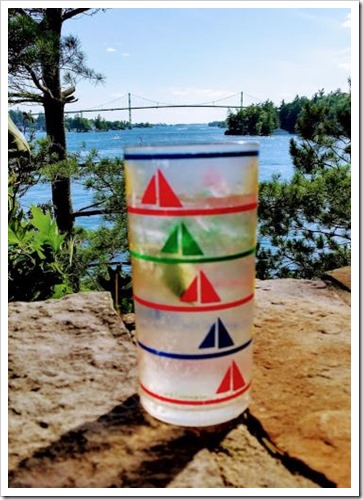 Kristen Pinkney: Gin & Tonic, glass by the H.J. Stotter Company (1960s-1970s)

Kristen Pinkney: "This was from 2016 and used on my cell phone all year."
Watching the world pass by…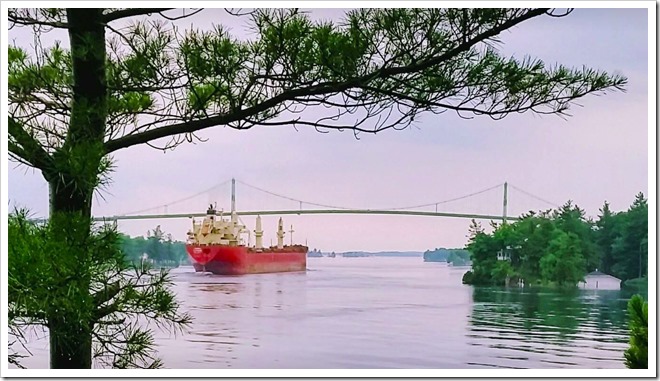 Kristen Pinkney: Federal Nakagawa...up bound..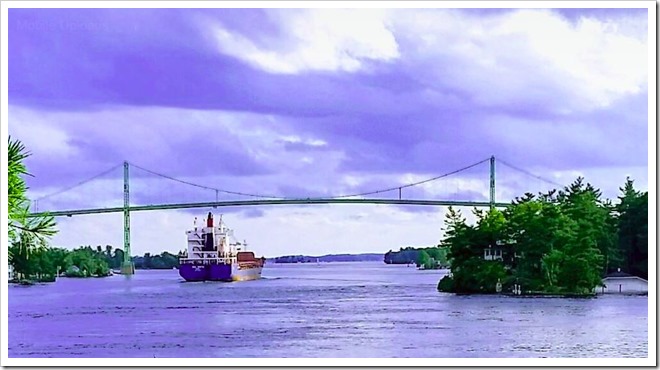 Kristen Pinkney: SCL Anita, Up Bound...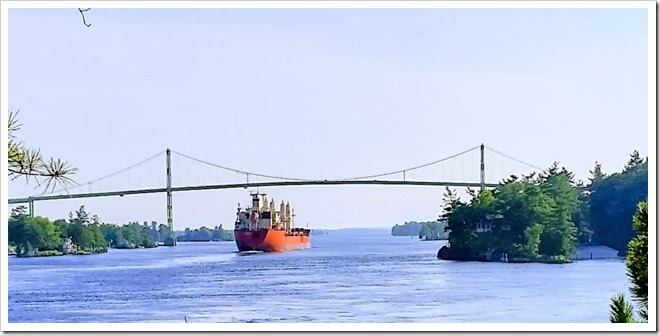 Kristen Pinkney: Federal Barents Up Bound.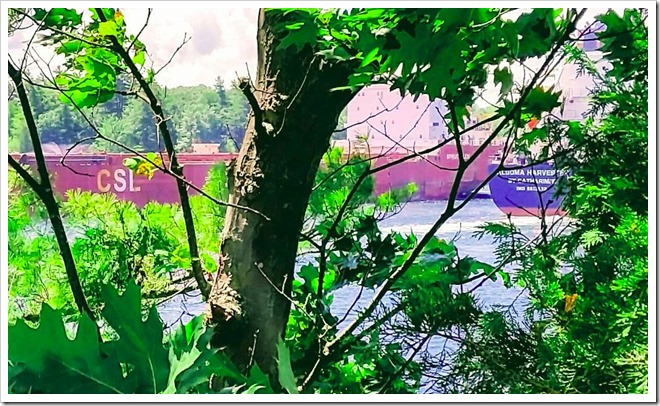 Kristen Pinkney: Spruceglen & Algoma Harvester passing each other in front of our vacation rental home.
Always a thrill, it does not happen every year!
May Dewey's Diary
We first met Kris Pinkney and her husband, Tom Bregani in 2008 when I took over as editor of ThousandIslandsLife.com. Kris found a diary written by May Dewey, beginning in 1888 and running through August 1889. May and her family lived on Dewey Island, near Alexandria Bay, and Kris agreed to share it with our readers. She not only typed out the manuscript, but she researched every person and place mentioned though hundreds of footnotes. We learn how May's family lived on an island in the Golden Era, and we also meet some of the handsome young men from Comfort Island and the many summer escapades they all enjoyed.
For those readers who joined after 2010 – we present links to May Dewey's Diary once again. Unfortunately the software is now ten years old and we have lost the ability to link the footnotes with the text on the same line. Now they are formatted at the end of each article:
Meet Kristen Pinkney… the story of finding the Diary…
Thousand Islands Summers - Manhattan Winters: May Dewey's Diary July 1888 - August 1889
Our story begins…
This is the first day of a new month. We all have been hanging around ...
May Dewey's Diary, Part III September 1888
"Ella & I did nothing much today. Edgewood has closed & everything is on the decline. I received a letter from L...
May Dewey's Diary, Part IV October and November 1888
"Well the Pullmans have all left & we are here all alone in our glory…
May Dewey's Diary, Part V, December 1888
"I was furious & will tell him what I think of him when we meet again." May Dewey, December 31, 1888...
May Dewey's Diary, Part VI, January 1889
"Mr. Grey is a beautiful dancer. It is like a dream dancing with him. I wish I knew him better." May Dewey, January 21, ...
May Dewey's Diary, Part VII February 1889
He wants me to think of him at twelve o'clock and…
May Dewey's Diary, Part VIII, March 1889
Saw Pansy this am. Took a walk and talked over the affair last night. Did not have our hats on…
May Dewey's Diary, Part IX, April & May 1889
It is so beautiful here now nice and pleasant just like…
May Dewey's Diary, Part X, June 1889
Last night we had a delightful serenade. I wonder who it was. He passed the Island five times singing...
May Dewey's Diary, Part XI, July 1889
Well today is the fourth of July. I have had a delightful day…
Final chapter in May Dewey's Diary Part XII
Part XII and final chapter of Kristen Pinkney's research…
_____________________________
By Susan W. Smith, Editor, info@thousandislandslife.com