I think it's safe to say that all of us enjoy seeing scenes of our River, especially when the season has chased us away from it. That's one of the reasons why we chose the timing for our annual TI Life Photo Contest. Another is that these scenes of the River, seen through your eyes, serve as a Christmas gift to the community. Lastly, it's also been our intention to showcase talent with a large audience that genuinely appreciates it.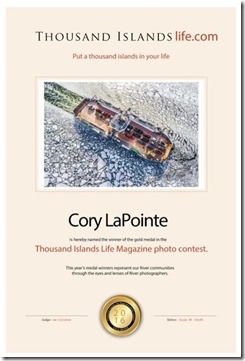 This year's is the 6th annual contest and Susie Smith and I are hoping it will generate even more entries than in the past so there's more for everyone to enjoy.
There are three awards, gold, silver and bronze certificates, originally created by graphic artist extraordinaire, Dave O'Malley and recreated for the 2016 and 2017 editions by artist, Sarah Ditterline.
The certificates, ready for framing, for the three best overall submissions. I think it's safe to say that each of our previous medal winners have been proud to hang their certificate on the wall and perhaps find that exposure to the magazine's large readership has also proven beneficial.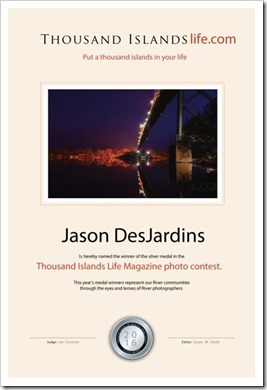 In addition to gold, silver and bronze winners, we'll recognize and publish numerous "honorable mentions." This provides a wider overview of the River introducing many to parts they may not know.
I've been surprised how many of us know our immediate "wonderlands" intimately, but that there are many others to be discovered, and the easiest way is through pictures.
Whether you're shooting with an SLR, a compact camera, phone or drone, please share with us your favorites. Photographs that were previously published in TI Life articles, or on our Facebook page are all welcome.
Please send up to three of your best images, with a short caption/explanation for each to Susie Smith, Editor of TI Life, at: info@thousandislandslife.com.
When all the photographs are in, she will forward them to me blind, in one big, individually numbered batch. I'll make the tough decisions and then we'll showcase the winners plus the best of the rest in our upcoming December 2017 issue.
Please keep in mind that out of focus images won't make the cut, and unintended crooked horizons and bad exposures should be corrected with software. DxO Labs, whose software I use, asked me for a quote a few years ago. I was happy to comply and fully mean what I say; "The camera takes only half the picture. Good software brings out the rest."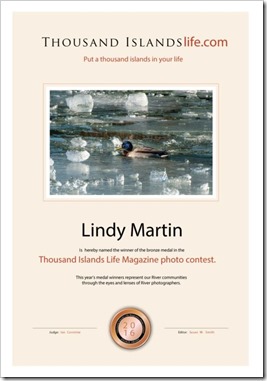 Cameras average high contrast scenes so they are often not recorded as you saw them. Adjusting shadows and highlights allows you to bring back what was there. Cropping-out extraneous detail, or re-framing an image can increase impact. No matter how hard you try to get it right while shooting, most images will benefit from editing. If you don't already do this, you'll be surprised how often an ordinary image can be improved and sometimes transformed in this way.
In addition to the certificates, the medal winners will also receive a copy of Volume VII; Ian Coristine's 1000 Islands, along with its companion pocket map. With more images to select from for this book than any earlier one, plus the map which shows literally everything worth doing on the River and where to find it, I'm pretty sure you'll enjoy them.
Please don't delay because Tuesday, December 6th, is the deadline.
Past winners:
2016 – Gold: Cory LaPointe, Silver: James DesJardins, Bronze: Lindy Martin
2015 – Gold: Mary Ann Wamboldt, Silver: Doug Tulloch, Bronze Susan Walker
2014 - Gold: Tim Kocher, Silver: Lindy Martin, Bronze: Alan Medcalf
2013 - Gold: Chris Murray, Silver: Lindy Martin, Bronze: Alan Medcalf
2012 – Gold: Michael Chahley, Silver: Michael Chahley, Bronze: Nanci Morris
Honorable Mentions – 2016

You'd be amazed by how difficult judging a contest like this is. I'm immediately forced to reject images, but that's very difficult to do when there are so many good ones.

It's always a treat to see the variety of scenes, all with a clear common thread - a passion for the River.

"What A Blast"

Photo by Lindy Martin ©2016

"Super Moon Setting"

Photo by Jason DesJardins ©2016

"Grocery Shopping"

Photo by Steve Sturtz ©2016

"5:00 a.m. at Brass Point Bridge along the Rideau"

Photo by Cory LaPointe ©2016

"Right Place, Right Time"

Photo by Doug Tulloch ©2016

Otter Creek, Alexandria Bay, NY

Photo by Jason DesJardins ©2016

"Cherry Island Wedding"

Photo by Amanda DesJardins ©2016

"Moon Set from TI Park"

Photo by Amanda DesJardins ©2016

"Marvin's Hart"

Photo by Steve Sturtz ©2016

El Galleon" Passing Boldt Castle

Photo by Chris W. Piering ©2016

"Round Island at Sunrise"

Photo by Andrew Kane ©2016

"Gray's Creek and Love"

Photo by Alan Bickerton ©2016

"Foggy Freighter"

Photo by Amanda DesJardins©2016

"'M/V Garganey' anchored off Carleton Island in a storm"

Photo by Howard J. Hart ©2016

"Loon's Water Drop"

Photo by Chris M. Piering ©2016

"Fireflies and Lightning"

Photo by Duncan Rawlinson ©2016

"Into The Sunrise"

Photo by Andrew Kane ©2016

"Winter Blue"

Photo by Andrew Kane ©2016

"Adventure Awaits."

Photo by Autumn Kirker ©2016

"Hang Ten"

Photo by Doug Tulloch ©2016
By Ian Coristine
Ian Coristine has been active in aerial photography for over 30 years and has written extensively for U.S. and Canadian aviation publications. The demands of air-to-air photography proved ideal training for an unexpected career of delighting residents of the Thousand Islands with seven books that showcase the region's beauty.
His Thousand Islands photographs have been featured internationally. DxO Labs of Paris, France, award winning publishers of revolutionary high-end camera and lens correction software, selected Coristine as one of their 12 founding "Image Masters" from professional photographers around the world.

Ian Coristine's recently published seventh book, "Ian Coristine's 1000 Islands," is the culmination of his twenty years of work. He says, "These are my top picks, from the over 50,000 images I've captured since the River became my life's work. To not share these is unthinkable."
Since Paul Malo created "Thousand Islands Life Magazine," in 2006, Ian has generously shared his photography in many issues as well as providing our special "page headers."
Editor's Note: I have been asked why professional photographers are allowed and encouraged to submit their photography. Ian and I feel strongly that we are looking for the Best Photographs that capture the Thousand Islands. But l assure all photographers, it is the photograph that makes the winner, not the photographer's reputation. Because Ian is never shown the photographer's name, the selections are made without any influence beyond the image's merit. Please enter your favorites!