They say we own the River starting in September and I think that is true! Not many sailboats anchored in the bays and little boat traffic. This coincides with back to school, back to the office and meetings! However, there are a number of weekends to come!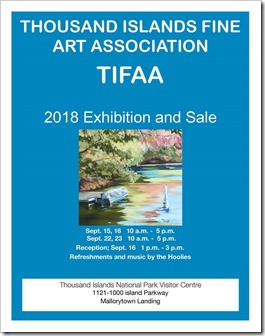 This Issue
We begin with Lynn McElfresh's The Friendship Islands, describing how the idea of meeting new friends has been revived on Murray and Grenell Islands.
John Street shares some of his amazing photography in What I did on My Vacation.
Dane Zabriskie reports Fire Destroys 1880 Grindstone House, and Stuart Dutfield brings us Well-Preserved and Well-Refreshed – a kayak paddle and a walk on Grindstone Island. (We received his article for publication on Sunday, September 2, 2018, the very day Grindstone Islanders paid tribute to Kenneth Deedy, at a memorial service held in Grindstone's United Methodist Church. What better day to give us a tour of the island Deedy spent over 30 years helping to preserve.)
Two special nature articles: Gerry Smith's Shorebirds will provide bird information few of us know and Lindsay Proulx bring us up-to-date on the status of the Common Tern.
Linda Twichell provides an excellent history of the Anglers Association of the St. Lawrence River, in John J. Flanagan and Westminster Park's St. Lawrence Anglers. Mary Politis presents Angels Among Us in the Thousand Islands…
Dan LeKander challenges you to Sudoku Puzzle #44 and I pay tribute in River Sadness to the many who are helping search for the 11-year-old boy missing and presumed dead after a freak boating accident near Rockport on September 1.
New Contributors
Lindsay Proulx - 28th Year of Common Tern Habitat Improvement

Lindsay Proulx is from Canton, New York. She graduated from Elmira College with a Bachelor of Science in Environmental Studies in January 2018. She is currently an intern at Save The River and has had the pleasure of coordinating and participating in Common Tern monitoring for the season, as well as tabling at community events and working the storefront. The River has captured a piece of her heart, and she will always be an advocate for its restoration, preservation, and protection.

Dane Zabriskie - Fire Destroys 1880 Grindstone House

Like many of us, Dane was shaped by his family, education, profession, and family, as well as the St. Lawrence River, where he has summered annually for more than 45 years.

Editor's note: Dane is one of our Proof Readers and thus spends several hours each month checking out our articles. We appreciate his time and thank him!
Musical Sunday Afternoon
Islanders living in the Admiralty Islands around Kitsymenie and Mudlunda Islands were in for a treat when the Montreal ensemble, Cygnus Trio, arrived on their grandparent's island.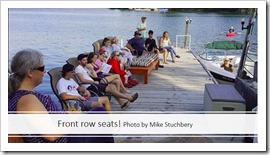 The Trio: Erica Jacobs-Perkins, (violin), Benjamin Stuchbery, (flute) and Jonathan Stuchbery, (guitar) gave an afternoon concert – inviting neighbors to attend in their boats or sit on their respective docks.
Water Levels
Water levels are declining rapidly. You can check, with updates every five minutes, at https://water.weather.gov/ahps2/hydrograph.php?wfo=buf&gage=alxn6&refresh=true.
Working!
Winki Mc Gowan, long time island resident, shares some of her collection of barges, ferries and workboats. Do you have more? We want to see how many we too can collect? These workers help make our lives in the islands much better!
All About the 1000 Islands Poker Run
Be sure to check out the 1000 Islands Charity Poker Run's Facebook with the publication "Rising to the Top".
This particular Facebook Page not only has some spectacular photographs – but it also tells the story of the weekend. Text by Matt Trulio and Photos by Tim Sharkey.
Please Remember
We certainly appreciate having you hit our button at the top of each article and Support TI Life – although we: Authors, Photographers, Proof Readers and Editors – including this one(!) all publish TI Life as Volunteers, there are costs, including our Email Program - Constant Contact, and our software, now working in its 11year. (I say that each month… but now we are almost there. We will need some volunteers to help us on our way, so stay tuned!)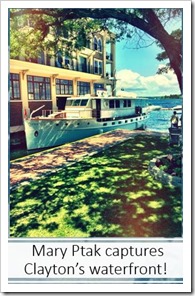 We also encourage you to Remember Facebook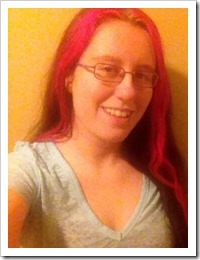 our page throughout the month, as we post information and photographs. And follow us on

.
I thank those who send photographs for TI Life – they really are better than 1000 words… Send photos of interesting happenings to info@thousandislandslife.com
And, this Editor is looking forward to receiving new submissions throughout the year. I bet our readers are too!
Photographs
Each month photographers generously share photos – on behalf of everyone – I thank them! (Slide Show below)
By Susan W. Smith, Editor, info@thousandislandslife.com
Special thanks to editor Bill Stallan and proofreaders Rick Taylor, Georgia Barker, and Dane Zabriskie. I especially thank Mike Cox who is the magician behind the website. What a team