Written by
Susan W. Smith
posted on May 13, 2009 11:03
  Trilliums and Beavers are a sure sign of spring.  Sagastaweka Island, has thousands of trilliums to welcome us back to the River and at least one industrious beaver.  The first I adore, the latter not so much!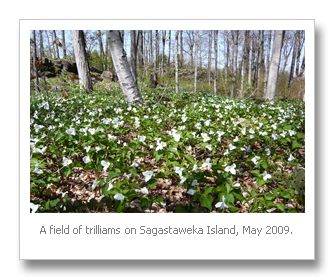 Actually there are now other worries for islanders to consider and the list is long: The general economic recession; US and Canadian property reassessments and the rise in property taxes; June 1st changes at the US border and Canada's pending September '09 boating licence requirements-- and that is not all -- this month we  review something that may effect the region in a major way - wind projects.
May's TI Life provides an overview for two of the above list: Wolfe Island Wind Turbines and Border Crossings.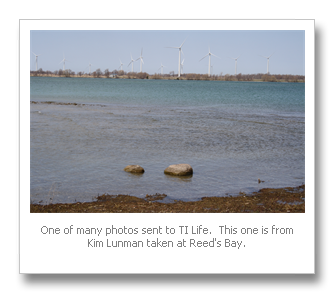 However, there are also good news stories.  Regular contributor Kristen Pinkney shares another month of May Dewey's Dairy (Part VI) and then Kris will take a well deserved summer break, returning in the September.  (A special thanks to Kris whose research in identifying hundreds of Thousand Island personalities form the Gilded Age is a real benefit for researchers).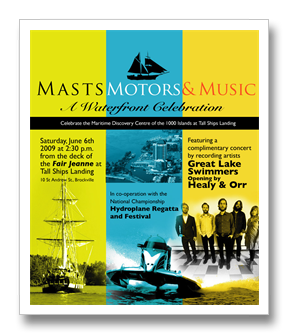 Ian Coristine suggests a wonderful afternoon of entertainment with the fast rising folk/rock group Great Lakes Swimmers, who will be performing from the deck of the tall ship "Fair Jeanne" in Brockville's harbor on June 6th.
Michael Folsom tells us how to become a shipwatcher.  We also added on our Publications page, the reference book, Know Your Ships, help your research.  Kim Lunman provides a link to the past and the tragic shipping accident on the J.B. King.  Mike Franklin shares his research and discoveries on Watch Island.
Ross Pollack, our Island Name resource, returns with an up-to-date version of the Pollack Gazetteer. Rex Ennis provides interesting background on Grindstone Island Parks. Rick Tague completes the history of the Peacock Yacht House. I have the pleasure to introduce this month's artist, John A Morrow of Ogdensburg and we introduce two new contributors.
New contributors in May
| | |
| --- | --- |
| | Going to church on Sundays is a common occurrence but attending Half Moon Bay's vesper service - with no pews and no ceiling - is also a charming Island excursion.  Carolyn Pratt, Kissimini Island resident in the Admiralty Islands, captures Half Moon Bay's past and current progress in her article The Tallest Cathedral.  She also provided important information about the 2009 Half Moon Bay season which we included in TI Life's Pastimes/Events section.  Carolyn is a 5th generation islander originally from Mudlunta Island. |
| | Originally from Connecticut's Farmington Valley, James Rappaport is a strategic management consultant for various publishing, radio, and cable television ventures as well as contributing writer for several media outlets. Jim provides Border Crossings.  He is an admitted "newshound" whose work was originally cultivated at St. Lawrence University in Canton, NY, where he was a feature writer as well as a managing editor for the Hill News. His work has also been featured in various news outlets, including the Stamford (CT) Advocate and The New York Observer. Jim is a resident of Indian Point in the Town of Hammond and northwest Connecticut |
We hope you enjoy our May issue.  June is next - but considering many of us do not have computers and/or high speed Internet on our boats or islands - we may reduce the number of articles appearing in July and August.
We WILL post up-to-date information under our headings:  The Place, Pastimes, Properties and Publications. So check back often and do send us news to post under these categories.
Susan W. Smith susansmith@thousandislandlife.com
Editor