Written by
Susan W. Smith
posted on July 12, 2010 23:00
July is vacation time and hopefully you are not sitting at your computer but instead enjoying these truly hot, hazy, crazy days of summer. For that reason in July we publish TI Life 'Lite'.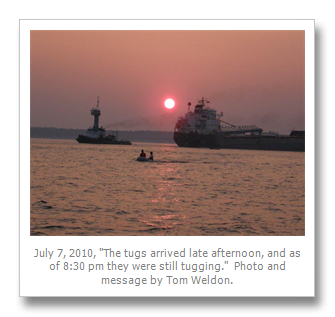 This month we introduce our North country artist, Michael Ringer in "An Easy "A" … and a Michael Ringer Morning… .  In addition, Michael writes an Artist's Perspective: Bronze Casting in Lost Wax
Jim Morrison introduces Brockville's Sally Grant and we review the latest 30-minute DVD entitled: "All about community"… "Thousand Island Park Now and Then", produced by Nellie Taylor and Mike Ritter.
Kim Lunman attended Cape Vincent's famous French Festival and share her experience in
Michael Folsom was suppose to be taking a holiday this month, joyfully waiting for his new "baby shipwatcher" to arrive, but instead he covered the July 4th Algobay Grounding on Superior Shoal near Chippewa Bay with Avoiding A Slick. Michael's reports were picked up by local and NY State media, with more than 2,000 hits to his website. Luckily Michael reported, "Crews from Massena, Alexandria Bay and as far as St. Catharines, Ontario arrived in a timely manner and ensured that the vessel, its crew and the river were safe. In addition, the crew of Algobay acted quickly enough to drop anchors once power was lost in an effort to stop the ship. Thankfully the ship's load was light and minimal helping to keep most of the ship above the water line, which also kept the tanks out of harms way."  As the news from the Gulf Coast and BPs disastrous Oil Spill is published daily, we in the Thousand Islands certainly had a wake up call.
And we thank Lynn McElfresh for writing two articles this month:  Tall Ship – Tall Mission, introduces the tall ship, Roseway and reviews a summer read:  Grindstone: A Novel by Donna Walsh Inglehart.
New Contributors
Chris Murray - Chris Murray's photography

Chris Murray is now is a part-time, geology consultant who devotes the rest of his time to photography.  He can be found at Chris Murray Photography. Beginning  Saturday July 24th, his photographs will be on display at Bella's in Clayton, NY, beginning with an Artists Reception that evening from 5-7pm.

Michael Ringer - Bronze Casting in Lost Wax

Michael Ringer is one of the North country's best known artists. He has completed over 1,500 paintings in oil, watercolor, acrylic, and pastel, which depict the River, the Adirondacks and southern Florida. He has also created over 500 bronzes of 15 sculptural works. After establishing himself as a River artist, he was the host for The Artist's World, a PBS Television series that ran for three years and went national (160 stations) in 1997. Often over the years Michael has written essays called "One Painter Perspective." This is his first, we will publish others in future issues.

Jean Papke - A Ride to Dark Island

Jean Papke is a native New Yorker and grew up in Rochester, NY. After 28 years living in New Jersey, she and her husband moved back to New York in 2001. After vacationing in the 1000 Islands for almost twenty years, they purchased a home and now live in the region full time. Jean began working at Singer Castle in 2006 as an assistant to Tom Weldon and developed an immediate fascination with its history.   Judy Keeler, the Castle Historian, and Jean are actively working to gather the history of the early years of "The Towers" on Dark Island and of the Bourne Family. 
Psst. Pass it on…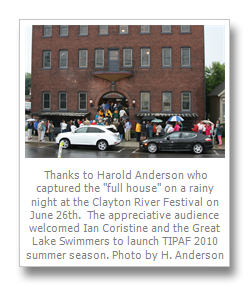 "Lost Channels," an evening with the Great Lake Swimmers and Ian Coristine was a great success.  Unfortunately, the Great Lake Swimmers had border crossing problems (Post 9/11) and they had to leave their CDs and sales merchandise in Canada.  We encourage a visit to their website (www.GreatLakeSwimmers.com) or iTunes to order their beautiful and haunting music and other items.
During the performance, Ian Coristine related a story about his images of the Thousand Islands going viral across the Internet.  Several years ago a young woman pirated fifty images from Ian's web site, posting them on her blog on a website hosted in Latvia as a way of showing where she lived.  With astonishing speed, these photos were replicated on hundreds of web sites around the world. No credit was given the photographer nor copyright notices posted, so Ian protested to the site's manager in Latvia that the images were covered by copyright. The omission was corrected after a week or so, but not before at least a dozen different Powerpoint presentations in three different languages began circulating via emails. Clearly, the world was astonished with our River, according to the countless posted comments on the websites and in the intros to these presentations.
Ian believed that even though the slideshows promoted the Thousand Islands, they were crudely crafted and further exposure might come by creating something better, but he needed appropriate music and the rights to it to make this happen.  Thus began his unexpected relationship with the band who subsequently recorded an album, Lost Channels, here in the Thousand Islands.  The band's leader, Tony Dekker, stayed at Ian's island for several days last fall with a sound engineer in order to record an instrumental track on the island which includes the River's "song" specifically for this purpose. This is the result of their collaboration:
Psst. Pass it on.  Do send it to your friends, your family and to all those who question why you live or visit the Thousand Islands… 
Enjoy:
Additional coverage of the Lost Channels evening can be found at NPR when Todd Moe talks with Tony Dekker, the lead singer in the Canadian folk/rock group "Great Lake Swimmers
-----------------------
Facebook Update… 
Our thanks to all those who have connected to our Facebook page.    We appreciate the comments and the photographs.  Please keep them coming.
Enjoy this nice hot weather, and let's meet back here in mid August.
Susan W. Smith, Editor.  susansmith@thousandislandslife.com
And welcome back David Ray (our Kingston editor who helps each month was not well)  ...  We missed you.