It is January 2011 and we have two articles about Winter.  The first is written by Kim Robinson.  She presents Bringing Back Ice Fishing… writing about the Annual Fishing Derby sponsored by Parks Canada in Mallorytown.  And as much as we encourage  you to take advantage of the many winter activities in the region, (see TI Life's EVENTS), we also ask that you remain cautious.
In December we received Dan Denney's Through the Ice - A Tale of Survival.  Reading through the material I realized that his story is an important one.  Not only does he explain how dangerous it is to drive out on the ice, but he also presents techniques for survival – all of which he learned the hard way.  For the first time we have not placed photographs into the text.  This story is so important, it deserves to stand alone. 
History comes alive with Rex Ennis' A Gilded Age Fish Tale;  Robert Matthew's American Canoe Association history with Ladies, Canoes and Rules: "Camp Grindstone" Part II and Kim Lunman's Castle Rest, Past and Present.
Chris Murray gives a geology lesson with Thousand Islands Rocks and I introduce John Street's Holiday Photographs and review A (Book) Celebration.  Other articles include:  Mike Folsom's 2010 Seaway Season Recap and Lynn McElfresh  Walking on the wild side….
New Marina Series Begins
Marinas are important to our way of life – vital, as a matter of fact.  Over the winter we will present a number of "histories" of those men and women, and their families who make sure we have a place to fill our tanks with gas, save the day when we run aground and sell those marvelous craft we call "river boats".   We begin this series with John Peach's Van's Motor Marine. 
New Contributors
Dan Denney - Harrowing Experience … Through the Ice


Dan Denney has worn several hats, beginning his media career in radio in Watertown, Gouverneur (NY), and Pulaski (NY).  Dan started in the control room at WPBS-TV (then WNPE-TV), a Public Television affiliate. While at WPBS, Dan worked his way into videographer and producer-director positions. He spent five years shooting and editing Rod and Reel Streamside, working with host Don Meissner. He also worked with artist Michael Ringer on The Artist's World, His interest in Singer Castle also began here while helping produce a travel video on the Thousand Islands for Jefferson County. In 2004 Dan graduated from SUNY Canton's Nursing program and is licensed as an RN. Dan and his wife live in Waddington, NY. His photographs of the Thousand Islands, the St. Lawrence River, the Adirondacks, Nova Scotia and more can be seen at dandenneyphoto.net.

Kim Robinson - Bringing Back Ice Fishing…


Kim Robinson has worked in interpretation for Parks Canada since 1997. For
many years she worked at National Historic Sites in Eastern Ontario --
Fort Wellington, the Rideau Canal and Laurier House -- but she's made the
switch to National Parks and is on staff at  St. Lawrence Islands National
Park. Before joining Parks Canada, Kim spent a few years as a journalist
writing for a weekly newspaper, the Winchester Press.

 
Readers Exchange
A special thanks to those who help chronicle, correct and add to our Thousand Islands history by message and by photography.
Kathi and Dennis McCarthy
We thank Kathi and Dennis McCarthy for two very special gifts.  First, we thank them for their historical information and second, we thank them for sharing their wonderful photographs each month. We will present more of their photographs in the coming months.  Suffice it to say, they are appreciated.
Kathi and her husband Dennis, know all about wrecks in the Thousand Islands. Dennis and co-author Skip Couch, published "Shipwrecks of the Thousand Islands" in 2010. When Kathi read Bonnie Wilkinson Mark's November article: Hutchison Boat Works, she saw something that should be corrected. She not only sent a nice note, but included copies of old email exchanges that took place over six months – all confirming the providence of the Ferry General Hancock, which Bonnie wrote about in her article. These emails were sent by Gary E. Kelley, who is Senior Vice President & Controller at the Statue of Liberty-Ellis Island Foundation, Inc. in New York City.
Hi Susie, We enjoyed reading the article on Hutchinson Boat Works.

We have some different information on the "Roosevelt" & the "General Hancock" that we found while doing research for our books. Here are some comments on them:

TI Life article: "On October 10, 1938, a mysterious fire destroyed The Roosevelt. .........The remnants of the ferry can still be seen on the southwest side of Frederick Island near Fishers Landing."

Our information from the "The Ogdensburg Advance – News," Wednesday, April 12, 1939 reads:   "Brought late last fall from a point near Alexandria Bay where she was burned to the water's edge, the hull of the steamer Roosevelt, which was formerly in ferry service between Alexandria Bay and Rockport, is now lying in the channel above Hillcrest known as "Molly's Gut" after purchase by the Simpson Sand and Gravel Co."

The wreck of the General Hancock can be seen off Mandolin Island (Near Frederick Island). The General Hancock was not from Ellis Island, it was used in NYC for transport to and from New York's Governors Island.

Kathi McCarthy
Gary Kelly's email notes spanned six months.  At first he found other "General Hancock" ships, but not the one from the Thousand Islands.   Then he wrote to Kathi saying:
"Well, well, well! I keep thinking I have found an answer, but it seems that the United States was intent in building and naming "General Hancock" ships!!! First, the Boston General Hancock was in Garrison, New York by 1928. She was owned by the Garrison and West Point Ferry Co., Garrison, New York. But we do know that this is NOT the one you are looking for! Second, A "General Hancock", 309 gross tons (198 net tons) 102 ft x 23.6 feet with depth of 10 feet built in 1898 in Wilmington Delaware, one screw, was in Governors Island, New York in 1926. Owned by the Quarter Master Corp of US Army. She was a ferry boat. Now this brings us to the other "General Hancock." Third, the "General Hancock," a tug boat of 131 gross tons: Official Number 228755 "S/S General Hancock," 131 Gross Tons (89 Net Tons) 96.2 ft x 23.5 ft depth of 9.6 ft. Built in 1908 in Wilmington, Delaware as a ferryboat. Crew of four and 350 hp. Owned in 1935 by the Hutchinson Ferry Co., Ogdensburg, New York. Home Port was Fuller Street, Alexander Bay, New York. Note in the text that she was formerly the "USQM Corp General Hancock".

My first e-mail notes that the "General Hancock", that I had little information on in the 1920 book was 131 gross tons but built in 1898. So this first information looks like a combination of other information.

As far as the news article about Ellis Island, that did not make sense as Ellis Island does not nor ever had room for cars, much less 20 of them on the island. Governors Island does make sense as it still has a number of roads and up until recently did have car ferry service."
Gary Kelley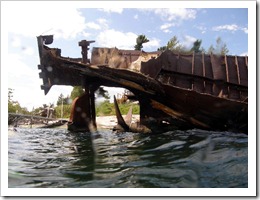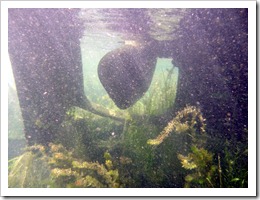 Pictures of the wreck of the "General Hancock" on Mandolin Island taken Dennis McCarthy in August 2009
(Click to enlarge)
So thanks to Gary Kelley, who demonstrates how historians never give up and their "stick-to-it" attitude really is appreciated – and thanks to Kathi and Dennis McCarthy for sharing this information with Bonnie Mark and with our readers. One more piece of history now recorded.
Special antique prints from Gregory Sullivan
In December we received a note from Gregory Sullivan, a Toronto antiques dealer.
Hello, I came across your site while trying to research some antique prints of the 1000 Islands from the year 1860. I thought that you may like to see what the islands looked like in the past. I think your site is great! Thank you. Sincerely, Gregory Sullivan
The paintings are special.  Many years ago I had seen them in Canada's National Library & Archives, but I never saw them framed and in color.  Imagine my delight when a day later Gregory sent a whole series to me.  In the coming months, we will present a more formal review of Frederick W. Lock and other Thousand Islands' artists, but we wanted to share these immediately.  Enjoy.
Click to Enlarge
| | | |
| --- | --- | --- |
| | |   |
| "A Calm Summer-Day among "The Thousand Islands" River Saint Lawrence, Canada | Note the detail of the walking stick and man's best friend. | F.W. Lock 1860 |
| | | |
| Summer moonlight among "The Thousand Islands" River Saint Lawrence, Canada | The title is printed on the print's matting. | F. W. Lock 1860 |
By Susan W. Smith, Editor.  susansmith@thousandislandslife.com