Almost everyone has heard about the border problems. Concerned citizens on both sides of the River have sent letters to their elected officials and to editors of local newspapers. Generally the topic has come up at every event or occasion since a US fisherman was fined $1,000 for fishing, with a license, near the Gananoque Narrows, but failing to report to a Canadian certified check-in location. We thank US Congressman Bill Owens, Canadian Leeds-Grenville MP Gordon Brown, and Canadian Senator Bob Runciman for their concerted efforts to rectify the situation. As we go to press, July 15, the Canadian Border Services Agency has issued a new FACT SHEET that explains the "Simplified cell phone reporting for private boaters." TI Life has re-printed this Fact Sheet; these are printed as they appear on the CBSA web page. However, the rules should be read in full. I am sure we are not at the end of the topic. Suffice to say, keep checking with authorities for we need a solution.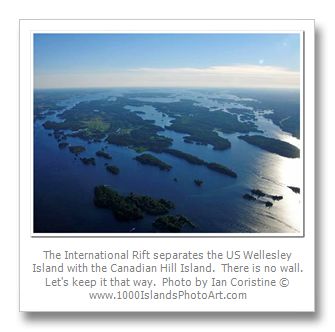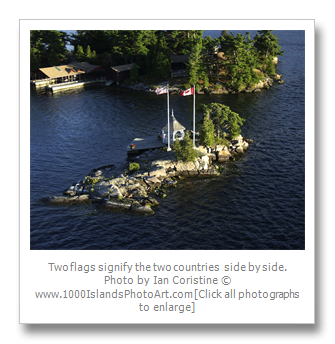 This month we have a number of articles to make light reading. Kim Lunman presents
The Castle of Secrets
. Mike Folsom presents
The Day Has Finally Come…
and Brian Johnson writes
The Army Landing Barges 'Wolfe Islander 1' and 'Wolfe Islander 2'.
the second of a three part series. The final version will be published in November.
After all the damage to trees throughout the Thousand Islands, you will enjoy Lynn McElfresh's piece A Fistful of Pines. Despite the last storm in mid June, which damaged the Cornwall Brothers Store Museum, Anthony Mollica Jr. has written Honoring Hutchinson describing a new exhibit which opened on schedule on July 10th.
I have the honor to review Two New Library Additions… which is about Saints, Sinners & Sailors of the Gilded Age, by Rexford M. Ennis and Archeophone Records new CD, The High Priestess of Jollity & The Southern Singer. I also write Welcome back Jim… about Jim Hungerford who is the new director of golf at the Thousand Islands Country Club.
Larry Golden presents a YouTube video: Do you have an iPad?… explaining how to use a free app from Flipboard to view TI Life.
Michelle Caron introduces Leonard Stratford in The Top of the World … and announces that the Skydeck is now for sale. Do you long for a beautiful car… then we have Motor Heads and Car Buffs.
Enjoy the summer and keep safe.
New contributors
Michelle Caron - The Top of the World …

Michelle Caron is a tourism product development consultant. She moved to the Thousand Islands region in 1989. Michelle and her husband Lou, are passionate about the Thousand Islands region and both have dedicated careers in tourism. They were so enamored with the river, they were married on a boat just next to Boldt Castle (where they had their first date) and then hosted a family wedding picnic on Heart Island. A favorite pastime of hers is "always exploring 1000 Islands history, people and places." They live on the Canadian mainland with a view of Chimney Island.

Larry Golden - Do you have an iPad?…

Larry Golden has had a love for the River since the early 1950's when his family stayed in cabins on Spicer Bay while his Dad was at summer training at Camp Drum (now Fort Drum). In 1991, He bought a home in Wellesley Island East, where he and his wife, children and grandchildren spend their weekends and much of their summer. Larry has been a practicing attorney in the Utica area for 40 years, and was President of the Oneida County Bar Association in 2008. He is a graduate of Cornell University and Buffalo Law School. His love for exploring new technology led to his discovery of the Flipboard app and its ability to turn RSS feeds into true "magazines."
Congratulations Michael Folsom
Michael Folsom, organizer and creator of Clayton's newest summer event, Sailing Seaway Clayton, has been named a recipient of the 'Spirit of Excellence' Award, which is presented by the Lynx Educational Foundation. The 'Spirit of Excellence' Award is an honor presented by the Lynx Educational Foundation, operator of the tall ship Lynx, based in Newport Beach, California. This award is presented for exceptional personal achievements and examples of character based on the mission of Lynx with the intent of highlighting the work and commitment made by individuals in the success of the ship.
"It is truly an honor to have been named a recipient of the 'Spirit of Excellence' Award," said Folsom. "I have enjoyed the partnership with the staff and crew of tall ship Lynx and look forward to continuing that partnership in 2013 when the ship returns to Clayton. Lynx is an amazing vessel and I am proud to have had the opportunity to bring it to our small village."
In June, tall ship Lynx made its way to Clayton, New York – the smallest port stop of 2011 for the ship - for the first-time ever and was the featured vessel during the first-year event, Sailing Seaway Clayton. Prior to the ship's arrival, all ten public sailing excursions were sold out - an accomplishment that no other port on the ship's 2011 summer calendar had reached to date. In all, more than 400 people would sail aboard Lynx during its time in the Thousand Islands. In addition to sold out excursions, the event drew more than 1,000 visitors on board the ship for deck tours and over 5,000 people to Frink Park over the course of seven days to view the ship in port.
Readers Exchange
A Prickly Encounter… -- 7/1/11 Benjamin and Heidi Lessard, Bennington, Vermont, were celebrating their one year anniversary on Wellesley Island when they were astonished by the greeting of a large, slow moving porcupine right outside the main entrance of their cottage.



Photo by Heidi Lessard




Photo by Heidi Lessard

How could something so cute be such a menace to dogs?
Conclusion
Thanks for the suggestions of articles you would like to see in TI Life. Now we need writers… Let us know if you can help.
Enjoy Summer '11 and keep safe.
Susan W. Smith, Editor, Thousand Islands Life magazine. susansmith@thousandislandslife.com