Written by
Susan W. Smith
posted on December 13, 2011 13:28
Season Greetings from our TI Life Team, and our wonderful authors, photographers and artists, who join together to "put a thousand islands in your life".
December is a time of reflection. What a year! We published a dozen issues with 137 articles and 24 new authors. We averaged 60+ photographs per issue and are now at 4,500+ subscribers plus  770+ fans on Facebook.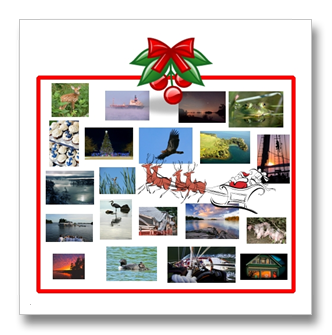 Some of the articles received thousands of "hits," getting an appreciated boost from Abay.com and NewsJunky.com. One of the most poignant stories was January's Through the Ice - A Tale of Survival by Dan Denny and Mike Folsom's November news story Does Size Matter? received the most comments.  And don't forget, Larry Golden's Do you have an iPad?…  if Santa brings you one this year!
December's Issue
This month Kim Lunman presents The House That Jack Built, Kitsymenie Island;  Brian Johnson give us another lovely tribute in Hal "Moose" McCarney, 'The Godfather';  Lynn McElfresh takes us Around and Through: The Path that Binds Us, and I present Judith Butler's Camera. 
History comes alive with a second article by Lynn McElfresh answering the age-old question: Who Was Sam Grenell?.  Plus we present  The Ship named "Supply" by Rex Ennis; Inheriting a Cottage by Dave Whitford and TI Collectables Part II, Four Track Series Brochures by Robert Matthews.
Mariners will appreciate three boating stories.  Dennis McCarthy reveals a long lost wreck in Discovering the Box Stove Wreck; Hayley Jones and Laura Kelly, two students from Thousand Islands Secondary School in Brockville, present their impressive salvage story in Anchors Away…; as well, Tony Mollica retells history of  "Taps" a Reveille Classic .
And as a Gift in December we present David Lyttle's Poetry and 21 photographs are presented below by Thousand Islands photographers.  Enjoy this issue and please forward it to a friend.
New Contributors
David Lyttle - David Lyttle's Poetry

David Lyttle, Emertius Professor  of American Literature from Syracuse University is 87 years young. 

He has written numerous literary philosophic essays in peer-reviewed journals.  One of his scholarly interests is the life and work of Ralph Waldo Emerson.  He is also accomplished  in the field of philosophic literacy criticism with scholarly papers published in Studies in Religion in Early American Literature.  He published several books of poetry including  No Other Time in 1959, Down Near the Back Road in 1981 and Blue Boat: Selected and Revised Poems published in 2007. This winter he is publishing a second volume which will include the selections in TI Life.
Hayley Jones and Laura Kelly -  Anchors Away…



Both Laura Kelly and Hayley Jones live in their hometown of Brockville, Ontario. Both are senior students at Thousand Islands Secondary School. Hayley is interested in pursuing a future in photography, while Laura is choosing the field of journalism. Both look forward to attending university next year.
Congratulations to Don Ross

The annual Gananoque Chamber of Commerce Awards Night was held in Gananoque on November 18.  This year's Keeper of the Islands award went to Don Ross.  Don is well known in the region as Executive Director of the Frontenac Arch Biosphere.   When I first met Don he was a biologist with the St. Lawrence Islands National Park.  He later ran the successful, Dave Jones Locker Sports Store in Brockville.  He has always remained a staunch supporter of  many conservation projects in the region including being a founding members of the Canadian Thousand Islands Watershed Land Trust.  I congratulate the Gananoque Chamber as I can think of no one more worthy of this award.  He is truly a Keeper of the Islands.   (Thanks Don for so many years of service, we appreciate it).
River Tributes
John C. King
We learned this month that John Culver King, a longtime resident of Black Duck Island, (Admiralty Islands) and Ann Arbor, Michigan, died at the age of 91 years on July 24, 2011.  He was born in Binghamton, NY. His parents were A. Culver King and Verona Rouse King who purchased Black Duck in 1894. With an early interest in boats, he built several small wooden ones as a teenager and in 1948 was awarded a bachelor's degree in Naval Architecture & Marine Engineering from the University of Michigan. He had many jobs, working for NASA for a time, and from 1952 to June 1986 John King worked for the Ford Motor company in Dearborn as an automotive safety engineer.  He and his wife, Jean, supported many River organizations.  In 2008 they welcomed over 100 visitors to tour their home as part of their Canadian Thousand Islands Watershed Land Trust house and garden tour. Jean King wrote the island's history for TI Life in  Black Duck Cottage Family History.  The River and the Admiralty Islands has lost a grand neighbor.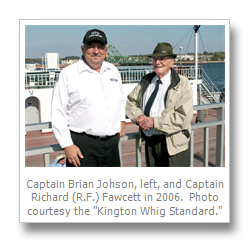 Captain Richard (R.F.) Fawcett
Captain Richard (R.F.) Fawcett died suddenly on December 9, 2011 on Wolfe Island.  He was in his 90th year.  TI Life received the news from Captain Brian Johnson.  In May 2011 Brian wrote, Captain Richard 'RF' Fawcett and the "Wolfe Islander III" for TI Life.  Fawcett served as captain of the Wolfe Island ferry for 32 years.  During that time he was a friend and mentor for many young Wolfe Islanders.  Brian remembers, " I've known Capt. RF Fawcett my whole life... I was always in the wheelhouse with either Capt Fawcett or Capt. Buck Mullin growing up. When I was about 5 years old I was allowed to steer the big boat... when it came time to leave I wouldn't let go of the wheel... I guess I never did!! He was a true gentleman and I'll really miss him!"  A November 12th tribute A life on the lake, by Tori Stafford was also written in the Kingston Whig-Standard.

Season Greetings from the Thousand Islands Life Team & Photographers…
[Click any photograph to enlarge, use the arrow keys to move from one photograph to the next]
Rock Island Light House and Castle Francis from Grenell Island


Photo by Lynn McElfresh©




Camelot Island. Photo by Chris Murray Photography © www.chrismurrayphotography.com

"Algoeast" upbound at sunrise at Clayton, 2011.Photo by Paul Cooledge © www.1000islandimages.com

 

 

 

Baby loon four days old. Photo by Martin Zonnenberg © http://birdsinflight.org/

A juvenile bald eagle soaring over Kring Point . Photo by _Lillian Cooledge © www.1000islandimages.com

June at the River. Photo by Bill Munro ©

Half Moon Bay.  Photo by Andy King © landscapephotography.com

A window on Save the River. Photo by former River resident, Dudley Danielson ©



1960's winter scene.

Photo courtesy Tom King ©

J.W. King Collection

Marsh wren in Flynn's Bay building her nest.  Photo by Sue Proskey March ©

13 baby piglets at Cross Island Farms,Wellesley Island,.Photo by Dani Baker © http://www.crossislandfarms.com

A Bambi looks around. Photo by Patty Mondore ©www.gold-mountain.com

 

Ina Island sagging… Photo by Mary Crawford Ferber ©

Arriving for a party on Polaris Island. Photo by Kim Lunman © http://www.islandlifemag.ca

Aerial view Head of Carleton Island. Photo by Mike Franklin © www.FortHaldimandBluffs.com




Great Blue Heron. Photo by Judy Butler ©

The "Lynx" comes to Clayton. Photo by Michael Folsom © http://www.theshipwatcher.com

 

Wedding cupcakes by Bellas. Photo by J. Bass © http://blog.jbassphoto.com
Have a save and happy holiday.  Don't forget you can print these articles and read them by the fire. 
Susan W. Smith, susansmith@thousandislandslife.com
Editor