Col. Von Schoultz, Captain Woodruff,  Lyman L. Leach and Christopher Buckley were the Syracuse and Salina men who faced the gibbet. 
Killed in the fighting were Nathan Coffin 17, Liverpool;  Ten Eyck Van Alstine, 40:  Lorenzo West, 24; Moses Haynes, 20, and Rensselaer Drake, 23, all of Salina.
Syracuse Journal, March 20, 1929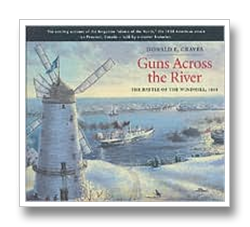 Donald E. Graves, in his superlative study, Guns Across the River: The Battle of the Windmill, 18381, observed: "Another hotbed of Hunter activity was Onondaga County, to the south, where Erasmus Stone, the postmaster at Salina (part of modern Syracuse), was the prime, driving force. Stone recruited Martin Woodruff, the 40-year-old county sheriff, and Woodruff, occupying a position of influence, recruited many new members. Stone (an employee of the American federal government, it should be noted) also enlisted Christopher Buckley, the 25-year-old owner of a salt manufactory, the major industry of Salina, and Buckley convinced many of his employees to join."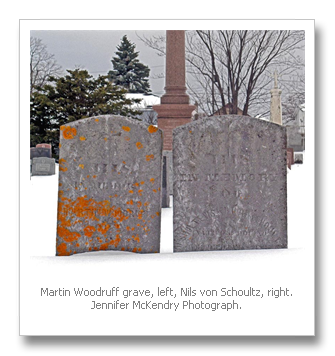 Second to Nils von Schoultz, Martin Woodruff was the second most important prisoner to be hanged, eleven days after Von Schoultz. He died a horrible death, due to inexperience of the hangman. Woodruff and von Schoultz are buried side-by-side in a Kingston cemetery.
As Graves noted, it was highly irregular for executed convicts to be interred in marked graves such as these. Typically they were buried in unmarked graves. These grave stones may be seen in the cemetery of St. Mary's Catholic Church, Kingston. Von Schoultz's body was not returned to be buried in American soil, as he requested, on his friend's farm. Americans, however, might be more aware and attentive to these Kingston graves.
A third Syracusan, Lyman Leach (aka Lewis) was a neighbor of Martin Woodruff at South Bay, on Oneida Lake. His father had been one of the earliest settlers at Cicero Center, operating a tavern in a log structure. Graves tells us that Lyman was a "dealer," suspected of participating with Bill Johnston in the burning of the Sir Robert Peel. Lyman Leach was hanged three days after Von Schuoltz. Presumably his body was interred in an unmarked grave.
The fourth hanged Syracusan, Christopher Buckley, may not be memorialized by a grave stone, but by the name of a major artery familiar in greater Syracuse, Buckley Road. Son of Russel Buckley, an Erie Canal boatman said to have taken the first load of salt from Salina to Utica. Christopher was a young salt manufacturer as well as a Hunter senior officer and recruiter. He was hanged 4 January, 1839. There was a stir in Syracuse for a while, promoting a monument to Buckley, von Schoultz, and Woodruff, but it never materalized.
In accordance with predetermined policy, these four Syracusans were hanged because they were purported to be officers. No doubt they were activists in the Hunter movement and leaders in the ill-fated campaign.
Three young prisoners from Salina, in their early twenties, were wounded and given immediate release. Another Onondaga County group was tried and pardoned. Cornelius Goodrich, however, who was merely eighteen at the time of the campaign, served seven years in the Kingston penitentiary before receiving his pardon.
After eighteen executions there remained the dilemma of what to do with the remaining prisoners--too many to be held indefinitely at Kingston. It was at this point that the policy evolved of pardoning some prisoners, generally those younger than twenty-one years.
Nine prisoners from the Syracuse area were sent to the penal colony at Van Diemen's Land (modern Tasmania, south of Australia). After years of hardship there, they were released without means of return to America. Many have left harrowing accounts not only incarceration but incredible odysseys, recalling many years of travel and intermittent employment around the globe before finally returning the Central New York.
1
Donald Graves publication is the most important resources for factual information.  The book is available at local book stores or can be ordered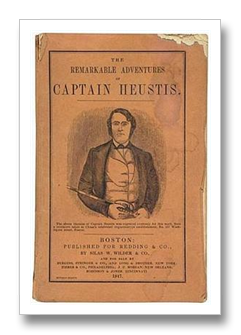 Several of the those who made the harrowing trip to Van Diemen's Land and back published sensational memoirs:
Stephen Wright. Narrative and Recollections of Van Dieman's Land, During a Three Years' Captivity of Stephen S. Wright, together with an Account of the Battle of Prescott, New York. J. Winchester, 1844.
Daniel D. Heustis. Narrative of the Adventures and Sufferings of Captain Daniel D. Heustis and his Companions in Canada and Van Diemen's Land. Boston: S. W Wilder, 1848. [The 1847 first edition, courtesy of Swann Auction Galleries, New York, NY]
 William Gates. Recollections of Life in Van Diemen's Land. Lockport: C. S. Crandal, 1850.
 Of these, Donald E. Graves observed that the Heustis account "is notable for its honesty, accuracy and humour and is by far the best of the Hunter accounts of the Prescott invasion." Perhaps the rare book should be reprinted. Daniel Heustis, a captain in the Hunters, was not a Syracusan (nor were others who published accounts). Heustis was a grocer from Watertown, thirty-two years old at the time of the campaign.
Also from Watertown was young Charles Crossmon, a nineteen-year-old wagon maker who was pardoned because of his youth. Ten years after the Fort Henry trials, Crossmon became proprietor of his father-in-law's tavern at Alexandria Bay. The tavern became an inn, then a grand hotel attracting celebrities during the heyday of the Thousand Islands, at the turn of the twentieth century. After death of Charles Crossmon, his widow and their son continued as proprietors. Descendants, the Thomson family of Alexandria Bay, continue in the hospitality business there to this day.