·
In March 2008 several TI Life Readers sent additional material to support Paul Malo's series on the Patriot War which was published in the April 2008 issue. 
Letter from Paul Sharon


Paul Sharon, a descendent of Patriot Joel Peller, provides a drawing to the Hunter flag: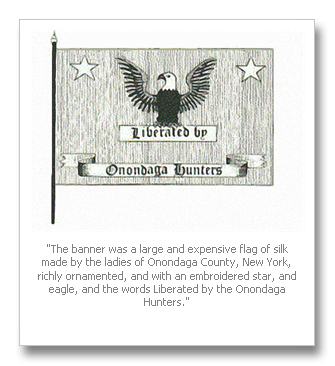 Charles Lenhart Writes
Charles Lenhart contributes a lengthy article about Patriot War prisoners confined at Vandiemen's Land (Tasmania, south of Australia), published in the National Anti-Slavery Standard, November 11, 1844, from which we extract the following:
"Will you please give publicity to the following articles … as an act of justice and benevolence towards a number of American citizens (as the articles will explain) who are now confined to a British penal colony. … As an inducement for any true Christian to act in this matter, it will not be necessary for me to refer to the circumstances of the capture of te unfortunate sufferers, or to repeat the fact that they have been left to suffer in their condition of imprisonment, mainly because they belonged to the more humble walks of lie.
         Very respectfully,
        TH. JEFFERSON SUTHERLAND
To the Editor of the New-York Tribune:
… It is a matter well known to the public that of the American citizens who were captured by the British forces in Canada, in 1838, a considerable number were condemned for their participation in the civil commotions in those Province, and transported to Van Diemen's land.  THIRTY-NINE of those unfortunate man (who have been spared death) have been pardoned by Her Majesty's Government, and FORTY-TWO, according to authentic information, are still detained as convicts, under the original sentence of transportation for life.  Something of the character of the remaining forty-two captives may be understood by the following copy of a letter recently received by me:
… "I learn that you are interesting yourself in behalf of the American prisoners at Van Diemen's Land. Riley Whitney, one of the American prisoners, was a native of this town.  … Poor Whitney is a well disposed man, but exceedingly ignorant—can neither read nor write.  His ignorance may give him the appearance of obstinacy;  but, after all, he has give abundant proof of filial affection in the support he has given to his widowed mother.  A the time of his captivity, Whitney was residing in Northern New-York, where his mother now lives."
From the New-York Evening Post
NAMES OF THOSE CAPTURED AT WINDMILL POINT, NEAR PRESCOTT, IN UPPER CANADA
From Jefferson County, New York
John Bradley, Watertown.
Orlin Blodget, Philadelphia.
Chaucey Bugby, Lyme.
William Gates,     do.
James English, Adams.
Andrew More       do.
Foster Martin, Antwerp.
William Reynolds, Orleans.
Henry Shew, Philadelphia.
Thomas Stockton, Rutland.
Riley Whitney, Lyme.
From Oswego County, New York
David Allen, Volney.
John Berry, Oswego.
Jehiel H.Martin   do.
Samuel Washburn, do.
From St. Lawwrence County, New York
John Monisett, or Morrisett, Ogdensburg
From Onondaga County, New York
Micheal Freyer, Clay
Hiram Loop, Liverpool
Calvin Mathews, Lysander
Chauncey Mathews, Salina
From Erie County, New York
Asa M. Richardson, Buffalo
From Cayuga County, New York
Thomas Baker, Hannibal.
Patrick White, Auburn.
From Oneida County, New York
James Pierce, Marshall.
From Warren County, New York
Solomon Reynolds, Queensbury.
Residence not known.
Joseph W. Stewart.
[Sixteen additional names follow, of prisoners captured at engagements other than at Prescott.]
These men are now understood to be out of prison, upon what is called "tickets-of-leave"  being permitted to run at large within certain limits upon their own profit, when they can get employment.   But they are forbidden to to into any of the seaport towns, to out from their lodgings after eight o'clock at night;  and are required to muster, and to attend church every Sabbath.  These, and other restrictions to which they are subjected, are enforced with sever penalties;   and they are liable to be called in the Government works at any time.  Such is now, and has been, the condition of these captives since 1842.
The Government of Great Britain, while it has granted a general amnesty to its own subjects who were compromised by the revolutionary measures moved in Canada in 1838, has refused to extend the same to these, our unfortunate countrymen.
[The author thereafter recommends drafting petitions on behalf of the prisoners, providing procedural details. The article concludes with personal details about some prisoners, e.g.:]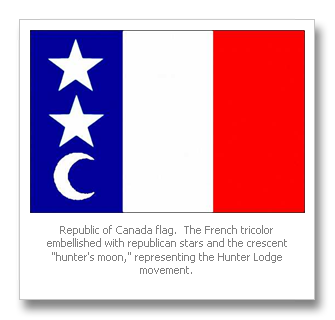 … Henry Shew is the son of a widow, in very indigent circumstances, residing Philadelphia, in the county of Jefferson.  Riley Whitney has … a mother, a poor widow, who resides at Lyme, Jefferson County. …  Of the relatives and friends of the others I know but little, except that they are scatted through the eastern, western, and Middle States, and in most cases too poor and indigent to do much for their relatives in captivity.  Therefore, the case of the captives is one that makes strong demands upon the humane and just of our country, for action in their behalf;  and it is to be hoped that for the people of every neighborhood where any of the captives may have been known will immediately cause a petition of some sort to be drawn up and signed by a considerable number of inhabitants. …"

 
Charles Lenhart also found this 1845 article in the Washington Union, from which we extract:
RELEASE OF AMERICAN PRISONERS ON VAN DIEMAN'S LAND
..The United States Consul at the port of Monterye has transmitted a dispatch to the Government of this country ... in which he communicates intelligence that will be intensely interesting to the friends of the unfortunate young me, who have been so long confined by the British authorities in Van Dieman's Land, in consequence of their connection with the well-known Canadian troubles. The substance of the information is as follow...received by letter, and the Polynesian, from the Sandwich Islands.
The American whale-ship Steiglitz, belong to Bridgeport, Ct. put into Oahu, on the 27th of April last, from Hobart-town, in New South Wales, having on board TWENTY-SEVEN of these Canadian prisoners, who had previously been set at liberty by the English Government. It appears that the commander of the Steiglitz, Captain Young, at his individual expense, brought these men in his vessel to Oahu, whither he had come from New South Wales, on a whaling cruise to the Northwest Coast. Arrived at Oahu, he immediately apprized the Sandwich Island authorities of he fact,and requested permission for the released prisoners to remain until hey could find opportunity to embark for the United States in whale ships, which would doubtless be the case in the course of a few months. In the meantime, Captain Young took a portion of his precious foreign (ten of the late prisoners) along with him to the Northwest Coast, to form part of his expedition, leaving the rest behind, under the guarantied protection of the authorities of the Sandwich Islands.
Unquestionably the most interesting part of this intelligence has, however, yet to follow. We refer to the names of these twenty-seven Americans, who are now returning to their native land, after such a fearful season of exile. These we have also been allowed to transcribe, and record with pleasure, as the heart of many a bereaved parent,or brother, or sister, will beat with gratitude as they discover the name of a long-lost one on the list:
Passengers brought per ship Stieglitz,Captain S. Young, from Van Dieman's Land, in New South Wales, and left temporarily in charge of the authorities of the Sandwich Islands, at Oahu, until they can be brought back to the United States.
1. Nelson Griggs, N. York
2, Luther Darby, "
3. Daniel D. Heustis, "
4. Orin W. Smith, "
5. John Thomas, "
6. Gideon Goodrich "
7. Jerry Griggs, "
8. Robert Marsh, "
9. Nathan Whiitng, "
10. Bemis Woodbury, "
11. John Cronkhite, "
12. John G. Swanbury, "
13. Ira Pelby, "
14. Leonard Delano, "
15.Edward A. Wilson, N. Y.
16. Elon Fellows, "
17. Eli zur Stephens, "
18. John Gilman, "
19. Joseph Thompson, "
20. David Hume, "
21. Chancey Sheldon, Mich.
22. Henry Vl Bernum, "
23. Samuel Snow, Ohio
24. Alban B. Sweet, "
25. James De Witt Ferro,
Canadian Provinces
26. John Grant, do.
27. Henry Barnum, do.
Sources
Macdonald / von Schoultz
In addition to those references mentioned previously, the eminent Canadian historian, Donald Creighton, provides one of the most succinct accounts of the Battle of the Windmill and the subsequent Fort Henry events, including Macdonald's relation with von Schoultz, in John A. Macdonald: The Young Politician,The Old Chieftain (pp.59-68).
Creighton concludes: "The court martial, despite its inevitable professional defeats, had been an important event in [Macdonald's] career; and long afterwards it remained in his memory, though in an imperfect, uneven fashion, with vived patches of clear recollection in the ambiguous shadow of forgetfulness, like a deep wood under strong summer sunlight. George and Abbey, the two rather nondescript Americans, made little permanent impression on him, and in after years he could not even remember George's name. But von Schoultz was an unforgettable person. Macdonald must have spent long and absorbed hours in his company. He drew the Pole's will; and von Schoultz was evidently so grateful to the young lawyer, and so appreciative of his friendly counsel that he tried to leave him a small legacy, which Macdonald, of course, had to refuse. To the very last years of his life Macdonald remembered all the material details of the Pole's story with unfaded clarity. ..."
Kingston / Fort Henry
Brian S. Osbone and Donald Swainson, in Kingston: Building on the Past, provide a prisoner's account of reception at Kingston:
"It was about midnight when we arrived at Kingston. We were tied together in couples, von Schoultz at the head, a rope passing between us. ... In this condition, with a line of soldiers on each side, we were marched to Fort Henry, about one mile distant from the landing, the band playing 'Yankee Doodle.' During this march we were subjected to the foulest abuse from the spectators, pelted with clubs, and spit upon with impunity. Our heroic leader was struck with a stroke on the hip, which caused a lameness from which he never recovered."
Prisoner Daniel Heustis also recalled that, "After his condemnation, von Schoultz was removed from Fort Henry to the jail in the village of Kingston, and we never saw him again. The last parting scene, in which he bid us farewell, filled every heart with grief. He spoke a kind word to each one and exhorted us all to die like men. His bearing, in this hour of severe trial, as it had ever been, was manly and noble.
"On the 6th, three days after the sham trial, the death warrant was read to him, and on the 8th he suffered a martyr's death on the scaffold. During his short imprisonment, he won the esteem of all who had come in contact with him. The officers of the 83rd Regiment, in particular, who had witnessed his heroism on the field of battle, sought his acquaintance, and became deeply interested in his fate. They implored Sir George Arthur [lieutenant governor of Upper Canada and major general commanding the forces therein] to spare his life, but that bloody tyrant turned a deaf ear to every supplication in behalf of the victim he had determined to sacrifice. 
"When the hour of execution arrived, von Schoultz shook hands with those around him, and every eye was suffused with tears. He was prepared to die; in his last moments he betrayed no unmanly weakness; he marched with a firm step to the gallows, where his virtuous and patriotic life was brought to a premature close."
 Daniel D. Heustis. Narrative of the Remarkable Adventures and Suffering of Captain Daniel D. Heustis.
________________________________________________
Shaun McLaughlin, who publishes the website: http://www.raidersandrebels.com, wrote to TI Life in January 2010:
The Tasmanian convict records related to their conduct are now available online through the Tasmanian Archives. For example, view the records for Daniel Heustis and Garret Hicks at http://search.archives.tas.gov.au/ImageViewer/image_viewer.htm?CON31-1-22,194,127,C,80. You can find an account of all Americans who arrived in Tasmania by searching on the date (Feb 1840) and the ship (HMS Buffalo).