Spring arrived this year on March 19 – but many of us are still not on the River because it is just too cold.  However,  the river is waking up!  I promise…  In fact brothers Brad and Tim Millar from Brockville  already captured the spirit on March 30, 2013.


Sincere appreciation to Brad and Tim Millar and the 1000 Islands Jet Ski Crew for sharing the "First Ride of the Year" [YouTube]   Tell us how you liked the ride!
Current Issue
Anthony Mollica explains the The Enduring Popularity of Lyman Boats and Karen Wand tells the story of Jack Malette and  Tomahawk.
John Taylor asks Imagine the Thousand Islands without shoal markers… .  Michelle Caron writes "Riverlicious"and the Grenville Brewery and the Dewar Inn on the River, which is for sale.  Brian Johnson tells us about Flying Solo; the Felicity McKendry story because Felicity's first solo was at Kingston airport 62 years ago this month.
Memories are not forgotten in Mike Fesko's Clayton, Tour Boats, Alexandria Bay – 60's Style and Philip Jellie's Bringing Back River Memories which came to light through a comment made on a November '12 article.
Dr. Richard Withington conducts  the Spring Symphony  while Lynn McElfresh links her Scottish holiday with the 1000 Islands in  Her Majesty's Royal Yacht.
Dr. John Carter presents The Burning of the "Sir Robert Peel"… linking the Patriot Chronicles with a modern-day diving world photograph provided by Dennis McCarthy.
Michael Folsom  returns this month by providing  Summer 2013 – We are underway, introducing St. Lawrence Seaway news as well as the upcoming Sailing Seaway Clayton 2013 event and Alicia Wanless presents TALL SHIPS 1812 Tour in Brockville, which is the most ambitious event to help celebrate the centennial War of 1812 in the region. 
And are you afraid of spiders?  You may not be after Tom King presents "Dock Spider" - Friend or Foe?
Dennis McCarthy captures a perfect early Spring River day.  Yes, that patio is just waiting for the summer people…
New Contributors
Philip Jellie –  Bringing Back River Memories

Philip Jellie was born in Gloversville, NY, and currently resides in Manchester, NH with his wife Barbara, 3 cats, and dog Bella.  He has been involved in the construction trade for over 30 years as a painting contractor.  He enjoys fishing and vacationing at the St. Lawrence River, photography, and cycling.

Philip left a TI Life Comment on William J. Elliot's Bridge or Ferry? published in the November '12 issue.  He started to bring back his River memories, so we asked him to share.

Karen Wand - Jack Malette and Tomahawk



Karen Wand and her late husband, Rick, lived on the West Coast for many years before returning to the Thousand Islands to be near her family. The theme of family played a significant role in Karen's wish to honor her husband by researching with painstaking detail the story of Rick's great uncle, the talented local boat builder, Jack Malette. Her appreciation of unsung heroes comes through in her writing.

This is the first article written about Jack Malette, and we hope it is just the beginning because his artistic water craft are well recognized.

Brad  and Tim Millar - "First Ride of the Year" 

Brad (l) and Tim Millar (r) started the 1000 Islands Jet Ski crew in February with a goal to find local stand up jet ski riders and get together to push each other to improve and enhance the sport.  They are planning more excursions this summer and will capture those exciting moments on video.   Visit them on Facebook:  1000 Islands Jet Ski. 
Kim Lunman writes for BoatU.S. Magazine
A great article in the April/May issue of BoatU.S. written by Kim Lunman.  Her article has received well deserved praise and once again demonstrates her passion for the region and her award-winning writing style.  The magazine's cover features Ian Coristine's  photograph of Raleigh Island.  His photographs also illustrate Kim's article.  Be sure to pick up a copy at a news counter today.  
Excerpt:  A HARD START
"What If Island came with an aluminum boat named The Red Fisherman. There was only one problem: I didn't have much experience driving a boat. Bob, who rented me the island, gave me a few pointers and a test drive. The mainland dock was near the village of Ivy Lea and the 15-minute voyage to What If seemed an eternity. I held my breath and steered carefully behind tour boats of  camera-toting tourists that left Stella, clad in a neon-yellow dog life jacket, and me bobbing in their wake. Sometimes it seemed impossible to get the pull-cord motor on The Red Fisherman to start. On trips back to the mainland, I had to get through the choppy current running among a string of little islands including Virgin Island with a statue of the Virgin Mary perched atop a hill. "Hail Mary," I'd mutter as I passed the statue toward Smuggler's Cove and braced for my clumsy docking attempts, which involved slowing right down, bumping the dock, killing the
engine, grabbing the dock for dear life — and hoping for no witnesses…"
| | |
| --- | --- |
| | |
Appreciation to BoatU.S. Magazine, the flagship publication of BoatU.S., the largest boaters' membership organization in the United States, offering service, resources, representation, and a vast array of marine discounts. www.BoatUS.com
Water levels
Two updates on water levels were provided in the last two weeks.  The first was featured on Chanel 7 WNYF news on Friday, April 5, 2013.   After interviews with Bonnie Castle's Nick Schaefer, sales manager and Lonnie McAlister, harbor master, we learned that the current level is approximately eight inches below the norm at this time of year. 
The second update comes from the Sunday, April 14, 2013 Watertown Daily Times article: "Expert says water levels expected to be higher this year".   Information came from a panel discussion held at the Clayton Boat Show.  George V. Cotroneo, a representative of the International St. Lawrence River Board of control, predicted that Lake Ontario is going to reach its long-term average level sometime in June. 
Note:  TI Life is looking for volunteers who will help monitor water levels with information, photographs and expertise. Contact TI Life Editor: Info@thousandislandslife.com 
Gananoque Front Dock
When we inquired about the status of repairs scheduled to be made to Gananoque's front dock we received this from Robert W. Small, Chief Administrative Officer, "Thank you for your enquiry regarding the Town Dock.  In 2012 the Town was advised that the Town Dock needed major repairs. To that end the Town has know engaged the services of an Engineer who is preparing  plans to send out to tender later this spring.  We expect that once a contract has been awarded the project will be completed within one year."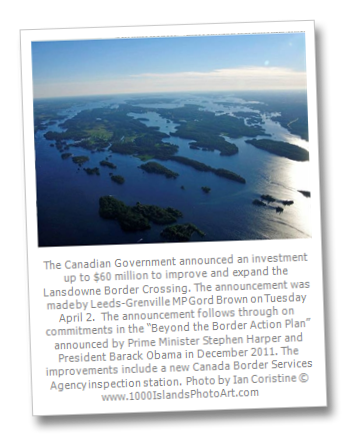 Singer songwriter, JPShaggy, reached his goal on Kickstarter  - thanks to his many friends and fans.  Those who supported his efforts learned he has 69 backers and raised $6,608 on a goal of $5,150.   "Johnny Trusdell", author of There's a 1000 Islands Calling My Name… article in our March 2013 issue will keep us informed.  Congratulations to all.
A Sample from our Readers' Exchange

, March '13
On behalf of the TI Life Team, thank you for your comments.  They are helpful and often lead to new stories about our 1000 islands.
TI Life in March '13 – by Susan W. Smith
Chippewa Bay sunset by Sue Rizzo features my family's dock and boats. but more importantly -- my old dog Scooter. i miss him dearly. The river is not the same w/o him. David Ditterline ( Syracuse, NY )
"May Irwin Gives Up Home to Join Hubby at Farming" by Karen Killian
Excerpt from comment:  …What wonderful warm memories flood back to me with the reading of this story! Our family lived and I was raised on the banks of the St Lawrence River at Brockville , Ontario. My grandfather was David Morgan Sherman, a blacksmith and noted sulky horseman on both sides of the river. Though  I never actually met him because of his sudden passing when my own Dad was twelve... the stories of my Grandfather's life were passed through my Dad's vivid recollections.  One of those "Grandfather Sherman" memories involves a link  to this story of May Irwin. May Irwin, until this article entered my life was just a name - a vapid ghost that had no connection to my life... except through my Dad's stories. The story as related by my Dad develops more tangibility however because of an actual object which physically links David Morgan Sherman to May Irwin. My Dad owned... and showed me often a gold pocket watch which was engraved on the back with a message which more or less read: " This watch is given to David Morgan Sherman on the occasion of his setting the World Record for sulkies on ice at Clayton, NY  (Date) driving the horse of May Irwin." It had been given to him as a gesture of thanks by May Irwin and became one of my father's greatest mementos of his Dad's life and achievements….Bruce Sherman (Rockport, ON)
A Winter Wake on Wolfe Island… – by Brian Johnson
Thanks, Brian Johnson - again! Personal stories are so important to our Canadian history in general, and our local history in particular! This one about crossing the frozen lake awoke in me a memory of conversations - usually around the table, after a meal - about my grandparents (Sadie & Craig Russell) who crossed by car with the doors open (did they take them off?). I remember someone saying that they knew to avoid dark spots on the ice, lest they plunge into the deep. These stories are our oral history: Don't stop!!  Joan Russell ( Montreal )
Clan St. Lawrence River – Lynn E. McElfresh
Many years ago my grandmother made a shirt for my grandfather using the St. Lawrence tartan. She made a shirt for herself using the Maple Leaf tartan. When they both passed on, I inherited these shirts. Unfortunately, moths had gotten to them. But, there was enough fabric to make an angel that still hangs on my living room wall. It reminds me of them, the River, and my Scot heritage (I am a Clan McPhearson). Debbie Hull ( Syracuse, NY )
GE at Carleton Island – by Timothy W. Lake
Fascinating story. As a college student in 1956 I worked on Association Island as a part of the entertainment crew helping with lighting and stage management for the small group of performers hired for the season. Conference sessions for GE executives lasted two and a half days. We staged five shows for each session, one each for lunch breaks and a "dinner show" that followed the evening meal. The final show was the "good by" production just before conferees left the island. A small but serviceable stage was set near The Black Cat bar where liquor flowed more than freely as noted in the story. Some of the cast members lived on the island while others, myself included, were housed in a large building on the mainland in Henderson Harbor. Transportation to and from the island was by two passenger boats, The Claverack and The Islander. Newer versions, I discovered, of earlier craft bearing the same names. There was also a work boat, a converted wartime LCM, named Elsie M. Logical. I did not know until reading this story that 1956 would be the final year of operation by GE. Deane Parkhurst ( Olathe, KS )
Memories of the Rideau by Tom King
Brings back many memories of one of my favorite places. Locked up and down many summers in a row. Chaffey's and Brewer's Mills were favorite spots. Although I haven't boated on the Rideau in years we still on occasion take a drive to Jones Falls to have lunch at the Hotel Kenney. Another great article Tom. Thank you. Ted Bradford ( Syracuse - formerly Gananoque )
---
Wanted:  Please get your cameras ready! Assignment for May:  May flowers, boats of all kinds, and the first fish caught, or the first BBQ… to info@thousandislandslife.com
The photographs below represent Spring 2013 – thanks to our facebook followers.
Conclusion

Be sure to check our facebook page throughout the month,  as we post information and photographs . Follow us on Twitter

  Send us your tweet tag and we will start to follow you.
Do you write about the River  - near to it, from above or below?  If so, please consider submitting an article.  Let us know what you like, or dislike, about TI Life  so we can share more ideas.
By Susan W. Smith, Editor  susansmith@thousandislandslife.com
Special thanks to our editors David Ray, Georgia Barker and Jane Taylor.  We also thank those who leave comments on our articles or ask questions. The more the better.