This July 2nd, 2017, Mini Edition of TI Life pays tribute to the 50th Anniversary of the Thousand Islands Arts Center ~ Home of the Handweaving Museum.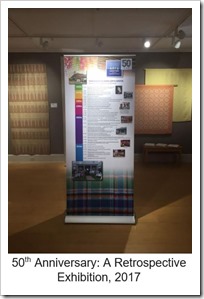 We in the Thousand Islands have a great deal to be thankful for. The River, the views and most of all friends and neighbors. But there are places that help bring a community together and in the case of the Thousand Islands Arts Center, provide an outlet for creativity. Therefore we, whether we have or do not have any creative talents or skills, send our congratulations, on this the 50th Anniversary, to the Thousand Islands Arts Center ~Home of the Handweaving Museum.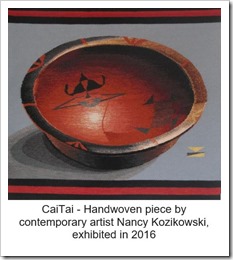 Obviously, an arts center relies on strong leadership and dedicated trustees and donors, and it is those men and women who have worked tirelessly, over the last 50 years, who made a difference. We thank them most sincerely.
Mini Issue:
The 50th Retrospective includes the Video produced by Elaine Vedette Tack;
Celebration Events by Jessica M. Phinney; How it all began… by Susan W. Smith.
Tea at Miss Post's Cottage–July 12, 2017 by Caroline Holt Larson; There's an Arts Center in Clayton? by Judy Foster and Tributes from Friends… put together by Chris Murray
We conclude with An interview with Sonja Wahl, Curator Emerita, by Elaine Vedette Tack;
New Contributors
.

Jessica M. Phinney - Celebration Events

Jessica M. Phinney was born and raised in Clayton, NY. She earned her BA in anthropology, from St. John Fisher College, Rochester, NY. She began her graduate work, also in anthropology, at the University at Albany, SUNY, where she earned her MA in 2009. Jessica moved back to the North Country, in 2010 and worked at the Antique Boat Museum and the Jefferson County Historical Society, in Watertown, NY. She joined the staff as Curator of the Thousand Islands Arts Center in 2015.

Leslie W. Rowland - 50th Retrospective

Leslie W. Rowland Joined the Arts Center, as interim Executive Director, in June 2013, and became Executive Director, in January 2014. Previously she was the principal of LWRPR LLC, an independent consulting firm, in Central New York. Before founding LWRPR in 1999, she was District Director for U.S. Congressman Sherwood Boehlert and also spent a decade in the airline industry. Leslie has spent most of her summers in the Thousand Islands and moved to the River year-round, in 2012.
Caroline Holt Larson - Tea at Miss Post's Cottage–July 12, 2017

Caroline Larson, grandniece of Emily Post, is a lifetime summer resident of Grindstone Island. In the early years of the Craft School, she took Pottery and Early American Decoration classes. Currently, Caroline is reviving her weaving skills, on Aunt Emily's loom, at Long Point. She and her husband Ken are enjoying teaching their new grandson, Shep, to be a 5th generation River Rat.

Judy Foster - There's an Arts Center in Clayton?

Judy Foster is a longtime North Country resident and a Trustee of Clarkson University. She lives in Philadelphia, with her husband John Glick, and is on the Board of the Philadelphia Orchestra, but she spends as much time as possible at her house in Clayton.
About the Arts Center
Thousand Island's Arts Center, featuring a Weaving Studio, Potter Studio, Rotating Art & Textile Exhibitions, has an amazing Textile Collection and maintains a Library and Archives. This year, there will be over 90 adult programs, 20 classes for youth and a Kid's Camp, during July and August.
Simple instructions: Visit!
When: Open Monday - Friday, 9-5; Saturday 10-4 (summer months only)
Where: Thousand Islands Arts Center, 314 John Street, Clayton, NY 13624.
More Info: wwwTIArtsCenter.org.
Please Don't Forget
We certainly appreciate having you hit our
button at the top of each article and Support TI Life – although we: Authors, Photographers, Proof Readers and Editors – including this one(!) all publish TI Life as Volunteers. However, there are costs, including our Email Program - Constant Contact, and the fact that we must update all software, now working in its 10th year.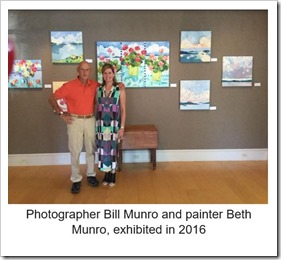 We also encourage you to Remember our Facebook page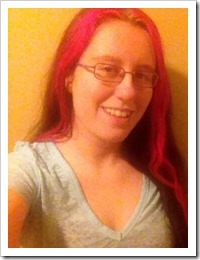 throughout the month, as we post information and photographs & follow us on

Please take your camera out on the River and capture River life for us. Send them to info@thousandislandslife.com.
And, this Editor is looking forward to receiving new submissions throughout the year. I bet our readers are too!
Special thanks to editor Bill Stallan and proofreaders Rick Taylor and Georgia Barker. I especially thank Mike Cox who is the magician behind the website. What a team …
By Susan W. Smith, Editor, info@thousandislandslife.com