Hurricanes Harvey and Irma have brought terrible hardship to our friends in Texas, Louisiana, the Caribbean Islands, Florida and bordering southern states. Of course, snowbirds may be affected by either destruction or the constant worry about friends and family. Words mean little at a time like this, so we will simply wish that you and yours are safe and that you can carry on with your winter plans.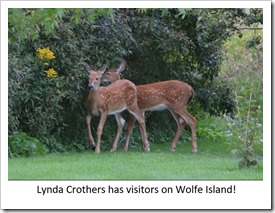 The end of the summer is a reminder to take photographs home for the winter. We collected several for you already.
This Month's Issue:
Two articles relating to our Island shipping; Tom King presents Island Wanderer, Name for the Ages; and Brian Johnson shares Launching a Ship was a Family Affair in 1871, a chapter from his soon-to-be published, "Ferry Tales from Wolfe Island".
Lynn McElfresh began the season with The Year of the Boots in June, and completed the season in September with Boot-Free at Last! Raymond Pfeiffer remembers Summers of Work on Hickory Island.
Ornithologist, Gerry Smith, provides High water 2017 is for the birds and it is!; while Thomas Cardamone shares his Essay: River Pilgrimage.
Love your island breakfast? Clarissa Rogers gives us To Wander in Fruitless Circles.
I have the pleasure of paying tribute to Edith Lunt Small in Capturing the River in No Small Way. I also pay tribute to Rex Ennis and his wish to preserve history and believe it or not; I can link Rex Ennis, the Manton Family and a Small World to my favorites – buttons!
And we thank Dan LeKander for giving us another challenge: Sudoku Puzzle #29.
New contributors
Thomas Cardamone - Essay: River Pilgrimage

Tom Cardamone has been returning to the St. Lawrence River since the 1950s. He holds a Master's Degree from the College of Forestry and Natural Resources at Colorado State University and a Bachelor of Science degree from Hamilton College. He served as Executive Director of the Aspen Center for Environmental Studies for over 30 years. Tom's beginnings at ACES go back to 1975 when he joined his wife Jody (ACES' first Director) as Co-Director and then became ACES' Executive Director in 1982.

Raymond Pfeiffer - Summers of Work on Hickory Island

Professor of Philosophy Emeritus from Delta College in Michigan, author of three books and over twenty scholarly articles, he is a lifelong summer resident of the Thousand Islands, sailing his St. Lawrence skiff at every chance, residing on The Punts Islands, and writing daily. An active member of the community, Raymond has served on the Board of the Arthur Child Heritage Museum and is currently serving on the Board of the Half Moon Bay Foundation.
A River Champion, Annie Gefell
Our thanks to Phil Amsterdam for posting on 1000 Islands River Rats Now and Then Facebook page, a tribute to Anne Gefell, who died September 2017. He also posted a number of photographs from the past relating to Anne and her tremendous passion for preserving the St. Lawrence River.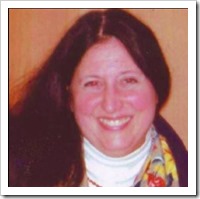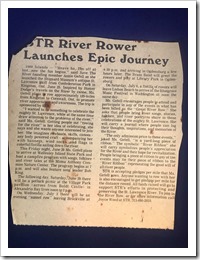 His comment reflects the high esteem to which Anne was held. "River Rats have lost a charter member. Anne Gefell passed away this weekend in NYC. She was one of the most kind people I have ever known. She was a grand and great friend of my sister Carol Amsterdam Fornari. At the River, they were part of the group that started SAVE THE RIVER. ... T. Tony Menkel wrote in the T I Sun on July 3, 1985, that Anne was rowing from Kingston to Massena as a 'demonstration of what one person can, with an idea and the commitment to sharing this idea with others, do.' Anne certainly demonstrated that commitment."
This editor served on the Board of the Save the River back in the late 1980s, and I remember this beautiful lady and how she brought a passion for the River to the boardroom table at every meeting.
Andrée Robitaille Wood
It was almost a year ago, in November 2016, that I met Andrée Robitaille Wood. Her daughter, Melissa wrote to say her mother had some wonderful stories. We published one of them… Don't go to the Castle, ever…, an article that received numerous comments. This month we learned from her daughter that Andrée died on August 9. "It is with a heavy heart that I share with you the news that my adorable and adventurous mom, Andrée Robitaille Wood, died peacefully at home on August 9, 2017. Ironically, it was just a few days after our receiving word from you about the follow-up from the owner of Maple Island! I shared that news with my mom, and she was joyful to know that we could learn more about her beloved former home. We imagine Andrée is paddling around the St. Lawrence with her beloved sister, Irene Robitaille, with whom she shared so many happy, idyllic summers all those years ago.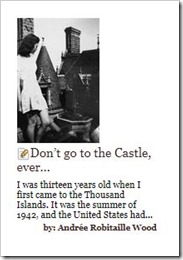 Comment by: Lynn Grochau Hanzakos
Left at: 6:58 PM Thursday, August 3, 2017: My Sister just came across this story, and I am thrilled beyond words! And for reasons you may find hard to believe, so if you aren't sitting down, I suggest you do so. Here goes....
My parents are the folks who BOUGHT MAPLE ISLAND from your uncle! Yes, it's absolutely true and as proof I'd like to provide information that wouldn't be known by anyone else unless they lived there; as you faced the houseboat the kitchen was all the way to the left, living room at the other end way to the right, a big open area was on the second floor, there was a long workshop attached to the boathouse, a wine cellar, air raid shelter, freezer room. A couple of solid wood/concrete benches facing the channel, I would imagine that by now you realize I am "for real." ! would so very much like to talk to you and I'm sure we both would have a wonderful time reminiscing about that wonderful Maple Island! There is no other place like it and of course The St.Lawrence River, too!
Holmes on Homes… in the Thousand Islands
Yes, you were right if you thought you saw Mike Holmes in the Thousand Islands. He was here this summer and tweeted, "Heading east to the Thousand Islands today to start an exciting new project. Anything I should see while I'm here? Check out the dozens of suggestions. We must stay tuned to see when and where the program will air.
Fire in Alexandria Bay
As we go to press, we learn of the devastating fire in Alexandria Bay on… when a large portion of the Boardwalk Motel, located on Walton Street, caught fire. The owners posted on their Facebook page, "It is with great sadness that I post this. There was a fire at the Boardwalk Motel tonight. Everyone is safe, and we will rebuild. Thank you, everyone, for your thoughts and prayers."
We join the many community members and visitors to The Bay in wishing the rebuild will be a speedy one. The comments being posted prove this is a favorite destination in the Islands.
Gananoque's Bruce Davis
It is with sadness that we learn that Bruce Davis, is stepping down as President of the Gananoque Brewing Company. He wrote on the company Facebook page, "On the personal side I aim to spend more time in Kingston and Toronto with family and on my other business ventures and writing. For the past two years I have expanded my consulting work in Toronto and I anticipate that the next year will require me to spend increasing time away from the brewery and Gananoque."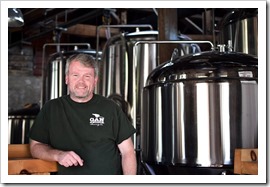 "Going forward I will remain on the Board of the Gananoque Brewing Company as the majority shareholder and will focus my efforts on strategic issues, finance and increasing the company's profitability. Although the company has made great strides since we first began as an idea in 2011, we have not yet attained the financial sustainability envisioned in our Mission Statement. Our creditors and investors have been very patient and I am hoping that in my new role I can help to unlock the value that we have established in our beers and our brewery."
"My partners, especially Dr. Scott Peterson, our Chairman, have been very supportive and patient and I look forward to working with them in my new role."
This editor is only one of the many Bruce Davis fans; we want Bruce to know we appreciate all he has done for the Gananoque community, and we look forward to hearing of his next escapades. Best wishes Bruce and we know you will never be far away.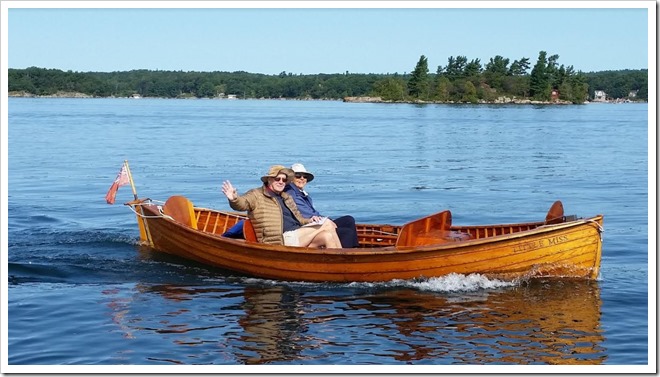 A Dispro (disappearing propeller boat) going down River, near Lyndoch Island. They were part of a regatta held by the Dispro Owners Association at the Glen House. Also known as a "Dippy", these boats were a Canadian invention built between 1914 and 1958. The unique feature is its disappearing propeller, which will retract into the boat, preventing damage if the prop hits an object. For more information see: The Dispro Owners Association
Photo by Dane Zabriskie
Please Don't Forget
We certainly appreciate having you hit our button
at the top of each article and Support TI Life – although we: Authors, Photographers, Proof Readers and Editors – including this one(!) all publish TI Life as Volunteers, there are costs, including our Email Program - Constant Contact, and the fact that we must update all software, now working in its 10th year.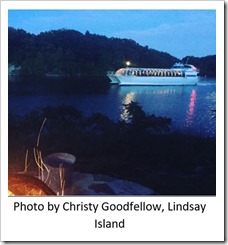 We also encourage you to Remember our Facebook page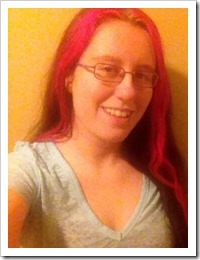 throughout the month, as we post information and photographs & follow us on

Please take your camera out on the River and capture River life this Fall for us. Send them to info@thousandislandslife.com.
And, this Editor is looking forward to receiving new submissions throughout the year. I bet our readers are too!
Special thanks to editor Bill Stallan and proofreaders Rick Taylor, Georgia Barker and a new member Dane Zabriskie. I especially thank Mike Cox who is the magician behind the website. What a team …
By Susan W. Smith, Editor, info@thousandislandslife.com