Wouldn't you know it – Canadian Thanksgiving and US Columbus Day weekend the weather was terrible. Saturday night and Sunday saw gale-force winds and the Monday brought over five hours of rain! but the last month, from mid-September to mid-October Mother Nature brought glorious days, for that we say thank you.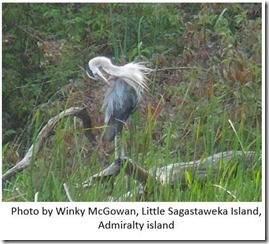 Now it is time to close up! And of course to enjoy our October issue.
New Contributors
John Scott Cowan – Hill 70 and Canadian Independence

John Scott Cowan studied physics and physiology at Toronto. A post-doc at Laval University preceded 24 years at the University of Ottawa as professor, chair of physiology, and then vice-rector. Vice-principal at Queen's University before becoming principal of the Royal Military College of Canada (1999-2008), he has also worked extensively in labour relations, and has flown some 60 aircraft types. Research in physiology co-existed with defence issues, starting with a 1963 monograph on defence policy. Recently he has focused on asymmetric threats, piracy, the characteristics of the profession of arms, and defence education. He was president of the CDA Institute 2008-2012, and chair of the Defence Advisory Board of Canada 2010-2013. In early 2017 he retired as the Honorary Colonel of the Princess of Wales' Own Regiment.
Wayne C. Strauss - Renaissance at River Hospital and Autumnal Elegy

Wayne C. Strauss is Vice President of OppenheimerFunds, Inc., and works directly with the Oppenheimer Municipal Investment Team located in Rochester, New York. An attorney licensed to practice in the State of New York, Wayne also holds several securities licenses. He has served on the Board of Directors and as a Proctor for Rochester Area Mensa, and is currently a member of the adjunct faculty of St. John Fisher College in Rochester. An Eagle Scout and member of Toastmasters International, he spends as much time as possible aboard his boat "Convexity," in the Thousand Islands.
Maggie Wheeler - Walking in the Steps of History, with Maggie Wheeler

Maggie Wheeler is the author of the best- selling "Lost Villages" historical murder mystery series, which has garnered a nomination for the Ontario Premier's Awards for the Arts, an Ontario Provincial Hansard, and the "people's choice" Seeker's Award for Literary Artist of the Year 2013. Maggie had completed her fifth Lost Villages novel with the generous support of the Canada Council for the Arts. In January of 2017, she was named Ottawa's Favorite Author (female) by FACES Magazine.
Nick Wolochatiuk - Fifty Ways to See the River…

Nick Wolochatiuk and his wife attended the special service held at Half Moon Bay on August 9, 2017 in their Canoe which is covered with decals from their dozens of excursions. We asked him to share his story with TI Life. A teacher for more than 30 years and an accomplished writer as a reporter with the Cornwall Standard Freeholder and he remains a regular columnist for Cornwall's Seaway News. We found a most interesting blog post too: The Travels of Nick and Larry — Chasing the Fairchild C-119. Next summer we look forward to their coming back often to our part of the St. Lawrence River.
Special announcements
The Northern New York community Foundation announced in September the establishment of a geographically-special, permanent charitable Foundation. The Cary and Janet Brick Riverside Foundation, will provide grants to support initiatives with a focus on young people, seniors and first responders. The Foundation will have a special emphasis on supporting Clayton's Hawn Memorial Library and advanced training to develop skills for first responders.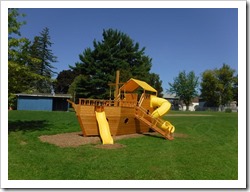 We also thank Melody and Kenneth Brabant for their marvelous gift to the Village of Clayton. the Brabant's raised funds to cover the entire cost of the equipment, delivery and installation of a Pirate Ship now sitting in the Lions Field Playground. The Village Board signed a pubic letter in the newspaper, saying "We want to express our sincere gratitude to them for their efforts on behalf of the area youth and their inspiration in finding ways to bring people together, such as the Sunflower Patrol, the Snowman Contest and the Sliding Hill at the Lions Field each winter!"
River Losses
We learned of the deaths of three important Islanders, Robert Matthews, Mark Russell and Mark Hummel this month and as we go to "press" we learned of two more, Mary Randazzo and Richard Macsherry, both to whom we will pay tribute in our November issue.
The news of Dick Macsherry's passing was sent by Jake Tibbles, Executive Director, Thousand Islands Land Trust. He wrote, "Dick and the entire Macsherry Family have been wonderful champions of the River community and the many non-profits and charities that serve so many. Whether it has been through the support of our hospitals, churches, performing arts, educational programs, environmental programs, etc., Dick has improved the lives of almost every single person who calls the Thousand Islands home."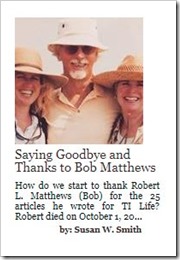 Robert L. Matthews, 1933-2017, Fishers Landing
Robert (Bob) Matthews died at this home in Fishers Landing on Sunday, October 1, 2017. (www.legacy.com) Bob played an integral role in the production of this Thousand Islands Life Magazine by producing over 20 articles. I have the bitter-sweet pleasure of thanking him and providing a link to each of his articles. As I put together this tribute, I was reminded over and over, what a great gift he gave to us by sharing his research.
See "Saying Goodbye and Thanks to Bob Matthews."
The best part, he gave me more than 100 illustrations and photographs for future articles! Thank you my friend, we will miss you.
_______________________________________________________________________________________
Mark Russell, Age 62, Hay Island, Admiralty Islands
Mark Russell suffered a heart attack two weeks before and his family thought he was on his way to recovery when he suffered his final attack on Sunday October 1, 2017. Friends and family met on Hay Island on Saturday, October 7 to pay tribute to Mark who was well-known and well-respected in the Gananoque region. He was 62 years old.

Mark first came to Hay Island in 1956 as a six-month-old. The family summered on Hay Island every year thereafter. His mother and father purchased the Cedar Nook Girls Camp property, originally owned and built by the Lewis family of Virginia Beach, VA in 1968. Mark and his three siblings continued to spend as much time there as the seasons allow. His time away from the River has been consumed by raising three now twenty-something children and working in industrial investment banking and business development.
Mark wrote five articles for TI Life and provided photographs recording winter on the River for our Facebook page. But the article that I will remember and wish to share again, is most appropriate for our October issue. I hope you will enjoy it today, as much as I did when we published it in November, 2013.
Closing Up is Hard to Do
Written by Mark R. Russell posted on November 2013
Let's face it. We're in love.
For many of us, this romance began when we were old enough to wriggle into a life preserver. We didn't know it then. What we did know was that this River of ours drew us back from all over the world to hold Her hand from late March to early October. How do we know Her love?
She caresses us with her early morning summer fogs. She engages us with the kindness of Her late afternoon chop as the day fades to twilight. Then She lullabies us with the brilliance of Her sunsets as the flaming shadows and purple lights descend upon us from out towards Wolfe Island and Kingston beyond.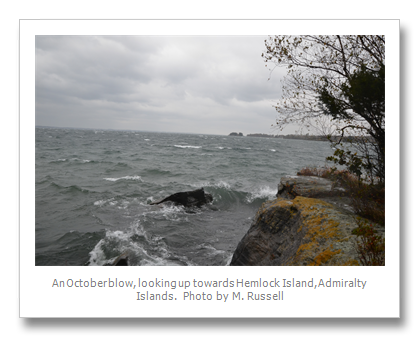 But our love is more than a summer whisper.
We are the shoulder season people….Continue
Mark Hummel – Age 60, Clayton, NY
Mark Hummel died after a long battle with cancer. He lived and worked on the St. Lawrence River for the past 25 years after "Falling in love with the area during family vacations. He was a gifted craftsman and has left his stamp on many River projects."
Several friends paid tribute to Mark Hummel on their Facebook pages, allowing those of us who did not know Mark personally, to learn more about this well respected friend. One, by Rick Gregware, Northern Marine, says it all, " I can't begin to say what Mark has meant to me over the past 25+ years. We have worked on so many projects together, I couldn't name them all. He was always excited about starting a new job and never lost that enthusiasm until it was done. Mark was in his element on the River, whether it was driving that old Starcraft or pushing a barge full of materials to one of the islands. The River and the marina will never be the same without you there. RIP my friend."
______________________________________________________________________________________________________
Family Album Photos
Our thanks to James Nelson for sharing photographs he found in a family album on the 1000 Islands Then and Now Facebook page. (Reminds me to ask others to go through their albums and share special photographs with TI Life.)
James wrote: "Early days...probably '37....the U.S. span..." Then the comments came. Iris Waterson: "My father Gerald Reed hauled the steel for the bridge. It came in by rail to Clayton where he loaded it onto a trailer for transport to the site. Remember my parents talking about the opening day when President Roosevelt came and what a big deal it was," and Julie Senecal Hart,"My grandfather helped build that. The stories he would tell me!"
| | | |
| --- | --- | --- |
| | (Click to enlarge, use arrow key to return) | |
Thinking Christmas?
T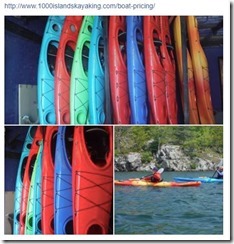 thinking of an ideal Christmas Gift? 1000 Islands Kayaking in Gananoque is selling off their used Kayaks. "Used Kayak Sale! It's nearing the end of the season and we are selling off our used kayaks. Kayak prices starting at $900.00. Used gear packages can be purchased for $250.00. Check out our website for up to date prices and availability. Call our office today to arrange for a free test paddle." http://www.1000islandskayaking.com/boat-pricing/. See Facebook: https://www.facebook.com/1000-Islands-Kayaking-216768505007875/. Also, check out their website to plan for next summer excursions.
Get Well Soon!
We send our best wishes and a get-well soon message to Bill Stallan, our TI Life editor. It is Bill who catches all the times I put in two spaces instead of one; he adds commas, checks internet links and most of all corrects my spelling! He is in the Kingston General Hospital but will be home soon. They say it takes a village to raise a child and if so, Bill is our Mayor!
Please Don't Forget
We certainly appreciate having you hit our button
at the top of each article and Support TI Life – although we: Authors, Photographers, Proof Readers and Editors – including this one(!) all publish TI Life as Volunteers, there are costs, including our Email Program - Constant Contact, and the fact that we must update all software, now working in its 10th year.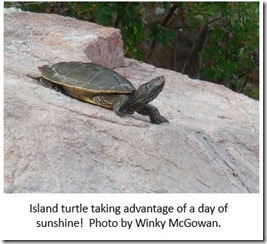 We also encourage you to Remember our Facebook page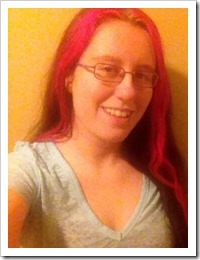 throughout the month, as we post information and photographs & follow us on

Please take your camera out on the River and capture River life in late Fall. Send them to info@thousandislandslife.com.
And, this Editor is looking forward to receiving new submissions throughout the year. I bet our readers are too!
Special thanks to editor Bill Stallan and proofreaders Rick Taylor, Georgia Barker, Dane Zabriskie and this month Janet Sullins. I especially thank Mike Cox who is the magician behind the website. What a team …
By Susan W. Smith, Editor, info@thousandislandslife.com