How do we start to thank Robert L. Matthews (Bob) for the 25 articles he wrote for TI Life? Robert died on October 1, 2017 at home in Fishers Landing, with his dear Prudence by his side. In his obituary, printed in the "TI Sun," the Matthews asked that donations in his memory be designated to TI Life. It is hard to put into words our appreciation, so right now I thought it would be appropriate to look at what he so generously gave to us: a passion to preserve 1000 Islands history.
At the end of his 25 Articles I would always place his short bio:
Robert L. Matthews is the author of two popular books: "Glimpses of St. Lawrence Summer Life: Souvenirs from the Thousand Islands; Robert and Prudence Matthews Collection," and "A History of the Thousand Islands Yacht Club," published in 2009. He and his wife, Prudence, (well known River artist whose work was presented in Hooked on Prudence in 2009,) have one of the most extensive collections of Thousand Islands memorabilia. When not at their beautiful River cottage at Fisher's Landing, they live in St. Petersburg, Florida. Click here to see all of Robert's TI Life articles.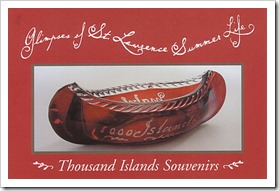 Yes, those two books are what I call research GOLD. The souvenirs collection was enjoyed for many years while on loan to the Antique Boat Museum. And over the past decade, since I took over as editor of the Thousand Islands Life, I have received many inquiries to ask Bob what he knew about a particular piece of china or glass. He copied me on one answer he gave. "Joyce, he wrote, 'when my wife and I first started to collect, a man wrote from Florida asked if we had any Florida souvenir china...........my reply was 'no' and by the way 'what was souvenir china?'" His reply was, "when you find out you will be hooked for life.........I thought, 'he obviously didn't know what he was talking about...' Ha, not much - so be careful."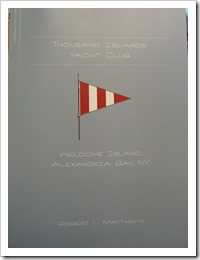 And my "History of the Thousand Islands Yacht Club" is dog-eared, as I often hastily reach for it for more information about a particular River family. Yes, Gold for sure.
But unlike many of you, I am the one who got to read Bob Matthew's material first. It usually came as: "Not sure if this will be of interest but… "and then there they were – a special story linked to a River subject, complete with 10 – 12 historic illustrations.
And what did we learn? I could not begin to do justice to all the incredible material Bob Matthews shared over the past years. So how about I give you 25 facts…something from each one of his articles?
All I ask is for you to find what interests you – then click on the link and learn more! Our way of thanking Robert L. Matthews for his time, effort and most of all, his willingness to share.
[25 excerpts from TI Life articles by Robert L. Matthews. All pen and ink illustrations are from the collection of Robert and Prudence Matthews, Fisher's Landing, NY. (Click on image to enlarge, and use your arrow key to return)]
1. The Man from Shady Ledge, January 2010.
(Frank) Taylor's first Thousand Islands project was a full page collage illustrating various River scenes including cottages on Round Island. If you're fortunate enough to view this page in the August 13, 1881 issue of "Harper's Weekly," you will notice that at least two cottages have experienced little change to their outward appearance and are still recognizable after almost one hundred and thirty years.
The 1884 book ("Glimpses of St. Lawrence Summer Life"), pictured at the right, was written and illustrated by Frank H. Taylor. Thirty of the one hundred and ten pages were devoted to the Thousand Islands and contain some very interesting information pertaining to that era. The cover and the illustrations below from the book are early examples of his art work.
Howard Pyle was born in 1853 in Wilmington, Delaware and at twenty three was given a job with Scribner's Monthly. One of his early assignments was to write an article on the Thousand Islands. He spent a month sketching and taking notes while he stayed at the Thousand Island House in Alexandria Bay, N.Y. His finished work was titled "Among the Thousand Islands" and was published in the April 1878 issue of the magazine.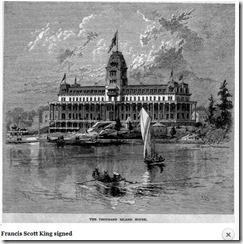 (Julian Oliver Davison)
As a youngster Davidson took a number of sea voyages to Cuba with his father. Later, when he was seventeen, he hired on as a crew member aboard an ocean going steamer that was the first American ship to pass through the Suez Canal. Davidson loved the sea and these experiences provided him with a strong nautical background for his art. He is well known as a naval illustrator but it is his oil paintings that have earned him accolades. He painted on canvas, specializing in historic maritime scenes such as the Battle of Lake Erie and naval engagements of the Civil War. Davidson did extensive research prior to painting these scenes. Some of his work was done on large canvases fifteen to twenty feet long. Years ago, one such painting hung in the Plaza Hotel, New York City but its whereabouts now is unknown. In fact, some believe over half of his paintings have yet to be discovered. Museums fortunate to possess his art today include the Erie Maritime Museum, the Hudson River Museum and the United States Military Academy Museum.
"Summering Among the Thousand Islands" was written by E. H. Roper for the September 1881 edition of Harper's New Monthly Magazine. While the article itself is of interest, it's the artists and illustrations, which will be focused on here. Due to the number of illustrations, this will be divided into two parts with part two appearing next month.
Cocks' third illustration titled "Poplar Bay" [shown below] was located in Westminster Park. Roper wrote that river pilots marked the location as "Poplar Bay" since a group of five poplar trees lined the banks of the bay. During his assignment to write the article, Roper stayed in the Westminster Hotel which he called "our summer home". He further claimed, "The location is unquestionably the finest in the Thousand Islands."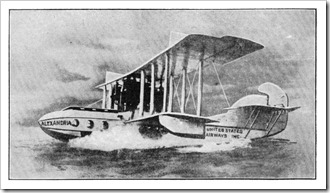 The insert claimed "United States Airways Inc." had been incorporated under the laws of the State of New York with Warburton as its president. The first plane would be a model HS-2 float plane, powered by a 400 horsepower Liberty engine. There would be room for six passengers. Regular flights would be scheduled between New York City and Alexandria Bay [during the summer season]. Other destinations, such as Toronto and Montreal, were under consideration. Service was due to begin the middle of June 1920.
"Camp Grindstone," written by Henry Eckford and illustrated by William Allen Rogers, appeared in the August 1885 issue of The Century Magazine. The article deals with the fifth annual meet of the American Canoe Association [ACA] held during the summer of 1884. This month's article will be part one of a two-part series and will provide a brief history on the ACA as well as background information on Rogers. His illustrations will be divided between the two articles.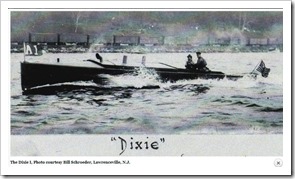 Opening festivities began with a night parade of a hundred or more canoes, heavily hung with paper lanterns and boat lights, silently moving over calm, dark waters against a dark sky.
Since there's a Dixie II, have you ever wondered was there a Dixie I? The answer is yes! The original Dixie, launched in the spring of 1905, was designed by Clinton H. Crane. Built at a cost of $15,000 and powered by a 150 horsepower engine, it was roughly 30 feet long. Its owner E. R. Thomas raced the boat just a few times and then sold it to E. J. Schroeder, for a reported $10,000. Even though Dixie was regarded as the fastest American motorboat in 1905, it was speculated Thomas wanted a faster boat.
10. 1904, August 2011
By winning the second Gold Cup Race, Vingt-et-Un II helped to establish the Thousand Islands as one of the world's premier summer destinations. At that time the Gold Cup winner decided the next Gold Cup Race site [early in the 1920s, this process was changed]. Thanks to Kilmer's membership in the Chippewa Yacht Club, the 1905 Gold Cup Race was held in Chippewa Bay.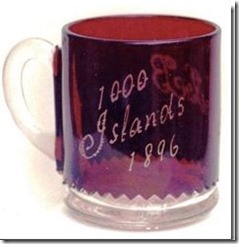 After we became comfortable with Thousand Islands ruby flash glass, we turned our attention to other Thousand Islands glass. It's an opportunity of which you should be aware as the variety and the beauty seem to be never ending. What you collect will be unique as no two pieces seem to be alike. The similarities with Thousand Islands ruby flash glass are the squiggle and the handwriting. Focusing on these two characteristics should provide a degree of comfort.
The purpose of Four Track Series brochures was to advertise the benefits of railroad travel and to promote the various destinations serviced by the New York Central & Hudson River Railroad [NYC&HRRR]. In the first year [1893] there were fourteen different brochures of which "The Thousand Islands" was number 10. "Fishing among the Thousand Islands" was added the next year and was numbered 15.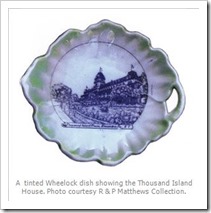 Collecting was an enjoyable hobby for many years but my attitude recently changed and I now regard souvenir china as a link to the early history of the Thousand Islands. Once those pieces are gone, they can never be replaced.
If you collect Thousand Islands memorabilia, my guess is that your first purchase might have been a postcard. That was my beginning and at the time my goal was to acquire as many different pictures as possible provided the scenes were of the Thousand Islands. Later, when I realized that all postcards were not the same, collecting postcards took on a whole new approach.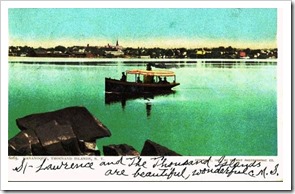 Canadian readers may find these views especially interesting as they are early postcard scenes of the Canadian Thousand Islands published by the Detroit Photographic Co.
Postcards published from 1901 to 1907 had undivided backs. This meant only the address was allowed on the back of the postcard and messages were written on the front. If you have a postcard with an undivided back, the card dates 1901 to 1907.
Who? George Rockwell? Never heard of him! No, it doesn't surprise me as he flew under my radar for a while.
The 1874/1875 map was well done but the name Rockwell meant nothing to me. I was collecting illustrations at the time but had no reason to download the map. Sometime later, still acquiring illustrations of the Thousand Islands, a cottage called Sunnyside appeared in a brochure. It was located on Cherry Island and owned by George Rockwell. Where had I run across that name before?
17. Pictures of the Thousand Islands, circa 1886, December 2013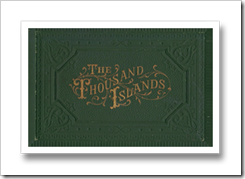 These Thousand Islands pictures, taken over one hundred twenty five years ago, are a treasure to be shared.
They are scanned from three souvenir booklets dated 1882, 1884 and 1886. Many of the photographs published in these books are the same and my guess is that they can be attributed to A. C. McIntyre. However, it is the individual scenes, not the photographer, that caught my attention. Each is unique and helps to capture the history of the Thousand Islands.
How would you like to visit some Thousand Island homes and cottages as they were one hundred and thirty years ago? Great!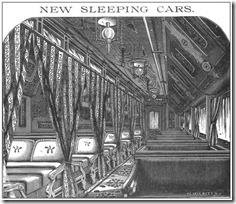 The pictures you are about see can be traced back to A. C. McIntyre, but they are not photographs as we know them today.
Okay, if they're not photographs and they don't look like illustrations, then what are they? Is there a name for a blend of technology and art, half photograph and half illustration? Let me explain.
How would you like to take a train ride to the Thousand Islands? Swell, buy your ticket and we'll board the overnight express, at Grand Central Station, here in New York City. Don't be late, as the train departs at 9:15 P.M. It's due to arrive in Clayton tomorrow morning at 10:25 A.M.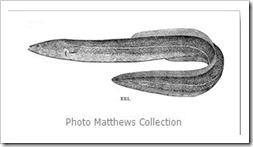 An additional mystery is that while both female and male eels appear in equal numbers at the mouth of the St. Lawrence River in the spring, only the females are found in the Great Lakes and the St. Lawrence River. What happens to the male eels is unknown. No wonder eels only spawn in salt water. [Editor's note: see the many comments about eels!]
Robert Matthews, from Fishers Landing, NY, suggested we create a Did You Know? section, for items too short for a full length article? "It might appeal," he wrote, "to people who are reluctant to write an article, but have Thousand Islands information they would like to share."
Rules
Only legitimate facts will be accepted.
Send to Info@thousandislandslife.com.
Photographs and illustrations are helpful but not necessary
Also, please include references.
I've seen some wonderful pictures of Thousand Islands scenes on ThousandIslandsLife.com over the past few years. Kudos to all the photographers who have shared their talents. My interests tend to be before photography had the popularity that it has today.
My wife Prudence is hooked on rugs. Well, I'm hooked on illustrations! In fact, the subject of my first article for TI Life introduced Frank H. Taylor who summered for about twenty years in the Thousand Islands. His cottage, which he named "Shady Ledge," still stands at the east end of Round Island.
and there are two more…
24. 1000 Islands 130 Years Ago, by 'Robert L. Matthews, narrated by Jan Eliot, January 2013
25. A Look Back in Time… by 'Robert L. Matthews, narrated by Jan Eliot, May 2013
As I close off this article, I am smiling from ear to ear. I will miss my fine pal, as will his many River friends, but I am left with so many wonderful memories and emails. Not only did Bob Matthews share his wealth of research, but he shared his great sense of humor – Yes, he made me smile and always will. Thanks Bob!