TI Life's Summer's End, September
Written by
Susan W. Smith
posted on September 13, 2010 05:49
Yes summer is almost over, but what a great one we have had!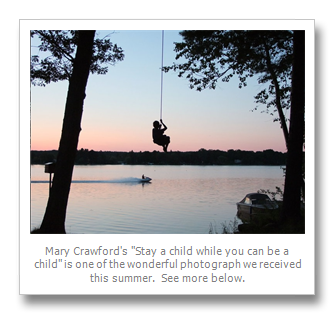 This month we have two stories which came about through a past TI Life story.  The first is written by Kim Lunman's in A Return to Fairyland, and the second is by a new contributor, Joel Godfrey, who wrote, Captain James Ross Sinclair… a family discovery
Regular contributor Lynn McElfresh writes, Play the Ball Where the Monkey Drops It! describing a very special rescue mission.
Liz Huff presents - "…flying by the seat of our pants" , which is her second article for TI Life.  Her Andrea Mossop – Powerful interpreter of the Frontenac Arch  was published in March 2010.
I have the privilege to review Anthony Mollica's lastest book "Building Chris-Craft, Inside the factories" and we introduce five other new contributors:  Tad Clark's, About the Skiff…; Garden of Stone by Randy Rezabek; Readings on the River…. a writer's festival by Russ Disotell and Jim and John Taylor present Gananoque's Link to Victory
Special thanks to Martin Zonnenberg whoes "Otter" is our thumbprint photo.  Martin captured this wonderful Otter in a Grindstone Island Pot Hole located on a property conserved by the Thousand Islands Land Trust.
New Contributors
Tad Clark - About the Skiff…

Tad, a fourth-generation, summer resident of Comfort Island, has been . tennis coach for over 35 years. His growing interest in freelance writing includes commentaries for the TI Sun and  the history of Comfort Island: www.comfort-island.com.

Russ Disotell - Readings on the River…. a writer's festival

Russ Disotell is the author of Brockville:The River City. Prior to entering the field of freelance writing he enjoyed a long career in the retail wine trade.  His book is still available in local book stores and is must for your island bookshelf.

 

Randy Rezabek - Garden of Stone 

Randy, a former photographer, educator, and technologist, is from Rochester, NY and recently gave up the "rat race" to pursue his love of research and writing. He is a specialist in military, maritime, and communications- technology history.

Joel Godfrey - Captain James Ross Sinclair… a family discovery

Joel Godfrey was born in Sarnia, Ontario and works in the casino industry.   His wife Amanda, nee Sinclair, is from Toronto and is Captain Ross Sinclair's great-granddaughter. Ross can be found in the names of her grandfather, father, and half brother).

Amanda has a photography business, Juicebox Photography.  She started the article's research and says the meeting with Capt. Davis was one she will never forget. The Godfreys and their  children - Molly (4) and Liam(1) – live in Orillia, Ontario.

Jim and John Taylor –Gananoque's Link to Victory

The article on the "Link Trainer" was prepared by Jim and John Taylor, whose father Keith Taylor was the manager of the Link Manufacturing Plant in Gananoque.  As young children, they grew up knowing well the Link family and their stories.  Their parents were very good friends of Ed and Marion Link.

Both Jim and John are still living in Gananoque and have cottages on Tremont Park Island.
Coming Elections:
The elections, both in Canada and the USA, will have an impact on all of us.  Please find out who is running for office and what they stand for.  If you have ideas on how we can make the Thousand Islands a better area let a candidate know. You can  write to a candidate, or send a contribution to their election campaign, even if you don't have a vote.
It is too easy to complain about things we do not like, or to wish that "things were different". Please get involved.
Seeley's Bay goes for Gold:
Seeley's Bay is not in the Thousand Islands, and TI Life has a rule:  On the River, Above the River or Under the River… so why do we include this title?
We are proud to report that this small hamlet, on the Rideau Canal, beat out 150 other communities in Canada to be able to go for the gold - with the help of friends from Pennsylvania, New Jersey, Eastern Ontario and beyond.  They will now compete with 9 other remaining finalists to be named the Ultimate Fishing Town in Canada by the World Fishing Network. The final winner of the competition will receive the coveted title and $25,000 in prize money that can be used to fund community improvements.  Seeley's Bay is asking people to help them win by voting on – see them at: http://www.wfn.tv/ultimate-fishing-town/. TI Life wishes them well, if they win, they will bring recognition to all of Eastern Ontario.
Congratulations Ian… for the Benny Award: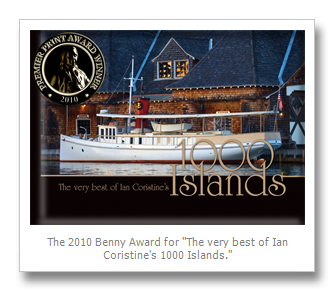 Ian Coristine's The very best of Ian Coristine's 1000 Islands,  and as he says, "his final photography book", was selected from over 5,000 entries submitted by major publishing houses around the world for a 2010 "Benny." Named for Benjamin Franklin, this prestigious international award recognizes those responsible for the creation and production of outstanding print communications. Ian won the Benny back in 2007 with his 1000 Islands.  At that time Paul Malo congratulated Ian in TI Life's article:  New Publication Wins International Award.  The very best of Ian Coristine's 1000 Islands,  Volume V is his fourth hard-cover bestseller, contributing to a total of over 62,000 hard-cover books sold. This is truly an important feat considering the books are only  distributed regionally.
And thanks Ian for our new "Headers".  We now have over 50 of your beautiful images to share with our readers.
End of Summer…

Throughout the summer we collected photographs from our readers both on www.thousandislandslife.com and from our Facebook site.

[Click to Enlarge]

Sue Proskey March "What a great day".


Andy King shares his photographs of the 2010 Kingston Poker Run.

 

Kathy Parker writes:  "This photo was taken by my daughter after leaving Gananoque". September 1, 2010

 

"The Rift or the Lost Channel is a kayakers dream.  The water can go from two feet to fifty feet with a quick cut of the paddle". by Hailie Suk






"A view from the veranda at Boldt Castle" by Hailie Suk.  Hailie is a high school student living in Western NY.

 


 
Hope Marshall's "Down by the River"


"Mum and twenty-three" by Mary Crawford

 

 

Janet Sullins, "Pondering Lift Off"


Clinton Textor, "Early morning ride"


 
Mary Crawford's "Morning tea, ship, castle and me"

"Boys, Ice Cream, and a Boat Ride" by Jeffrey Staples 

Cook Island's summer residents
And we conclude with a letter written by Jonathan Worlsey from Cook Island (East of Grenadier)…  
"Our annual summer on the Thousand Islands was slightly different this year as we were entertained by a family of osprey's!  We live on a charming island to the east of Grenadier Island with views of the marshes to one side and the St Lawrence the other.  This year the ospreys adopted our chimney and built an enormous nest and so we learnt to live with our feathered friends.  A few stunning pictures show these majestic birds close-up."
"A little background on the Osprey 'Pandion haliaetu'.   Found in every continent of world but Antarctica – Wide spread distribution throughout Ontario, high concentrations along St Lawrence  –  Populations bounced back after pesticide DDT in 60-70's stopped  –   Feeds almost exclusively on fish  –  Feet designed for holding slippery fish two toes foreword two backward, spiny soles, only raptor whose talons can turn backwards  –  Male does most of hunting for family, but will occasionally, also incubate eggs – Female usually lays  3 eggs –  Migrates south in the fall (Sept - October) to Florida, Mexico and as far as Argentina.  Some birds stay in the Thousand Islands throughout winter." 
[Click to Enlarge]
| | | |
| --- | --- | --- |
| | | |
| This is me on the roof trying not to be attacked by the Mom and checking on the nest. | Adult ospreys sitting on the wireless antennae and chimney. | Adult osprey in flight and landing on antennae. |
| | | |
| The chick in the nest. | The shock from chick osprey on seeing me. | The chick a month later with Mom on attack! |
By Susan W. Smith, susansmith@thousandislandslife.com
Comments
Comment by: Lynda Crothers ( )
Left at: 7:59 AM Wednesday, September 15, 2010
---
Thank You once again , a wonderful read. We moved to Wolf Island end of August. Our youngest son brought our sailboat up the canal system , walked out so far in the St. Lawrence and snorkled the area. Just love watching the ships go by they stop the grass cutting and the painting. Thousand Islands very much a bit of heaven.
Comment by: Dick Withington ( )
Left at: 8:09 PM Thursday, September 16, 2010
---
Susie,
Great article!. It is so refreshing to see that our friends and neighbors see the River and its natural inhabitants through the same eyes. Each sees a little different viewpoint, but the big picture is the same,....the River community is made up of people who appreciate nature. Love the pictures. Dick
Comment by: Al Bickerton ( )
Left at: 9:08 PM Sunday, September 19, 2010
---
Congratulations to Ian Corristine on his incredible rise to success. Thanks Ian for allowing me to buy your first books by the case to give as gifts to clients (mostly in Toronto and many of whom, barely knew where our precious Islands are - but they sure do now). Now that I've retired, we have your latest adorning our coffee table as we look out across the RIver to the South. It's beautiful all year round!!
All the best and stay young!!
Al Bickerton