Season's Greetings from our TI Life Team, and our wonderful authors, photographers and artists, who join together to "put a thousand islands in your life".
December is a time of reflection. What a year! We published a dozen issues with 115 articles and 34 new authors. We averaged 60+ photographs per issue and are now at 5,000+ subscribers plus 3,000+ fans on Facebook.
This Issue
Lynn McElfresh starts us off with the review Giulia Torres: Romancing the River.
Captain Brian Johnson reports the Wolfe Islander III comes home, Nov 2015 – Yes, the 55 car ferry connecting Kingston with Wolfe Island, was finally returned home after her five-year inspection and lengthy refit at Hamilton, Ontario.
Richard Palmer provides an interesting history in Searchlight Runs Recalled, by Robert H. Rogers. Mary Alice Snetsinger returns this month with Gananoque Narrows and Jackstraw Shoal Lighthouses – a fascinating history; while Charles MacLean Cochand gives us his special family story of Where did Charlie MacLean, (former Mayor of Brockville) go for Christmas?
Every December we ask Dr. Richard (Dick) Withington for an essay… Once again he has generously supplied, Putting the Summer in Focus, and Christine Price, a high school senior, presents Just Me and the River, an essay.
Also, just in time for the holiday - with lots of spare time - we present Part 5 - XY-Wings & XYZ Wings by Dan LeKander.
| | |
| --- | --- |
| 2015 Request for Support | Our Winners – TI Life Photo Contestby Ian Coristine. |
New Contributor
Christine Price - Just Me and the River, an essay by Christine Price


Christine Price, 17, is a senior at Fayetteville-Manlius High School in Manlius, NY, and has a twin sister and an older brother. The Prices spend summers in Clayton, NY. Christine says, "My parents retired several years ago, so we are able to spend our entire summers in Clayton. We have made wonderful memories over the years, and I can think of no other place I would rather be. That is why I decided to write my college essay about how meaningful the St. Lawrence River is to me."
Citizens and Keepers of the Islands
Many think the Gananoque Chamber of Commerce made a wise choice when they awarded the "Citizen of the Year" to Linda Mainse.
Linda is about to retire as Executive Director of the Arthur Child Heritage Museum in Gananoque. On October 18th, the Board of the ACHM joined many friends and family to thank Linda for her outstanding contributions to the Museum and the Gananoque community.
Linda helped secure stable funding in partnership with the Town of Gananoque, expanding membership and more importantly welcoming over 25,000 visitors from around the globe each year.
Clayton's Chamber announced their winner too, Doug Rogers. Doug is a retired teacher and school administrator and a tireless volunteer serving the community in a list of ways that is too long to publish. Suffice to say his latest task is chairing the Town/Village of Clayton's committee to update their Comprehensive Plan and Local Waterfront Revitalization Assessments.
GAM on Yachting
It started with a simple request from Kathryn Huse, Art and Production Director for "GAM on Yachting", one of the most popular print boating magazines in Canada.
Kathryn asked permission to republish two November issue articles. My Book Review: Comfort Island: One Family's Generational Journey, written by Tad Clark and Richard Palmer's historical article, The Great Warship That Waited and Waited.
I have to admit I was humbled; as I started out a sailor back in the 1960s, on Lake St. Louis in Quebec, and GAM, which means "to call upon, chat with and otherwise communicate with, as officers and crew of another vessel," was a mainstay on our coffee table.
Now I recommend that you check out a subscription, you will not be disappointed. (Visit their web site: gamonyachting.com for more information.)
WPBS Production – 52 Minutes of Islands
Missing our Thousand Islands? Here is a gift from WPBS… It was back in June 2015 that the station first released their production; a sixty-minute high definition heritage documentary entitled, "Exploring the Thousand Islands". The documentary was directed and produced by award-winning producer, Tracy Duflo.
You will recognize many views of the River both historic and present day – as well as introductions to several museums and attractions on both sides of the border. This production is a fine example of the non-profit public television station's commitment to Northern New York and Eastern Ontario.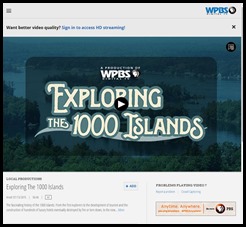 Click the photo for link
WPBS Production – 52 Minutes of Islands

What fun to discover a production for WPBS Digital TV, which aired on December 7, 2015. Be sure to view it soon, as it may not remain online forever.

http://watch.wpbstv.org/video/2365522865/

Also, WPBS has a picture book/DVD combo available for purchase on their website
A Year of Sunsets
Over the years Kathy and Dennis McCarthy have had several people ask if they would make a calendar of their pictures, which they generously share on their website and their Thousand Islands River Views Facebook page. The answer was always no. That changed this year when they found a website that did the job for them.
The 2016 Calendar has sunset pictures taken each month in 2015 from and near Beadles Point, Cape Vincent, NY in the Thousand Islands. You can view the full calendar at http://www.lulu.com/content/legacy-lulustudio-calendar/my-calendar/17475899
Check out our Books page for more Gift ideas.
Please Don't Forget
Do you have an iPad or Tablet? Try viewing TI Life on the Flipboard App.

Remember our Facebook page throughout the month, as we post information and photographs & follow us on

We also appreciate having you hit our

button and DONATE!
By Susan W. Smith, Editor info@thousandislandslife.com
[Special thanks to our editors and proof readers this month: Georgia Barker, Rick Taylor and Jane Taylor (Not related… but they are both terrific as they correct my errors…) David Ray and Bill Stallan]