Remembrance Day in Canada and Veterans Day in the United States allows us the opportunity to pay tribute to those who gave their lives so we can enjoy the lives we live today. These ceremonies also signal the end of the summer. From now on we can expect cold weather, ice and snow!
Once again this month, our authors and photographers, are able to "put a Thousand Islands in our life" – for that we thank them.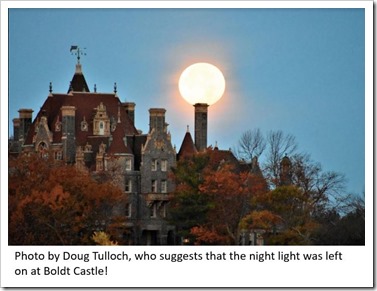 This issue:
Important Notices:
Did you know:
And once again (thanks you three)
New Contributor
W. Hugh Quarrier - You Left Out Ragnavok Island!

W. Hugh Quarrier is a fifth generation Ragnavok Island resident and is presently serving as the Commodore of the Chippewa Bay Yacht Club. He and his wife Callie, worked and lived in Connecticut before retiring and moving to the River year-round. They have a winter home in Chippewa Bay, where Hugh spends time working on his passion, History.
High Water Concerns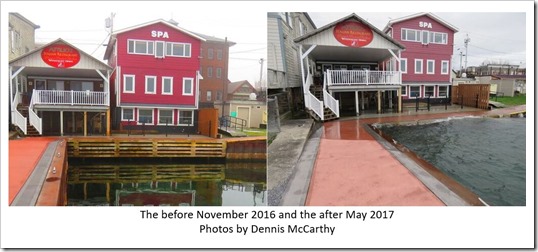 Important quote taken from the International Joint Commission's Website: "The Great Lakes-St. Lawrence River Adaptive Management (GLAM) Committee will undertake the monitoring, modeling and assessment needed to support on-going evaluation of the regulation of water levels and flows. The GLAM Committee will report to the Lake Superior Board of Control, Niagara River Board of Control and St. Lawrence River Board of Control.
The report of the Great Lakes-St. Lawrence River Task Team provided the basis for the GLAM Committee. Knowledge gained during the Lake Ontario-St. Lawrence River Study (2000-2006) and International Upper Great Lakes Study (2007-2012) will be updated and used by the GLAM Committee to provide on-going information on how the regulation of water levels and flows affects socio-economic interests and the environment. As more is learned and as conditions change over time, this information will help determine whether changes to regulation should be considered."
As a result, they ask that we take a Survey – PLEASE DO: https://www.surveymonkey.com/r/HLFSYV3
Memories stay alive
There are a number of pages that keep us busy on Facebook – Thousand Islands River Views, 1000 Islands River Rats Now and Then, St. Lawrence Ship Watchers, Where in the Heck is Redwood, New York? Also Kim Lunman's Island Life Magazine and our Thousand Islands Life Magazine. Our thanks to all of who keep posting such wonderful photographs and historic material.
This month, I received a photograph from W. Hugh Quarrier, Ragnovok Island, which is a "keeper." It shows a "car" ferry boat that was used to cross the River, before the Thousand Islands Bridge was built. The second group is from Daniel Boyer, who posted three photographs of building the bridge on Where in the Heck is Redwood, New York?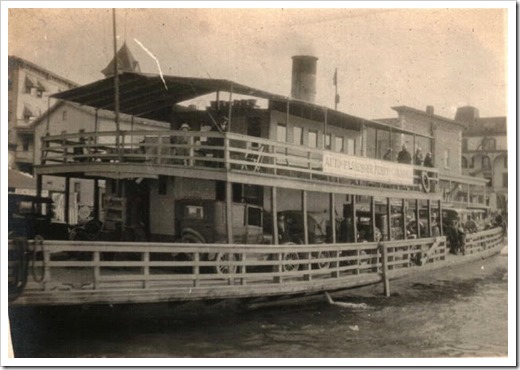 Originally, the ferry service took horse and carriages across the River, but then along came the horseless carriage.
Photo courtesy W. Fitzhugh Quarrier
| | | |
| --- | --- | --- |
| Three photographs published on Daniel Boyer's Where in the Heck is Redwood New York's Facebook Page . | | "Constructed in 1937, the Thousand Islands Bridge took sixteen months to complete, which was ten weeks ahead of schedule. The total cost was $3,050,000." |
Ready for the Holiday
John Lefevere's newest book
Jewels And Ghouls (A 1000 Islands Novel, Book 2) is now published on Kindle. (Read the synopsis and I challenge you to say, you are not interested!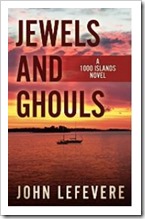 "They solved a 150-year-old murder mystery, so solving a 110 year-old theft should be easy. Steve Stone and Jill Matson swing into action again, in this contemporary thriller and historical mystery sequel to The Scimitar And The Snail. While on a trip to Ireland, the couple undertakes an investigation of the 1907 theft of the Irish Crown Jewels, which have never been recovered and may be in America. Back in New York, their search is disrupted by the mysterious disappearance of Jill's friend during the filming of a television show about the spirits of sailors who went missing in the Lost Channel of the Thousand Islands, during the French and Indian War. Amazing revelations about the Lost Channel sailors and the fate of Jill's friend are overshadowed by the discovery of a local woman who claims ownership of the jewels and falls prey to others who want to take them away. Can Steve and Jill come to her rescue in time? And where have the jewels been all this time?"
2018 Theatre Schedules Posted:
Thousand Islands Playhouse WELCOME TO THE 2018 SEASON. The schedule if now posted on their website. New for 2018: Seats can be booked immediately after purchasing a subscription or patron membership! Click here for the season calendar;

Wayne Lowrie, from Post Media, reported that Brett Christopher, the new Theatre's new managing artistic director, wrote a Facebook post that has gone viral. It seems Brett "mused" why actors resumes always included their physical description with height, weight etc. the quote as, "It is an antiquated, sexist and irrelevant practice that does not tell me anything about you as an actor," Christopher said. "We cast for heart, brains, chutzpah and poetry." He went on to say that the Thousand Islands Theatre would no longer request that information.

The arts world has already embraced his suggestion with sharing his thought, comments and tweets. Brett ended his interview with Post Media by saying, this year at Stratford Festival, "Julius Caesar was not a woman, as we know, but she is playing it because she is one of the best actors in the country,"
Upper Canada Playhouse: Announces the 2018 Season. Click below to access the 2018 Season Newsletter with everything you need to know about their exciting new Season of laughter and music. Flex Passes on sale 'til June 7, 2018. Regular tickets on sale all season. BOOK NOW for the dates & seats you prefer!

Clayton Opera House: Stay tuned for the new season announcement and be sure to take advantage of the winter offerings.
Also: they have an Important Notice posted on their website: "Please note that the 2018 season tickets are not available for purchase. There are some websites out there proclaiming to have tickets for sale. Those websites are not sanctioned by the Clayton Opera House and have no connections to us. We will post information here, on Facebook and send out information concerning our season when tickets are available."
Videos for sharing
Salita from Feather in Flight Productions on Vimeo.
________________
From Feather in Flight Productions: The Salita is a majestic 33' Gar Wood speedboat which races the waters of the great St. Lawrence River. Check out this showcase aerial video Feather in Flight did of a boat for the owner. See the Salita race up and down the American Channel with views of the Thousand Island Bridge.
MUSIC: "All Of Your Love" by adc Bicycle
Phil Amsterdam shared Spotlights's Video on November 7, 2017 on 1000 Islands River Rats Now and Then Facebook page. I am not sure if you can view it without having a facebook account, and if not, I apologize, but it is the story about George Boldt. It had been viewed 18 million+ times when I saw it.

https://www.facebook.com/spotlightstoriesofficial/videos/1246837262014760/

Editor's Note: Looking carefully, you see modern backgrounds! A nice story and the number of views is impressive!
Please Don't Forget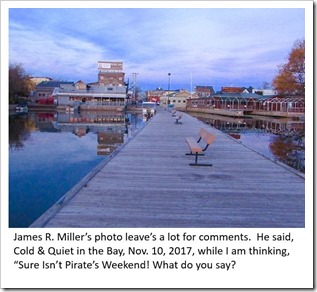 We certainly appreciate having you hit our button
at the top of each article and Support TI Life – although we: Authors, Photographers, Proof Readers and Editors – including this one(!) all publish TI Life as Volunteers, there are costs, including our Email Program - Constant Contact, and the fact that we must update all software, now working in its 10th year.
We also encourage you to Remember our Facebook page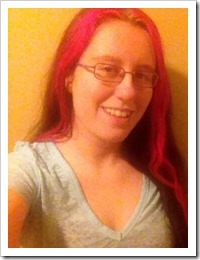 throughout the month, as we post information and photographs & follow us on

Please take your camera out on the River and capture River life during the holiday season! Send them to info@thousandislandslife.com.
And, this Editor is looking forward to receiving new submissions throughout the new year. I bet our readers are too!
Special thanks to editor Bill Stallan and proofreaders Rick Taylor, Georgia Barker, and Dane Zabriskie. I especially thank Mike Cox who is the magician behind the website. What a team …
By Susan W. Smith, Editor, info@thousandislandslife.com